Found April 02, 2012 on NorthWest Sports Beat:
Light in the darkness
Addictions are the dark corners of life that nobody wants to talk about until something serious happens that thrusts the issue into the light for everyone to see.
Addictions interrupt life and tear apart families and friendships. If that persons addiction continues, the end result is a person living a life in a former shell of himself looking for someone to help, only to find darkness.
Unfortunately for Ryan Leaf, this has been his life living with his addiction since he was taken #2 overall in the 1997 NFL Draft out of Washington State.
When news broke Friday of Leaf's latest arrest on burglary, possession of dangerous drugs – both felonies – and a misdemeanor count of theft (allegedly Leaf broke into a friends house and stole pain medication) it continued a sad story of problems for Leaf that has stretched out for over a decade now.
To make matters even worse, Leaf was arrested again early this morning on charges of burglary, theft and two counts of criminal possession of dangerous drugs — two days after posting bail of $76,000 for the same charges.
Allegedly for breaking into the house of an acquaintance. Again.
When I initially heard the news on Friday, my knee jerk reaction wasn't sympathy.
No, my reaction was anger.
I cannot have sympathy in this instance for Ryan Leaf.
It was anger because it had looked like Leaf had finally put away the problems of his past.
Three years after being put on probation for pleading guilty in Amarillo Texas for obtaining a controlled substance through fraud as a QB's coach at West Texas A&M University, Leaf looked and sounded like a guy who was finally enjoying life.
Every time he stepped in front a camera, he sounded contrite for his disease.
He had accepted his NFL legacy and I really believed that it wasn't something he was constantly trying to fight.
I was angry because I felt let down for believing in one of my childhood heroes.
Then I had to stop and take a very deep breath.
As someone who knows all to well what kind of destruction addictions can do to a family, I couldn't be a hypocrite about Ryan Leaf. There are two things that everone needs to understand when dealing with someone with a serious addiction.
#1. The addictive person will let you down. It will happen. It's just the nature of the beast.
#2. The family members that supported that person will feel slighted or disrespected when the addict relapses. Whether that last statement is fair or unfair, that's the common emotion attached to families dealing with addicted family members.
It's understandable to see people having sympathy for Ryan especially after hearing about the benign tumor being removed from his brain stem in 2011, but unfortunately I cannot have sympathy in this instance for Ryan Leaf.
For whatever his reasons were, his addiction drove him to allegedly break into his friends (support system) houses to obtain pain medication. Accountability has to be made here. His addiction cannot be made a crutch or an excuse for his actions.
No matter how bad his disease is, it doesn't mean Leaf gets a free pass.
The truth of the situation is sometimes people have to learn the hard way to live life.
In the case of Ryan Leaf I believe he has.
I also believe there comes a time when you have to turn your back on an addict in order for that person to finally get it. In order for you to get better, you have have to do it on your own.
Having a support system in place is nice, but it doesn't work.
Because as soon as times get too tough, you run away to self medicate, and when the normal avenues to obtain said medications are not available, you will allegedly rob your support system to get them.
I truly wish Ryan Leaf the best in life.
No one deserves to live life in a daily hell of an addiction, but unfortunately sometimes people choose these things for themselves. It takes a strong person to overcome these problems, but as we have seen over the last four days, Ryan Leaf is not an emotionally strong person.
Just because I'm not behind Ryan anymore doesn't mean the entire Cougar Nation doesn't want you to get better.
We do.
We just know that your disease is something that right now you cannot overcome, and hopefully you will because life in the sun is a great thing that everyone deserves.
CLICK HERE TO CHECK OUT THE COUGARS FOOTBALL CLUBHOUSE TODAY AT NWSPORTSBEAT!
© Insider Steve for North West Sports Beat, 2012. | Permalink | No comment |
Follow NWSB on Twitter or join US on Facebook for real-time updates OR... | Share This on Twitter | Share NWSportsBeat.com on Facebook
Post tags:
Addictions
,
Cougars Blog
,
Insider Steve
,
Painkillers
,
Ryan Leaf
,
Ryan Leaf addiction
,
Ryan Leaf headlines
,
San Diego Chargers
,
Washington St. Cougars
,
Washington State Blog
,
WSU
,
WSU Blogs
,
WSU Cougars
Original Story:
http://www.nwsportsbeat.com/washingto...
THE BACKYARD
BEST OF MAXIM
RELATED ARTICLES
POLICE BLOTTER (X2)
Former NFL quarterback Ryan Leaf was arrested in Montana on Monday—the second time in four days—and faces charges of burglary, theft and two counts of criminal possession of dangerous drugs.
Two days after posting bail for drug and burglary charges, former NFL quarterback Ryan Leaf has been arrested a second time in Montana. Central Montana Drug Force Commander Chris Hickman says Leaf was arrested early Monday in Great Falls and is facing charges of burglary, theft and two counts of criminal possession of dangerous drugs. He also is being detained on a probation violation...
Former San Diego Chargers quarterback Ryan Leaf was arrested for a second time in four days on Monday. After posting bail for drug and burglary charges after his Friday arrest, Leaf was apprehended again early Monday morning and is facing charges of burglary, theft and two counts of criminal possession of dangerous drugs. Leaf, 35, is also being detained on a probation violation...
Need more proof Ryan Leaf is a pill-popping junkie with an Oxy addiction? The guy was arrested Friday on drug, theft & burglary charges. Guess who was arrested yesterday on nearly identical charges? Yep, the former #1 draft pick of the San Diego Chargers. He posted bail on the first charge and went hunting for some pills, according to police. At least he's in jail today awaiting...
Former NFL quarterback Ryan Leaf will stay in a Montana jail a while longer while Texas prosecutors work with their Montana counterparts to revoke his probation on 2010 drug charges. Probation and Parole Office regional administrator Dawn Handa tells the Great Falls Tribune (http://bit.ly/HU9rIL0 ) that the 30-day hold gives authorities needed time to send information between states...
Two days after posting bail to get out of jail -- after being arrested on Friday on drug and burglary charges -- Ryan Leaf has been arrested.... ONCE AGAIN for the same crime -- burglary.According to the Huffington Post, Central Montana Drug Force Commander Chris Hickman says that Leaf was arrested in the early hours on Monday in Great Falls, Montana -- Leaf's hometown.Hickman...
Last week we paid a little tribute to some of the biggest morons and disappointments in sports history – via our love for Kenny Powers and Eastbound and Down – and it would have been a huge oversight to exclude former No. 1 NFL draft pick Ryan Leaf, whose career can best be compared to a colossal dust fart. Throw in the fact that he was arrested in 2009 for illegally obtaining...
I know your saying NOT AGAIN!!!! EX Washington State QB Ryan Leaf was arrested this week according to Great Falls Police Sgt. Dean Bennett. Bennett said that an abbreviated police log of the arrest states Leaf was arrested at the Probation and Parole Office at 219 5th St. S. Quote: "One of our officers picked him up, arrested him and booked him in," Bennett...
A SURVEY THIS WEEK of some of Ryan Leaf's friends, former teammates, colleagues, coaches and teachers has yielded an outpouring of understanding about the insidious nature of addiction and an even bigger outpouring of support and goodwill for the former Washington State All-American in his struggles.
From draft bust to drug bust. Ryan Leaf, the ultimate bust when it comes to NFL franchise quarterback draft picks, was arrested for the second time in the past four days. Meaning the Cincinnati Bengals have already contacted his agent about working him out and getting him on the roster. No, I'm joking about that last part. But seriously, you know how extensive the legal issues...
Chargers News

Delivered to your inbox

You'll also receive Yardbarker's daily Top 10, featuring the best sports stories from around the web. Customize your newsletter to get articles on your favorite sports and teams. And the best part? It's free!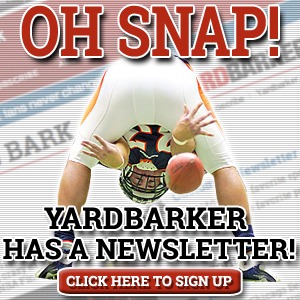 Latest Rumors
The Backyard

Today's Best Stuff

For Bloggers

Join the Yardbarker Network for more promotion, traffic, and money.

Company Info

Help

What is Yardbarker?

Yardbarker is the largest network of sports blogs and pro athlete blogs on the web. This site is the hub of the Yardbarker Network, where our editors and algorithms curate the best sports content from our network and beyond.