Found November 16, 2012 on Fox Sports:
Ahhhs and boos. Those are the two distinct and opposite reactions the home crowd rains down on the same missed opportunity. Popular Green Bay Packers named Jennings, Jordy and James hear the former. The latter may seem reserved solely for embattled tight end Jermichael Finley when he does the same thing . . . drop the rock. Hostile home I first noticed the hostility toward Finley during the 2012 season opener at my favorite place to cover a football game, historic Lambeau Field. The Packers played host to the NFC Championship Game runners-up, the San Francisco 49ers, and the joint was hoppin'. Quarterback Aaron Rodgers completed a simple, routine short-yardage pass to his intended target. Finley made the grab. Then I heard it. It was unequivocal. If an entire crowd can break out in insincere, sarcastic applause, this one did. "Look, what do you know, he caught the football he's paid handsomely to catch," was how that reaction struck me. I cringed a little and grew intrigued at the same time. The disdain shown toward this fifth-year player was very clear and specific. Packers fans typically don't boo their own players. They appreciate them. Finley seems the exception to the rule. The Friday before the game, we asked the Packers for some alone time with Finley, 25, who smiled when he talked. I looked back over my prior notes before writing this. Right after he told us how he expected the Niners would defend him, there was a mention about a new machine made by Nike that he had worked with, one designed to improve his hand-eye coordination as a way to address those drops. In a more recent conversation I asked Finley if he could hear what I could on the field. "Do you hear the boos?" I asked. "I'm fully aware of it, of the boos and the critics," he answered. "It's hard to block out 70,000 people. It's hard to say I wouldn't hear them." And Finley doesn't separate himself from the reality of the situation. "I'm in a funk," he admitted. What happened to the player who tore it up in 2009, who brimmed with bravado as he capped his breakout season by setting a team playoff record with his 6-catch, 159-yard receiving game in the Packers' wild-card playoff loss to Arizona? Well, he started dropping too many balls, the "easy" ones, that's what. According to STATS INC., Finley has been targeted 46 times this season and has dropped five passes. Last season he dropped 11 passes after being targeted 92 times. Winning back "12" My first time meeting with the physically formidable player (6-foot-5, 247 pounds) was for a feature piece we did for FOX NFL Sunday's pregame show near the end of the 2011 season. The angle for the story was how well Aaron Rodgers spread the ball around in the Packers' potent offense, which at the time sliced and diced defenses as if they were cherry tomatoes. From the get-go Finley seemed eager to explain himself. He had to make something right. He seemed desperate to prove then, as he does now, that he's more than his flaws, that he can once again display the raw talent that helped him contribute so much to Green Bay's prolific offense before a knee injury cost him of most of the 2010 season. He had to get back into No. 12's good graces again. In a sign of respect, "12" is what Finley calls Rodgers, the quarterback with the power to deliver the ball to him, or not. Not-so-much was the final result in Week 10's home win over Arizona. No. 88 caught one of the two balls that came his way all day for a grand total of 6 yards. James and Jermichael Lately, Finley's been talking about getting his swagger back, his hands back. But Packers receiver James Jones, who adores Finley and plays the role of big brother/mentor, is not convinced. In un-sugarcoated terms, Jones told me Finley's swagger and confidence have all but abandoned him right now. He must get them back somehow. Jones told me about the letters of inspiration he puts in Finley's locker on occasion. Jones shot straight when talking to and about Finley. Tough love, baby. "I tell him all the time when he first got here, he had so much swag," Jones said. "He was talking to guys on the field, talking junk . . . (saying) 'they need five people to guard me.' You watch him out at practice now and he has none of that swag. You can tell he's thinking about the ball." Jones said Finley has been working to correct his problem with drops. "He'll try two or three different pairs of gloves in practice. On game day he's using a couple of different kinds of gloves," Jones said. "He's got some of the best hands out here. (I tell him) stop thinking negative that you're going to drop it, forget what happened in the past and just play." Jones may be having a career year, but he knows what a slump feels like. He admitted to experiencing one of his own last season. By his own estimate, Jones had five or six drops that he says could have been touchdowns. When I ask him if he had been booed like Finley, his close friend he calls J-Mike, Jones' response was quick. "Oh, no," Jones said. But he can relate to J-Mike being the target of doubters. "Everybody said, 'James can't catch,' " Jones said of his 2011 slump. "I kind of have some built-in motivation to prove people (wrong)." Many of those directly involved in Finley's football life agree that elusive confidence factor is his greatest hurdle to clear. Somewhere in there lurks the player who can once again dominate a game. Jerry Fontenot is Finley's position coach. He told me the only way to get past this is by working through it. Whether that entails "taking baby steps" or "taking things off the menu," as Fontenot uniquely put it, the focus must be on the positive things that Finley does well. "My role is to give this kid the best opportunity to succeed on the football field," Fontenot said. The coach complimented Finley on being a diligent worker, one who is very hard on himself. He sees an enthusiastic player who brings good energy to practice and to the tight ends' meeting room. "Jermichael played extremely well up into the point that he had his injury," Fontenot said. "Since then it hasn't been quite the same. You just see a bit different aggressiveness toward the ball that hasn't been the same. "It's tough to see one of your guys grappling with a sense of not being as confident as he's capable of being." Finley and Rodgers have been spending extra time together the night before games, working to get on the same page. But like all pass catchers, Finley suggested the best way to get in the groove he craves is to get the ball early and more often. "If you catch a ball in the first quarter then you don't see the ball until the third quarter going into the fourth quarter, you don't get a rhythm down," Finley said. "It's hard to snap out of that funk." One thing that stands out to me is Finley has mad fight in him and won't rest until No. 12 and No. 88 are simpatico. Boos may cascade around him, but until the internal unrest settles and the sure-handed Jermichael returns, there's nothing to suggest Finley won't keep getting jeered. How will he handle that? "It's something I've got to wipe off and keep moving," he conceded. "I've got to keep grinding."
Original Story:
http://msn.foxsports.com/nfl/story/gr...
THE BACKYARD
BEST OF MAXIM
RELATED ARTICLES
DOESN'T PACK IT IN
Aaron Rodgers isn't a fan of how 60 Minutes portrayed him in a profile piece last week, but a producer says that shows how the Packers QB "tends to be overly sensitive."
Apparently "60 Minutes" isn't going to sit back and let Green Bay Packers quarterback Aaron Rodgers take shots at it without a response.After Rodgers told the Detroit media in a conference call on Wednesday that his feature story on "60 Minutes" was "cut for their purposes, their agenda," the CBS news magazine fired back at the NFL's Most Valuable...
The Green Bay Packers are sticking with struggling kicker Mason Crosby. Coach Mike McCarthy told reporters after the Packers' 24-20 victory over the Detroit Lions on Sunday that the team won't ''blink'' in its commitment to Crosby. Crosby has missed seven of the 18 field goals he's attempted so far this season. His 61 percent accuracy rate is second...
Packers RB Cedric Benson is aiming to return to the team around December 16, according to Jason Wilde of ESPN Wisconsin. "Cedric had the opportunity to have some testing done (recently) and everything's positive. His rehab has picked up," said head coach Mike McCarthy. "We'll see where we are next week. We don't have a startup date exactly when he's going to be ready...
We tried to warn Wisconsin media types last week that BC was about to dominate their asses on salacious sports/entertainment news. Then we broke the news that Ryan Braun was engaged to Larisa Fraser. A few outlets blew us off as just being some annoying, disgraceful blog that investigates stupid athlete relationship stories for pageviews. Then, on Monday, we took two screencaps...
Healthy and on his game, cornerback Tramon Williams will square off against wide receiver Calvin Johnson on Sunday. "Everyone around the league knows Calvin is one of the best in the game," Williams said.
We get questions every week on whether or not owners should be holding onto Benson in hopes of playoff glory. Benson, who claims to be 65% and not in a hurry to return before he is healthy, is eligible to return in Week 14. Benson said he is very confident that he will return before the end of the year.
Injured running back Cedric Benson is eligible to return to practice next week, but that seems unlikely. Plus, much more from a busy Friday at Lambeau Field.
Green Bay Packers cornerback Tramon Williams is apparently not very original. Earlier this week, Williams dubbed himself "Optimus Prime" in anticipation of his upcoming matchup against Detroit Lions wide receiver Calvin Johnson, a.k.a. Megatron. That sounds awfully familiar. A few weeks ago, Seattle Seahawks corner Richard Sherman changed his Twitter name to Optimus Prime for...
Green Bay Packers (6-3) at Detroit Lions (4-5) I don't think it's possible to talk about the Packers without first talking about how bad their injury situation has gotten. Already missing stud middle linebacker Desmond Bishop and replacement DJ Smith for the season, the Packers have also put starting right tackle Bryan Bulaga and starting rush linebacker Nick Perry on injured...
Week 11 is here, and so are we with another round of sleepers for your Week 11 fantasy football lineups. You still have plenty of time to set your rosters for Sunday. Take a few minutes and see if any of these guys are available. James Starks, Green Bay Packers In the Packers last game, Starks was handed the ball more times than starter Alex Green and is now reportedly the Packers'...
The Detroit Lions have watched Aaron Rodgers and the Green Bay Packers rise to league stardom on the field -- and off the field, with the endless "Discount Double Check" commercials. Although they have respect for their NFC counterparts, as one Lions defender stated, "there's no love lost between the two of us."
Packers News

Delivered to your inbox

You'll also receive Yardbarker's daily Top 10, featuring the best sports stories from around the web. Customize your newsletter to get articles on your favorite sports and teams. And the best part? It's free!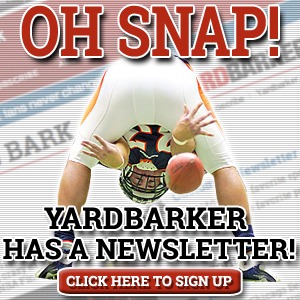 Latest Rumors
The Backyard

Today's Best Stuff

For Bloggers

Join the Yardbarker Network for more promotion, traffic, and money.

Company Info

Help

What is Yardbarker?

Yardbarker is the largest network of sports blogs and pro athlete blogs on the web. This site is the hub of the Yardbarker Network, where our editors and algorithms curate the best sports content from our network and beyond.