Found October 31, 2012 on Fox Sports South:
FLOWERY BRANCH, Ga. What were the chances that defensive end John Abraham was going to return as a member of the Atlanta Falcons last season? Abraham, who hit unrestricted free agency before the Falcons re-signed him on March 16, said he thought he was gone. Im about to go somewhere else and about to take the flight to Tennessee, Abraham said, then picked up his cell phone and offered a reenactment of how the conversation went. Look, yall, I aint going. No, Im going to stay in Atlanta. Are you sure, John? No, I aint going. It ought to be a major relief to the Falcons that the 34-year-old elected to remain in Atlanta, where he is now in the seventh season of his 13-year career and still one of the leagues top pass-rushers. He has remained as one of the Falcons most integral defensive players on a unit that relies on the big play sacks and turnovers to win; the Falcons rank 20th in total defense but are 7-0 nonetheless. Abrahams seven sacks tie him for seventh in the NFL and, perhaps more importantly, he is tied for third in the league with three forced fumbles. On Sunday, the Falcons host Dallas (3-4). The teams last played in 2009 but Cowboys quarterback Tony Romo said he doesnt see anything different except for maybe how the Falcons use him. Its amazing how it seems like the guy never ages a year every time I look at him on tape, Romo said of Abraham. This season, Abraham has only gone two games without a sack. Last year, Abraham was dogged by a groin injury, which he said he played through. Even though he finished with 9.5 sacks, he failed to register a sack in nine of the 15 games for which he was active. I think John is on a mission to be a very effective pass-rusher, Falcons head coach Mike Smith said. I think hes doing that. Among the reasons why Abraham said he changed his thinking and decided to stay in Atlanta was the hiring of defensive coordinator Mike Nolan the same defensive coordinator that Abraham had as a rookie with the New York Jets in 2000. Nolan has coached both 4-3 and 3-4 defenses and inherited a 4-3. He has made the Falcons defense much more multiple and Abraham has benefitted from that. Nolans defenses are so varied that an opposing offensive line might not know what Abraham is doing from play to play. Yeah, I dont like being in one place, Abraham said. I like going left and right, dropping here, rushing sometimes. Its more fun than if I play (only) right end. They know where Im going to be at. Now its John might be here, John might be here. Nolan, with those 3-4 tendencies, has used Abraham much more often in a two-point stance than the Falcons did in Smiths first four seasons, when Brian VanGorder served as the defensive coordinator. Abraham noted that he entered the NFL as a linebacker and, at 6-foot-4, 263 pounds, he still carries the build of one. He said he prefers the two-point stance, citing the example of how it helped him to sniff out a screen designed for Philadelphias DeSean Jackson last Sunday in a 30-17 win over the Eagles. You can see the whole field better, he said. You kind of look at people. You see whats going on, see the formation better. A lot of times if youre in a three-point stance, you cant see a lot motion as an end. Falcons defensive line coach Ray Hamilton likened Abrahams taking to the two-point stance to a golfers having more confidence in a certain type of club. When you look on that club, whatever you think that club looks like is really whats going to happen, Hamilton said. So if he thinks that helps him, then that works for him. But Hamilton said Abrahams biggest attribute remains his speed even at an age when he should be slowing down. He can still get off the ball with the young guys, he said. Anything over 30, you start to slow down, but hes not slowing down and he looks very good out there doing it. Falcons center Todd McClure is a year Abrahams elder and at a time when many would expect players their age to slow down, both are excelling. Hes a guy when you practice against him all the time, you hear our tackles say, Im glad I dont have to play against him in a game, McClure said. Hes a guy that can run by you and make you miss and make you look silly out there. Abraham did that earlier this season against Oakland second-year tackle Willie Smith, who entered 2012 with only three starts under his belt. Abraham had three sacks in that game and drew a couple of holding and false start penalties against Smith. Hes been in enough plays to where he can tell a tackle, if hes sitting in his stance, how hes going to set against him and thats always an advantage, McClure said of Abraham. While success has come on the field for Abraham this season, he ran into some trouble off it. He was arrested in September on a misdemeanor when Atlanta police and firefighters asked him numerous times not to enter a taped off area at the citys Atlantic Station commercial and residential development, where Abraham has a condo. The authorities were in the process of handling a situation with a woman who was threatening to jump off a building. Abraham said he it was a misunderstanding and on Wednesday he reiterated that, along with the fact that it has not distracted him from his play. Its cool, he said. While the Falcons remain the NFLs only unbeaten team, few observers are ready to crown them as Super Bowl champions. Thats OK with Abraham. We aint getting any respect, he said, until we get the ring, man.
Original Story:
http://www.foxsportssouth.com/10/31/1...
THE BACKYARD
BEST OF MAXIM
RELATED ARTICLES
The Falcons are perfect so far this season.  They're playing well in all aspects of the game, offense, defense and special teams.  On offense they're running the ball well and Turner is playing better than expected.  Can they continue in this direction?   The Falcons have a great stage to show just how good they are this week.  Will Romo and company show up big and...
Before making his debut in the NFL, Panthers quarterback Cam Newton had never lost a game. Since Newton's gotten to the big stage, his record is 5-18.  This week against Chicago, it looked like Newton would get NFL win number six, but Carolina once again snatched defeat from the jaws of victory, losing 23-22. Many have credited the Bears with a hard-fought comeback win, but this...
The Atlanta Falcons, the only undefeated team in the NFL, will be without linebacker Sean Weatherspoon on Sunday.  The Falcons will be taking on the Dallas Cowboys in Atlanta.  Weatherspoon will sit with an ankle injury, but he is not the only Falcons player who will sit out.  Kevin Cone will not play Sunday either.  He is dealing with a strained groin. According to D. Orlando...
via Earlier this week, we put out our annual list of suggestions for NFL Halloween costumes. Once again, we're shocked and appalled that none of our pointed and, in most cases, insulting costume suggestions were not heeded by players and coaches. That's fine. We're just the selfless people trying to help. Some players got into the spirit of the holiday with memorable costumes...
Last week: 3 (+2) Record: 7-0 I'm moving the Falcons into the #1 spot for the first time all season, but I'm still not sold. 4 of their 7 wins have come by a touchdown or less. They've been very reliant on winning the turnover margin, which is inconsistent on a week to week basis. They rank just 19th in yards per play differential and 4th in rate of sustaining drives differential...
Matt Ryan's homecoming could not have gone much better. A product of Philadelphia's William Penn Charter School, "Matty Ice" led the Atlanta...
FLOWERY BRANCH, Ga. -- The Falcons will face Dallas on Sunday without leading tackler Sean Weatherspoon, as head coach Mike Smith ruled him out on Thursday with an ankle injury. Weatherspoon, the weakside linebacker, had played every snap on defense for the Falcons this season until suffering the injury with 9:08 remaining in Sundays 30-17 win at Philadelphia. He was removed from...
Everyone must stand alone. For anyone who watched the Philadelphia Eagles' third straight loss on Sunday against the Atlanta Falcons,  it was clear that the game was lost overwhelmingly because of the pitiful showing by the team's defense. However, on Monday, the headlines surrounding the game were dominated by talk of benching quarterback Mike Vick. The Eagles' offense was...
(Eds: Updates. With AP Photos.) By GEORGE HENRY Associated Press Falcons quarterback Matt Ryan doesn't like to discuss his accomplishments and never says much when asked to consider his chances of becoming the NFL's MVP. The same goes when Ryan is asked about whether the Falcons can go undefeated in the regular season or if he's concerned about his winless record in...
Linebacker Sean Weatherspoon, one of the leaders of the Atlanta Falcons' defense, will miss Sunday night's game against the Dallas Cowboys with a right ankle injury. Weatherspoon, second on the team in tackles and sacks, injured the ankle in Sunday's 30-17 win at Philadelphia. Coach Mike Smith says after Thursday's practice Weatherspoon and receiver Kevin Cone,...
Since the Houston Texans joined the NFL and caused the most recent divisional realignment in 2002, the Atlanta Falcons are the 12th team to reach Week 8 without a blemish on their schedule.Whether they will continue that run or not is anyone's guess, but if one looks back at the group that has come before them, things look good for the Falcons...to a point.The Falcons have...
NFL News

Delivered to your inbox

You'll also receive Yardbarker's daily Top 10, featuring the best sports stories from around the web. Customize your newsletter to get articles on your favorite sports and teams. And the best part? It's free!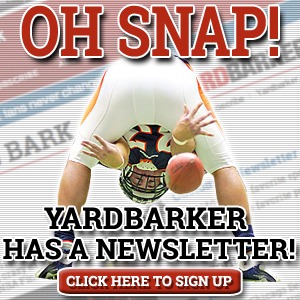 Latest Rumors
The Backyard

Today's Best Stuff

For Bloggers

Join the Yardbarker Network for more promotion, traffic, and money.

Company Info

Help

What is Yardbarker?

Yardbarker is the largest network of sports blogs and pro athlete blogs on the web. This site is the hub of the Yardbarker Network, where our editors and algorithms curate the best sports content from our network and beyond.