Found January 10, 2013 on Fox Sports South:
PLAYERS:
Sam Baker
,
Justin Blalock
,
Dirk Koetter
,
Matt Ryan
,
Bruce Irvin
,
Chris Clemons
,
Will Svitek
,
Todd McClure
,
Pete Carroll
,
Tony Gonzalez
TEAMS:
Atlanta Falcons
,
Seattle Seahawks
,
New York Giants
,
Arizona State Sun Devils
,
Fresno State Bulldogs
FLOWERY BRANCH, Ga. For a number of seasons, Sam Baker ranked high on the list of whipping boys among Falcons' fans. Left tackle is one of the hardest positions to play in the NFL and when your owner comes out publicly, as Arthur Blank did after last season's 24-2 loss to the New York Giants in the playoffs, and blames the lack of protection for the quarterback for the loss, well, fans and media alike couldn't take an easier cue. Coming off an injury-filled season, the Falcons could have gone the free-agent route to replace Baker, as some expected them to do, but they did not. They stuck with the player they selected in the first round in 2008 out of USC and their faith has paid off. Baker thinks that he's had the best season of his career and the statistics back it up. The 3.5 sacks he has allowed this season are the fewest in his five seasons other than his rookie campaign when he played in only eight games because of injury. His sacks allowed also are the second-fewest among the team's starting offensive linemen, which is even more impressive considering that, owing to his position, he plays each week against the NFL's best edge rushers. (Left guard Justin Blalock, who does not face those edge rushers, allowed the fewest at 1.5.) A clean bill of health, a new coordinator and new position coach -- both with West Coast vibes -- have led to a boost in Baker's confidence and that appears to have made the difference. Baker said first-year offensive coordinator Dirk Koetter and first-year offensive line coach Pat Hill have helped his mental approach along with implementing beneficial changes in scheme. "They've been definitely instrumental," Baker said. "Both are really positive guys. They recruited me in high school, too," Koetter was head coach at Arizona State and Hill the head coach at Fresno State "so I've known them a long time, too, so if you have a bad play, they're not worried about it. They're all about bouncing back. "It's pretty cool." Baker said Hill, in particular, has taught him about "staying in the moment, staying present." "So if something happens, move onto the next play and don't let a bad play turn into a bad game," Baker said. The improved offensive line, with Baker playing a key position on it, has proved a major reason why quarterback Matt Ryan had his most productive season as a pro and why the passing game has flourished under Koetter. Baker will need to be at his best as the Falcons, the NFC's top seed, look to defeat an aggressive Seattle defense on Sunday at the Georgia Dome. He will be matched up against rookie Bruce Irvin, who had eight sacks, but not the Seahawks' top pass-rusher, Chris Clemons (11.5 sacks), who suffered a season-ending injury last Sunday. That stands in marked contrast to last season, when Baker did not start in the playoffs, as he underwent midseason surgery on his back and lost his job to Will Svitek. The back surgery was not his first and he also has undergone elbow surgery in earlier years. Center Todd McClure said he has seen the change that has come from Baker's renewed health which has been a key, as, even in his own words, Baker does not come across as the most confident individual. "He's able to go out and play with confidence," McClure said. "And when he's had success, when you have success, especially playing at that tackle position, a huge part of it is mental game. If you have success early in games, you'll go out and jump-set a guy or try to get out on him quick where if you don't, you're going to be a little more tentative. Sam's just played really well. He's a lot happier person and I'm real happy for him." Seahawks coach Pete Carroll also has seen that Baker is playing his best. Carroll recruited Baker at USC when Carroll was the head coach there. During Baker's five years with the Trojans, the program won two national championships. Carroll called Baker a "pillar" of the success. "Sam was right in the middle of all the best that we did at SC," Carroll said. "He was not just in the middle of it, he was a leader and a captain and a guy right in the front of everything. We loved him when we recruited him and we brought him in to be exactly what he was and play that tackle spot, just like he has for (the Falcons). He's a tremendous person, a great competitor "I couldn't be more thrilled to compete against him because of how much respect and love I have for Sammy. I think he's playing the best football he's played. He looks like he's at his very best and we recognize that on our end. So more power to him." Baker can be a hard player read, hiding behind his thick protrusion of a beard and taciturn personality. He likes to read Thoreau and Kipling and grew up in Orange County, Calif., the son of the Arena Football League commissioner hardly the prototypical background of an NFL lineman. He said one teammate that he likes to talk to most is Tony Gonzalez, which seems an odd match, owing to Gonzalez's extraverted personality. While nine years separate them in age, they went to high schools that sit only 15 miles apart and their offseason homes also are near each other. Gonzalez, a 16-year veteran, said he likes to talk to Baker before games to gauge their mutual level of preparedness. "I anticipate, if you ask me a scale of 1 to 10, where you going to be at I talk to Sam Baker about this all the time, 'Where you at right now?' I anticipate being at right around a 6, 6 12 , 7," Gonzalez said. "That's where you want to be -- right in that sweet spot." Baker said he and Gonzalez think alike. "We just talk and he's a bright guy, obviously," Baker said. "He's been around. I overthink things a lot. We just rap with each other pretty much. "He's just a fun guy to talk to because he's basically seen every situation in the NFL. For me, as a younger guy, he's got a wealth of knowledge and so I love talking to him and he likes to encourage me, too." Blalock, who has played next to Baker for all five of his seasons, said he sees that Baker is a bright guy, too. "He's always been a real savvy guy," Blalock said. "Even as a young player. He knew his assignment. He knew a couple of little tricks. He studies really, really hard. He does a good job of being prepared every week." When Falcons players talk about their former coaches it's hard not to read between the lines and detect negativity associated with them. Former offensive coordinator Mike Mularkey was fired on Thursday as head coach of Jacksonville, in part because his difficulty communicating with players translated into a lack of success on the field. In addition, salty offensive line coach Paul Boudreau, now with St. Louis, personifies the term "old school." McClure, a 13-year pro, said the offensive line as a unit has benefitted not only from the scheme changes brought by the new coaches screens that take pressure off pass rushers but from their attitudes. "One of the things I told Dirk that I've really appreciated with him, he's always level-headed," McClure said. "He doesn't get too mad at guys. Now, he comes down on us when he has to and when we have a bad day at practice he's going to let us know. But he's level-head and I think that's huge. When you get that from an (offensive coordinator) you're able to relax and play football and not worry about making mistakes. You're able to be aggressive." From the results, Baker seems to have benefitted as much as any.
Original Story:
http://www.foxsportssouth.com/01/10/1...
THE BACKYARD
BEST OF MAXIM
RELATED ARTICLES
Matt Ryan has to shoulder all of the pressure for the Falcons' franchise this weekend. The Wildcard round brought us some pretty bad games.  The marque quarterbacks were on a bye so this week should be a lot better.  Here are the quarterbacks and how they stack-up 1) Manning - Peyton Manning is the MVP of the League this year so he has to be the best QB on the board.  He...
Atlanta Falcons quarterback Matt Ryan has played in three postseason games since being drafted in 2008, he's 0-3, but says he's not feeling the pressure to win.  "I don't worry about it. I don't think about it," Ryan said Wednesday before practice. "My focus is for this locker room and for the guys and the coaching staff that we're all together. We want to...
FLOWERY BRANCH, Ga. -- Falcons defensive end John Abraham was limited in practice for the third straight day on Friday, still hindered by an ankle injury during the regular-season finale. Atlanta currently lists Abraham's status as questionable for Sundays NFC Divisional playoff clash with Seattle. Abraham, who led the Falcons in sacks with 10 and ranked third in the NFL in...
Atlanta Falcons receiver Julio Jones gives position coach Terry Robiskie a lot of credit for helping him make the Pro Bowl in his second season. If you catch a glimpse of Jones standing on the sideline during games, he's usually talking with Robiskie. That's because Robiskie, with 30-plus years of NFL coaching experience, is rarely surprised by any move or decision Jones...
When Seahawks brash cornerback Richard Sherman acknowledges that someone does something well, he really must be impressed. Sherman is usually frank in his assessment of players and teams. Before the Redskins playoff game, he said "he wasn't impressed with the Washington receiving corps." Obviously Roddy White and Julio Jones, both receivers have a good combination of size...
Atlanta Falcons tight end Tony Gonzalez says this is his last chance to win a Super Bowl. "For me, obviously, this could be it," Gonzalez said. "There is no tomorrow. There is no saying, 'We'll get 'em next year.' It's about going out there and trying to finish on the right note." Click Link Below to Read More!
They share the honors for the best record in the NFL this season at 13-3 with Denver. But, going into Sunday's divisional playoff against Seattle, most of the regular NFL experts say Atlanta fattened up on the easiest schedule in the league.The talking heads are also quick to point out that the Falcons were not only beaten but embarrassed in their playoff appearances the past...
The wild card weekend is over,it's time to separate the men from the boys. Weaknesses that can be hidden on a normal Sunday, will be exposed like George Clinton at an insurance seminar. Atlanta has been very good, dominant at times (just ask the Giants). What does 13-3 and the number one seed in the playoffs buy you? Not a lot of respect if you are the Falcons.People view them...
The Falcons and Matt Ryan have the worst match-up against Seattle if they want to get their first playoff win. The Wildcard games disappointed for one reason, quarterback play.  That will not be a problem this weekend.  The marquee quarterbacks are off their bye weeks and are ready to lead their teams onto the field. Here is a look at the games and my selection of the winners...
Seattle Seahawks (12-5) at Atlanta Falcons (13-3) Game Day: Sunday 1:30 p.m. ET, FOX Line: Falcons -2 ½ Series Record: Seattle leads 8-5 Perhaps the least appreciated NFL playoff game in years, this matchup actually boasts more appeal than meets the eye. Atlanta's veteran group, in a widely discussed postseason slump, faces a primarily young group in Seattle led by an aging, but...
Will Matt Ryan get his first ever postseason victory, or will Russell Wilson continue to steamroll the opposition on his way to his second-plus victory? Arguably the most intriguing game of the entire weekend (save SF-GB), this is finally the game we have all been waiting for though. Marshawn Lynch (foot) has been running like a man possessed all season long and he has tasted the...
Even with the surging Seattle Seahawks standing in the way, the Atlanta Falcons are confident they can end their recent playoff struggles. The top-seeded Falcons look to avoid a fifth consecutive playoff defeat while the Seahawks try to continue their postseason run with a seventh straight victory in Sunday's NFC divisional contest at the Georgia Dome. Atlanta (13-3) is 56...
NFL News

Delivered to your inbox

You'll also receive Yardbarker's daily Top 10, featuring the best sports stories from around the web. Customize your newsletter to get articles on your favorite sports and teams. And the best part? It's free!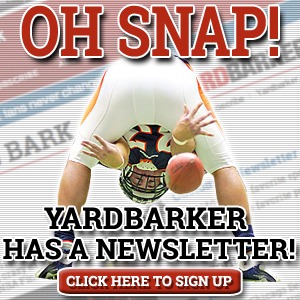 Latest Rumors
The Backyard

Today's Best Stuff

For Bloggers

Join the Yardbarker Network for more promotion, traffic, and money.

Company Info

Help

What is Yardbarker?

Yardbarker is the largest network of sports blogs and pro athlete blogs on the web. This site is the hub of the Yardbarker Network, where our editors and algorithms curate the best sports content from our network and beyond.