Found November 13, 2011 on Fox Sports South:
PLAYERS:
Darren Sproles
,
Mike Smith
,
Terrell Suggs
,
John Harbaugh
,
Ray Rice
,
Julio Jones
,
Roddy White
,
Harry Douglas
,
Drew Brees
,
Jimmy Graham
,
Devery Henderson
,
Robert Meachem
,
Lance Moore
,
Pierre Thomas
TEAMS:
New Orleans Saints
,
Baltimore Ravens
,
Atlanta Falcons
ATLANTA -- Amid the battle for NFC South supremacy, astylistic war is waged. The New Orleans Saints are one of the leaguespreeminent air it out juggernauts. So many weapons youd think their playswere called in from the Pentagon, not the sidelines. And then theres Atlanta, one the few good squads in theleague that still try to ram it down your throat.Thats what the Falcons tried to do on what would be theirlast offensive play of the game Sunday. Having forced overtime after scoring 10unanswered points in the fourth quarter, Atlanta had squandered its firstpossession in overtime and dodged a bullet when Falcons linebacker SeanWeatherspoon kept Darren Sproles from converting a third down. So there was Atlanta, on its own 29, fourth down, 1 yard togo. Head coach Mike Smith in a gutsy, yet risky decision that hed later takeresponsibility for as my decision solely told his crew to go for it. Ram itdown the Saints collective throats and do it with the 250-pound, trunk-heavy,workhorse Michael Turner.No dice. Turner didnt even get to the line of scrimmage.What happened?It happened so fast. So, to recall the specifics of theplay is tough right now, said a surprisingly upbeat Turner after the game.All that I know is that we didnt make the first down.It was a tough way to lose the game.Of course, the lead postgame question centered aroundSmiths decision, since he initially sent out the punting unit, then had achange of heart.The play was called due to a healthy fear of New Orleansheavy-artillery attack and it was also a vote of confidence for the Falconsown ability to dictate what happens at the line. I thought the football was inside a half a yard. I thoughtwe could get it, said Smith. I did not want to give it back to the Saints. Inprevious games, in close games weve played them, weve punted the ball andtheyve gotten the ball back with three minutes to go and we never saw it againand they end up winning the ballgame. That was the decision-making process thatI went through.Getting a tough yard thats what Atlanta does best. Exceptthey didnt.I felt like, if we cant move the ball three or fourinches, then were probably not going to win the ballgame.This is true.Smash-mouth football took a philosophical defeat. Atlanta isone of the few playoff contenders that run, then run some more and then runsome more again between the tackles no less. Its quaint, if not a littleantiquated in todays NFL. Even teams that instinctively conjure smash moutharent exactly smashing many mouths these days. A few weeks ago, Baltimores Terrell Suggs begged his coach,John Harbaugh, to give Ray Rice the ball more after the Pro Bowler wasunder-utilized in a loss. Pittsburghs offensive hallmark this season isnt agrind-it-out rush attack, but Ben Roethlisberger-to -Mike Wallace. Atlantas signature drive, one in line with its identity,was its first of the game a 16-play trudge up the field. They took eightminutes and 40 seconds to go just 61 yards, 40 on Turner runs. One of Atlantassignature plays was Turners 5-yard bulldoze on fourth-and-1 that set up JasonSnellings 21-yard touchdown (he practically stumbled in) in the third quarterthat briefly put Atlanta up 13-10. It was 5 tough, physical yards, the kind thatAtlanta and Turner routinely get.Interestingly enough, for a while, late in the fourthquarter, Atlanta forced to scrap the run game as they frantically tried toclose a 10-point gap was out-Saints-ing the Saints. With Julio Jones nursinga gimpy hamstring on the sidelines and Roddy White unusually bottled up, MattRyans favorite target for the Falcons air assault was Harry Douglas targeted a team-high 14 times who snagged eight balls for 133 yards. On Atlantas final drive in regulation, Ryan and Douglasconnected for 23 yards, then another one for 23 and another one after that for20 all over the middle with a lot of open green turf around him.I believe they busted a few coverages on me that allowed meto get open in the middle of the field, said Douglas. Matt and I were on thesame page relatively all game.Ryan ended up with more yards, 351, than Drew Brees (322),although he wasnt terribly accurate connecting on just 29 of his season-high52 attempts. And after orchestrating two brisk, yard-gobbling drives at the endof regulation, the offense sputtered in overtime, gaining just 17 yards.Meanwhile, lost in the loss and the failed fourth-down callin overtime is the fact that the Atlanta defense actually did an admirable job ofkeeping the Saints from running wild. It has to be a tad frightening for adefense to see Brees and the Saints trot out the heavy artillery. MarquesColston, Jimmy Graham, Devery Henderson, Sproles, Robert Meachem, Lance Moore,Pierre Thomas playmaker after playmaker after playmaker. When the Saints play, two phrases are on loop: What a passand What a catch. Like, for instance, Brees hookup with Meachem in the thirdquarter a gorgeously thrown 33-yard bomb (more weapon-talk, of course) overtwo Falcons defenders that was somehow less spectacular than the catch.It seemed like the Saints were ready to start Nawlinsstruttin on Atlanta, but on the next two possessions, the Falcons defense dida lot of bending without breaking, holding New Orleans to consecutive fieldgoals.It was tough on us out there, said Weatherspoon. But Ifeel like when it came down to it, the defense stood up and had some goodshowings against (Brees) to get the ball back to our offense.That they did. When you get the ball twice in overtime andcant manage a first down, youve got issues. Doing so against your divisionrival in game that could have put you in a tie for first place has got to hurt.Ending the game failing to do what you do best and a lot of NFL teams haveabandoned bullying your way for a few tough yards, inches, whatever justadds unnecessary, surely unwanted sting. As a player, youve got to love the confidence that (Smith)has in the offense in that situation, said a resigned Ryan. We just needed toexecute better and I think that play is kind of a summary for the game.
Original Story:
http://www.foxsportssouth.com/11/13/1...
THE BACKYARD
BEST OF MAXIM
RELATED ARTICLES
When Mike Smith decided to go for fourth-and-inches from his own 29 in overtime against the Saints on Sunday, I figured that there weren't a lot of people outside of Mike Smith who were thinking "That's a good idea." But according to an ESPN.com poll on Sunday night, some 43 percent of people DID agree with Smith's decision. Huh? I knew there would be...
Here are a very few thoughts from the tough, tough loss for the Falcons yesterday:1.Red Zone efficiency. The Falcons offense was very effective at getting into the red zone, and ultimately getting into the endzone. The Falcons were … [visit site to read more]Falcons vs. Saints: What could have been - Blogging Dirty - Blogging Dirty - An Atlanta Falcons Fan Site - News, Blogs, Opinion and more.
Atlanta Falcons rookie wide receiver Julio Jones exited Sunday's game against the NFC South rival New Orleans Saints after aggravating his hamstring injury. Jones was testing his hamstring on the sideline to start the third quarter, but had not received clearance to return. The sixth overall pick of the 2011 draft, Jones entered the game with 28 receptions for 489 yards and...
Every Sunday, we will ask each of our staff here at Blogging Dirty to give their score prediction for the Falcons game and why they think that will be the outcome.Jamie Kelly - This game will be close like it always is. I fancy … [visit site to read more]Falcons vs Saints – Blogging Dirty Staff Picks - Blogging Dirty - Blogging Dirty - An Atlanta Falcons Fan Site - News, Blogs...
With a 26-23 victory over the Falcons, the New Orleans Saints took control of the NFC South Division on Sunday. Over the last two seasons, the winner of the first matchup has gone on to post a 13-3 record and win the division. In 2009, the Saints parlayed a victory in the rivalry to a division title on their way to the Super Bowl. Last season, the Falcons won the first game against...
ATLANTA (AP) -- John Kasay kicked a 26-yard field goal in overtime to give the New Orleans Saints a 26-23 victory over Atlanta after Falcons coach Mike Smith decided to go for it on fourth down deep in his own territory Sunday. The Falcons (5-4) rallied from a 10-point deficit in the fourth quarter, tying it on Matt Bryant's 27-yard field goal on the final play of regulation...
I have no personal stake in the Falcons or the Saints, but I want to thank Mike Smith for having cojones, for giving us something to think about, something to talk about, and something to write about. We need more like you, coach, and we can all learn something from your Week 10 decision. You surely saw the critical call or have heard about it by now: Smith had his Falcons attempt...
(source feed provided no summary content for this entry)
NEW ORLEANS SAINTS (6-3) at ATLANTA FALCONS (5-3) Sunday, 1:00 P.M. ET, FOX, Direct TV (712), Sirius (NO 92, Atl 134) Why Watch The Falcons behaved like a kid with a new toy on Christmas morning when they over-focused on rookie wide receiver Julio Jones to start the season while forgetting the other goodies in the toy chest. Jones' October injury forced Atlanta to rediscover...
New Orleans Saints wide receiver Marques Colston (12) makes the catch as Atlanta Falcons free safety James Sanders (36) defends during the first half of an NFL football game Sunday, Nov. 13, 2011, in Atlanta. (AP Photo/John Bazemore) New Orleans' John Kasay made a 26-yard field goal with 8:42 left to lift the Saints to a 26-23 victory in overtime on Sunday at the Georgia Dome....
NFL News

Delivered to your inbox

You'll also receive Yardbarker's daily Top 10, featuring the best sports stories from around the web. Customize your newsletter to get articles on your favorite sports and teams. And the best part? It's free!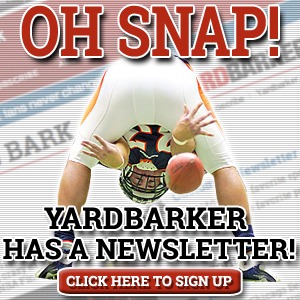 Latest Rumors
The Backyard

Today's Best Stuff

For Bloggers

Join the Yardbarker Network for more promotion, traffic, and money.

Company Info

Help

What is Yardbarker?

Yardbarker is the largest network of sports blogs and pro athlete blogs on the web. This site is the hub of the Yardbarker Network, where our editors and algorithms curate the best sports content from our network and beyond.