Found July 31, 2012 on Fox Sports:
PLAYERS:
Asante Samuel
,
Matt Ryan
,
Champ Bailey
,
Ty Law
,
Tyrone Poole
,
Brent Grimes
,
Dunta Robinson
,
Mike Smith
,
Peter Konz
,
Phil Niekro
TEAMS:
Atlanta Falcons
,
Philadelphia Eagles
,
Denver Broncos
,
New England Patriots
For one of the most talkative players around, Asante Samuel doesn't have much to say when the media are ready to listen. That's just fine with the Atlanta Falcons, who hope their new cornerback just keeps chatting - and ball-hawking - on the field. Traded from the Philadelphia Eagles to the Falcons in April, Samuel has met with local reporters just a few times since then and he's been brief in his comments each time. Again, after Tuesday's training camp practice, he stood still just long enough to start and stop a tape recorder. Before that, No. 22 was, as always, plenty loquacious on the field. He rarely stops lobbing verbal salvos whether he's on the field or not. ''All I want to do is make Arthur Blank proud!'' he yelled at one point between plays as the Falcons' owner beamed nearby. Later, Samuel complained that Atlanta quarterbacks were holding the ball too long before passing when there was no pass rush during a drill. He was counting, even when he wasn't on the field. ''That's five-Mississippi right there!'' he said while a spectator. ''You've got to let it go at three-Mississippi.'' Another time, he warned Falcons quarterback Matt Ryan, ''You know next time that'll be a pick.'' And that is precisely what the Falcons are looking for from the 10-year veteran. The Falcons hope Samuel helps them add a little attitude on defense, particularly on third-downs. Atlanta allowed a 44.1 percent conversion rate last season to rank No. 29 in the NFL. Enter Samuel, who signed a three-year, $14.5 million contract with the Falcons on April 25, the day he was acquired for a seventh-round draft choice in what amounted to a salary dump by the Eagles. Since 2006, he has intercepted more passes (39) than any player in the NFL. He tied Denver's Champ Bailey for the league interception lead (10) that season, tied three players for the lead with nine in `09, and led the NFL outright with seven in `10. He has also returned five interceptions for touchdowns, nine when including the NFL postseason-record four pick-6s he's logged in the playoffs. ''Unbelievably instinctive. He's somebody who understands football, and . . . he's got all the skills to play,'' Falcons secondary coach Tim Lewis said. ''But what really stands out . . . over and above the rest is his instincts.'' Ah, the skills. Samuel had a modest three interceptions last season, but to say that he does not buy into the suggestion made recently by a Philadelphia sports writer that team officials believed him to be in, ''steep decline,'' would be the understatement of training camp so far. It should be noted that no Eagles officials were quoted as saying that; the writer paraphrased it that way. ''No comment,'' Samuel said at first. ''We'll see who's in steep decline.'' That was Samuel's reference to Oct. 28, when the Falcons will play at Philadelphia -- for whom he played four seasons after joining the Eagles as a free agent in 2008. Soon after Samuel was acquired by the Falcons, he told the Atlanta media that he rarely speaks with reporters. He's kept his word. Tuesday was the first time since training camp opened that he took reporters' questions, and just the third time in the four months since he joined the Falcons. Asked about bringing energy to the Atlanta defense, he said, ''They've been known as nice guys? Well, we're mean now. We're a bunch of mean guys with a lot of energy. ... That's how we roll.'' It's not yet clear where Samuel will roll with the Falcons. He has been chiefly used on the left side in his NFL career, which began in 2003 when he was drafted in the fourth round by the New England Patriots. By the end of that season, in which New England cornerbacks Ty Law and Tyrone Poole were injured, Samuel became a starter. He picked up Super Bowl rings with the Patriots in each of his first two seasons. Brent Grimes was the Falcons' left cornerback when healthy last season after going to the Pro Bowl in 2010. Dunta Robinson was chiefly the right cornerback. ''We just practice both sides,'' Samuel said. ''I dropped my pick over there, you know what I mean? Got to get used to that side a little bit. Made a lot of money over there on the left side.'' It's pretty clear already that Robinson is going to play a great deal in the nickel corner position, but beyond that there remain decisions to be made. ''We're going to have multiplicity in what we're doing defensively,'' coach Mike Smith said. ''Brent's played both sides. Asante's played both sides. It's something that we're going through as a staff.'' There is very rarely any guesswork required when you hear chatter coming off the field from a player. It's usually Samuel. ''If you're not having fun, then you're just going through the motions,'' he said. ''Having fun and talking trash, putting the bulls-eye on your chest . . . makes you stand up in the paint.'' There were a couple of times when Samuel jumped offsides Tuesday in response to a wide receiver jumping. ''You've got to sell that to the referee or they won't call it,'' he said while defensive teammates pleaded with him to get back onside. If it's energy the Atlanta coaches are looking for, Samuel's bringing it already. ''It generally is a very positive thing because he's a positive guy. He has a very competitive nature,'' Lewis said. ''If he ever does cross the line, I'll let him know. I have a good enough relationship with him they he'll understand when enough is enough, if something is over the line. He and I have talked about it, and I'm good with it.'' Notes: The Falcons ended practice with three plays of live action on or near the goal line while deploying mostly young players on both sides of the ball, and the offense scored on two of three plays running behind rookie guard Peter Konz. ''It brought out the competitive juices in everybody,'' Smith said. ''They didn't know it was coming.'' . . . Phil Niekro, the 73-year-old Hall of Fame pitcher who played for the Braves from 1964-1983 and again in 1987, was at practice. . . . The Falcons will be off Wednesday and practice Thursday. They will practice Friday at a nearby Peachtree Ridge H.S., which is in the same town - Suwanee - as the Falcons' former headquarters.
Original Story:
http://msn.foxsports.com/nfl/story/Fa...
THE BACKYARD
BEST OF MAXIM
RELATED ARTICLES
FLOWERY BRANCH, Ga. In one of his innumerably colorful moments less than a week into Falcons training camp, cornerback Asante Samuel volleyed a comment across the divide that separates offense and defense in the direction of new offensive coordinator Dirk Koetter. After an incomplete pass, Samuel's words were to the effect that Koetter should check the spacing between the receivers...
Matt Ryan entered the league with a very similar scouting report as Peyton Manning: scouts praised his football IQ and accuracy, touted him as a pro-readyquarterback, but questioned his arm strength. Both quarterbacks started from day one and are at their best when in the no-huddle offense. Much like Manning early in his career, Ryan has been branded as a quarterback who is a regular...
The statue of former Saints safety Steve Gleason blocking a punt against Atlanta is probably one of the coolest statues I personally have ever seen. Gleason's blocked punt sent him into the annals of Saints history as a symbol of the rebirth of a city ravaged by natural disaster. The controversy, though, is that the falcons don't want to be remembered as the team on the receiving...
Matt Ryan likes to undersell his athleticism in a self-deprecating manner. The Atlanta Falcons' fifth-year quarterback doesn't talk much about it publicly, but Ryan is usually among the first to poke fun at his speed and arm strength. ''Matt is a very humble guy, and Matt is a better athlete than you think,'' Falcons coach Mike Smith said on Monday. '...
Albert Breer of the NFL Network has changed from being generally insufferable to being awesome because he visited Falcons camp.  Breer believes the new coordinators, Mike Nolan and Dirk Koetter, reflect the belief that Atlanta needs more of a "gun slinger mentality." Certainly there was need for change after Atlanta schemed to lose in the playoffs the last few years. ...
FLOWERY BRANCH, Ga. Grizzled, long-time NFL coaching veterans shepherded Matt Ryan's entry into the NFL. In quarterbacks coach Bill Musgrave, he had someone who played the position in the league behind greats such as Joe Montana and Steve Young and then coached it. When Musgrave left after Ryan's first three seasons to become offensive coordinator with the Minnesota Vikings...
We"ll be airing it out every week Juan… 2011 Recap:  The Falcons have been relying on Michael Turner and the power running game since Matty Ice was drafted.  Ryan has had a great rapport with both Roddy White and Tony Gonzalez, but was also given Julio Jones to give him a downfield threat.  Julio struggled early, but when he got healthy and 'caught on' to the offense,...
Matt Ryan has accomplished a lot in his career. He won the Offensive Rookie of the Year award in 2008, was a Pro Bowl selection in 2010 and has led the Falcons to the playoffs three times in the last four years. So that should make him one of the top 100 players in the NFL, right? Well, not necessarily, because when the league came out with their top 100 list, 13 quarterbacks made...
probably not representative of the average Falcons fan The 2011 Falcons were a baseline good team. They beat the teams they were supposed to beat, but were swept by the Saints and finished 1-3 in the regular season against playoff teams, the lone victory being against the other NFC Wild Card, Detroit, in Week 7. Atlanta advanced to the playoffs, where they were defeated soundly by...
Aron White making most of opportunity White said he is using every opportunity to benefit from being around Gonzalez, whom he called "the greatest to ever play." "Anything that he does mention, you try to take in as much as possible and be a sponge," White said. "At the same time, you don't want to crowd a guy. We all have to act professionally and take care of our...
Comments on the Atlanta Falcons by the AP Pro32 panel (ranking in parentheses): ATLANTA FALCONS (13) John Lynch (Fox Sports, 7): A model organization from Arthur Blank to Mike Smith to Matt Ryan on down, and it now has to man up in playoffs. Alex Marvez (Foxsports.com, 8): Falcons are hoping change of offensive and defensive coordinators leads to first playoff win under head coach...
NFL News

Delivered to your inbox

You'll also receive Yardbarker's daily Top 10, featuring the best sports stories from around the web. Customize your newsletter to get articles on your favorite sports and teams. And the best part? It's free!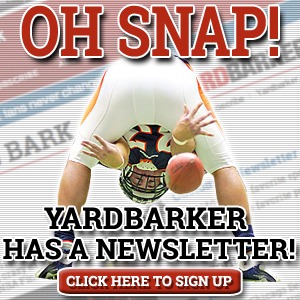 Latest Rumors
The Backyard

Today's Best Stuff

For Bloggers

Join the Yardbarker Network for more promotion, traffic, and money.

Company Info

Help

What is Yardbarker?

Yardbarker is the largest network of sports blogs and pro athlete blogs on the web. This site is the hub of the Yardbarker Network, where our editors and algorithms curate the best sports content from our network and beyond.