Found December 27, 2011 on Fox Sports South:
PLAYERS:
Mike Smith
,
Drew Brees
,
Michael Vick
,
Jay Cutler
,
Josh Freeman
,
Aaron Rodgers
TEAMS:
New Orleans Saints
,
Philadelphia Eagles
,
Chicago Bears
,
Tampa Bay Buccaneers
,
Green Bay Packers
,
Atlanta Falcons
FLOWERY BRANCH, Ga. -- Less than 15 hours after his team suffered the most lopsided defeat of his tenure, Falcons coach Mike Smith was more concerned with fixing his teams mistakes than he was about any discussion of the playoffs in two weeks. The Falcons clinched their third playoff berth in Smiths four seasons on Sunday when Green Bay defeated Chicago, but the coach was in no mood to say whether he would prefer to get another shot at New Orleans -- a likely scenario -- after the Saints 45-16 victory on Monday. Well, guys, Ill be quite frank with you, Im not concerned about our seeding, who were going to play, Smith said. Theres a lot of football to be played this last weekend. I think we have to focus on what we can control and thats going out and playing effective football against Tampa Bay this week and well find out after the game where were going in terms of the second season. Were excited about the opportunity. It doesnt feel good right now after the performance we had last night, but we cant worry about the playoffs. Weve got to go out and play good football this Sunday and get this bad taste out of our mouth. Smith called the game humbling and indeed it was. New Orleans was perfect on third-down conversions in the first half, making good on all eight tries. Only an interception in the end zone prevented the Saints from scoring touchdowns on all four of their possessions in the half. By intermission, the Saints had amassed 306 yards total offense -- the kind of stats more often seen when Southeastern Conference powerhouses play directional schools in the early weeks of the college season. The cherry on top of the Falcons sundae of misery was allowing the Saints to score a touchdown with 2:51 left in regulation so that quarterback Drew Brees could break Dan Marinos 27-year-old single-season passing yardage record. While some anonymous Falcons were said to grouse in various media reports about the indignity of the Saints running up the score so that Brees could break the record, Smith refused to take the bait after the game or on Tuesday afternoon. Guys, its our job as a defense to stop the offense, Smith said. Its the offenses job to try to gain yards and theyre going to gain yards in whatever way they think they need to do it and we didnt get it done. "In regards to Drew Brees, its a monumental record that he set last night in the ballgame and my hats off to Drew for the season hes put together to beat Dan Marinos record. But in terms of when it happened, why it happened in the ballgame, hey, guys, its our job as a defense to go out and stop them if theyre trying to run it, if theyre trying to throw it, weve got to stop them and we didnt do that. While its not Smiths style to reveal much about the psyche of his team, one can only wonder what a sound beating from its arch-rival -- a team that the Falcons felt they still had a chance to unseat for the NFC South title going into Mondays game -- will do to its confidence. Having lost twice this season to the Saints and in five out of the last six meetings and knowing that any return matchup would be played in the hostile confines of the Superdome, the Falcons could look at the opportunity two ways. One would be that after suffering such a crushing blow, it would be hard to mount a charge for the second time in two weeks with the Saints taking on aura of invincibility. The other would be to embrace the challenge. If Detroit beats Green Bay or the Falcons lose to Tampa Bay -- which would seem unlikely -- and San Francisco defeats St. Louis, the Falcons would find themselves back in New Orleans on the weekend of Jan. 7-8. Smith did not answer directly when asked if he would like another shot at the Saints to prove that Monday was, to use his word after the game an aberration. We cant control where were going, who were going to play, he said. I know this: Our focus right now is on Tampa Bay. Once the Tampa Bay game is over, we will move our focus to the second season and whoever were going to be matched up playing against, thats the team that were going to be excited about playing. Were not even thinking about the playoff scenarios right now. Were thinking about correcting the things that weve got to correct as a coaching staff and as a football team so we can go play well this season. His team gave him many things to correct on Monday. He discussed tackling, the pass rush and not playing physical enough to win the battles on the line of scrimmage -- in many ways, so many of the most elementary concepts of football. Fortunately for the Falcons, the Buccaneers (4-11) present an ideal opponent against which to fix mistakes. Tampa Bay has lost nine straight, the longest current streak in the league. In their last four games, the Bucs have given up 38, 41, 31 and 48 points. Yet even if the Falcons beat up on the Bucs, as they did against another 4-11 in Jacksonville on Dec. 15, it could be hard to dispel the notion that the Falcons are capable of beating top teams or, in particular, teams with top quarterbacks. The only teams they have beaten with a winning record are Detroit and Tennessee. The best quarterbacks they have beaten are Michael Vick in a subpar season, Matthew Stafford and Cam Newton, a rookie. They have lost to Jay Cutler, Josh Freeman, Brees twice and Aaron Rodgers. Believe me, and I said it last night, our goal is much higher than just making the playoffs, Smith said. Hey, we were fighting for a higher seed last night in the ballgame. There was a lot of motivation for our team, there was a lot of motivation for their team. They went out and played better. But I can assure you: For our organization our goal is not just to make the playoffs. Our goals are much higher than that. We have a road map that you have to follow to get there, meaning that youve got games to play and we didnt play very good last night. Its a humbling experience for all of us because we didnt play Atlanta Falcons football like we know were capable of playing.
Original Story:
http://www.foxsportssouth.com/12/27/1...
THE BACKYARD
BEST OF MAXIM
RELATED ARTICLES
Now that the Atlanta Falcons have played their worst game of the season, quarterback Matt Ryan is looking for complete turnaround. The Falcons returned to practice Wednesday for the first time since suffering a blowout loss at New Orleans on Monday night, and Ryan wanted to see if the team would respond appropriately with a playoff road trip looming next week. ''You'...
The Atlanta Falcons have placed linebacker Mike Peterson and cornerback Kelvin Hayden on injured reserve. Peterson played in four games this season, including Monday's 45-16 loss to New Orleans. The 13-year veteran had 24 tackles and an interception Hayden appeared in eight games but has been sidelined since Week 11. He had 22 tackles and a pair of interceptions. The Falcons...
Tweet –D. Orlando Ledbetter, The Atlanta Falcons beat blog Get instant updates on Twitter at AJCFalcons and you can join the Facebook Fan page at AJC Falcons.
I'm probably late to the party on this one but some Alabama fans made a rap video about Julio Jones who is now a Wide Receiver for the Atlanta Falcons. My God is it awful but Julio Jones is a man beast that is not to be trifled with.[H/T Ramzyn and SteakNStiffarms]
The Falcons ran into a buzzsaw last night as the Saints beat the piss out of them.  Matt Ryan put up solid numbers as he completed 34 of 52 passes for 373 yards with 1 TD pass and 0 INTs.  Chris Redman finished up the game by completing 6 of 9 passes for 61 yards without a TD pass or INT.  Michael Turner didn't get the ball too much in this game with the Falcons playing catch...
This could be an outstanding game on Monday Night Football.  The Falcons have won two games in a row in which they have scored a combined 72 points.  They are in the NFC Playoffs, and they are now battling the Detroit Lions for seeding.  The Saints have won six games in a row including a 26-23 O.T. win over the Falcons in Atlanta.  Here is a look at the matchups in this game...
Though most of the Atlanta Falcons congratulated Drew Brees after Monday night's 45-16 loss, at least one Falcons player took exception to the Saints' decision to pass in the closing minutes of a blowout.
The Atlanta Falcons might have beaten the New Orleans Saints if not for a failed fourth-and-1 in their own territory in overtime when they met earlier this season.
Falcons coach Mike Smith thinks his team might be facing the best quarterback ever to play the game when they take on Drew Brees and the Saints tonight. "Drew is playing as well as anyone has played the quarterback position, in my mind," Smith told Albert Breer of NFL Network. "He's 72 percent for the…
NFL News

Delivered to your inbox

You'll also receive Yardbarker's daily Top 10, featuring the best sports stories from around the web. Customize your newsletter to get articles on your favorite sports and teams. And the best part? It's free!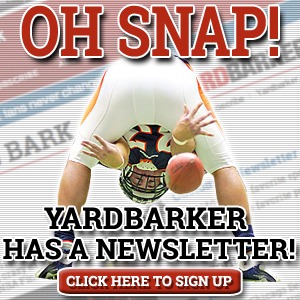 Latest Rumors
The Backyard

Today's Best Stuff

For Bloggers

Join the Yardbarker Network for more promotion, traffic, and money.

Company Info

Help

What is Yardbarker?

Yardbarker is the largest network of sports blogs and pro athlete blogs on the web. This site is the hub of the Yardbarker Network, where our editors and algorithms curate the best sports content from our network and beyond.