Found November 18, 2012 on Fox Sports South:
ATLANTA Michael Turner, in some small measure, felt vindicated. After all, Paul Dunn, the Atlanta Falcons assistant offensive line coach, had delivered a message to the veteran running back and his teammates in meetings this week, pulling aside his short-yardage unit to remind them of its potential. There was little screaming. Just a reminder; A simple message concerning what the team was and what it wasn't. "It wasn't the fire-and-brimstone speech," tight end Tony Gonzalez said. It was just last Sunday that Dunn's unit, heavily reliant on Turner in past years, faltered with the game on the line, failing to punch the ball into the endzone for a game-winning touchdown over the rival Saints. On second-and-goal, with one yard to go, a Matt Ryan pass fell short. On fourth down, another incomplete pass, all but finalizing the outcome. But it was the third-down attempt trailing New Orleans 31-27 with time ticking away that dominated the media airwaves. Ryan handed the ball off to Turner, who, running into the back of an offensive line that got zero initial push, was stopped for a loss. Even if games are 60-minute affairs, it sure felt like the NFC South showdown was lost in that moment. Dunn's reminder: That's not who we are. "We're better than that," Gonzalez said. "Statistically, you look at what we've done around here the last couple years, we usually convert those." In the aftermath, on radio airwaves and media headlines, doubt started to creep in on whether or not 2012 Michael Turner could mimic his former production, even in short yardage situations. With an offensive line struggling, a shiftier back (i.e. 5-foot-6 Jacquizz Rodgers) was the more suitable option, so the theory went. Listeners called in to agree. Football experts said, yes, go to Rodgers and spread it out. But when push came to shove Sunday, with the Falcons trailing again in a fourth-quarter goal line situation this time 19-16 to the Arizona Cardinals Turner was again the first option. And against one of the better defenses in the league, he delivered the game-winning score. Redemption. "It felt good, it felt good for the team and for the O-line and everybody to punch it in from the 1-yard line," said Turner, who has rushed for 575 yards and five scores this season. "It was kinda symbolic of last week. So we knew we had to go ahead and finish it off. And it was great that we did it on the first try." Dunn's meeting, at least momentarily, appeared to pay off. The Falcons improved to 9-1 with their home win, tied for the best mark in the NFL. Even after turning the ball over six times, including a career-high five interceptions from Ryan, it was a power running game that eventually finished the job just like old times. So yes, it did feel good. Certainly less humiliating than the loss to the Saints. "We felt embarrassed. We couldn't get it done. We were on the 1-yard line to win it," Turner said. "And Coach (Dunn) just reminded us that it's times like this when you've got to pull through, dig down deep and give it all you've got." They did on Sunday. But these are not old times. All is not well with the Falcons' rushing attack, even with a two-time All-Pro back finding pay dirt. Walking from the Yellow Lot parking area past the World Congress Center to the Georgia Dome, an unofficial tally of nine No. 33 Michael Turner jerseys was reached early Sunday afternoon. Only the last names Ryan and Gonzalez were more readily available. Four years of productivity will yield such results. There were no Jacquizz Rodgers uniforms, no Jason Snelling impersonators. In the NFL, production equals value equals stardom. But perhaps no position offers such volatile feedback as the running back spot Turner inhabits, a young man's specialty, an elder statesman's struggle. Primes are generally hit in the mid-20s. Turner, for instance, is 30. This causes media discord, fan concern. The Falcons entered the Cardinals game as the seventh-worst rushing team in the league, averaging just 3.79 yards per rush. They've been held under 100 yards on the ground in the majority of their games. Oakland held them to 45, New Orleans to 46. Atlanta's deficiencies are masked by a dynamic passing game, but on days like Sunday with Ryan struggling the negatives are brutally apparent. Arizona held the Falcons to 58 yards rushing on 24 carries (2.4 yards per carry). It was the same story, different day, but the restlessness came to life. Fans booed Turner in the first quarter after a fruitless attempt and a three-and-out. At one point, a Turner-outfitted Falcons fan seated below the press box stood, cupped his hands and joined in. The adjective "expendable" is too harshly utilized in describing NFL running backs, but too often accurate. The fans weren't booing Rodgers, who rushed for just 16 yards against the Cardinals. He's not the past. He's not, as many described Turner over the past week, too far removed from his prime. Of course, the boos died out with Turner's touchdown, but it did not change the fact that the Falcons are still searching for a consistent running game, at least in short-yardage situations, to disallow teams from keying in on Ryan as the Cardinals were able to do. If this is the Super Bowl team a 9-1 record loudly suggests and do not kid yourself, Atlanta is a legitimate contender there is much work to be done. The Falcons are willing put it in, too. "We definitely wanted to come out, we were kinda waiting, kinda anxious for it to tell you the truth," Gonzalez said of the fourth-quarter goal line situation. "I'm glad we got a chance to go out there and prove that we can get it done to ourselves foremost and then obviously to everybody else after that. "When we get in that position we're supposed to put it in, especially with a 250-pound like that." Atlanta left much to be desired on the Georgia Dome field Sunday, but, at least this time, its 247-pound running was not weighed down by a one-yard loss touchdowns and hard-fought wins often have that effect. He looked comfortable, taking his time getting dressed, then smiling for the cameras. As Turner handed his red-cased iPad off to receiver Roddy White's oldest son to show him a new game, Roddy Jr., sat in the seat beside his locker and said, "Oh, I can do this." With another six points under his considerable belt, Michael Turner still knows the feeling.
Original Story:
http://www.foxsportssouth.com/11/18/1...
THE BACKYARD
BEST OF MAXIM
RELATED ARTICLES
Several starters for the Atlanta Falcons, including wide receiver Julio Jones (ankle), running back Michael Turner (groin), linebacker Sean Weatherspoon (ankle) and defensive end John Abraham (back), are questionable to play against the Arizona Cardinals today, while tight end Tony Gonzalez (shoulder), linebacker Mike Peterson (foot) and defensive lineman Jonathan Babineaux...
Falcons linebacker Sean Weatherspoon, the teams leading tackler prior to getting injured on Oct. 28, will miss his third straight game, but second-year wide receiver Julio Jones is active for Atlantas game for Sundays game with Arizona. Weatherspoon suffered an ankle injury in a 30-17 victory over Philadelphia and has yet to practice. Jones injured his ankle in last Sundays 31-27...
Atlanta Falcons offensive lineman Joe Hawley was suspended on Monday for four games for violation of the NFLs policy on performing enhancing substances. Hawleys suspension is effective immediately. According to a statement by the team, the suspension ends on Monday, Dec. 17, following the Falcons home game with the New York Giants. Hawleys natural position is center and he played...
Atlanta Falcons offensive lineman Joe Hawley has been suspended four games for violating NFL rules against performance-enhancing substances. The league announced the penalty Monday, one day after the NFC-leading Falcons improved to 9-1 with a 23-19 victory over Arizona. Hawley is a backup behind Falcons longtime center Todd McClure. The suspension begins immediately, meaning Hawley...
Atlanta Falcons WR Julio Jones has had a solid fantasy football season, ranking 12th in ESPN among receivers so fat this season. Jones status for this week's game is in question after being listed as questionable after suffering a shin injury last week against the New Orleans Saints. The speedy reviver has not practiced this week and could miss this afternoon's game against the...
ATLANTA -- On a miserable day, Matt Ryan came through when it counted for the Atlanta Falcons. Ryan overcame a career-worst five interceptions, guiding Atlanta to its only offensive touchdown in the fourth quarter, and the Falcons rallied from their first loss of the season for a sloppy 23-19 victory over the Arizona Cardinals on Sunday. The Falcons (9-1) turned it over a...
Falcons receiver Julio Jones has left Sunday's game against the Arizona Cardinals with an ankle injury. Jones missed practice this week after he sprained his right ankle in last week's loss at New Orleans. He appeared to aggravate the injury late in the third quarter. The Falcons say Jones' status is questionable for the remainder of the game. Cornerback Asante Samuel...
The Atlanta Falcons waived defensive end Ray Edwards for insubordination, Fox Sports reported Sunday. Atlanta reportedly cut Edwards for refusing to join a team gathering after last week's loss to the New Orleans Saints. According to the report, coach Mike Smith called players over to gather in the locker room, but Edwards ignored him and sat alone. After three attempts requesting...
ATLANTA (AP) -- On a miserable day, Matt Ryan came through when it counted for the Atlanta Falcons. Ryan overcame a career-worst five interceptions, guiding Atlanta to its only offensive touchdown in the fourth quarter, and the Falcons rallied from their first loss of the season for a sloppy 23-19 victory over the Arizona Cardinals on Sunday. The Falcons (9-1) turned it over a...
In Week 10, the Atlanta Falcons saw their chances at a perfect season dashed by the rival New Orleans Saints. Following the defeat, Head Coach Mike Smith called a team huddle. Apparently, defensive end Ray Edwards didn't get the memo that he was a part of the team, as it reportedly took him three requests and an ordering from his teammates to join the huddle. NFL Network contributor...
  The Falcons seemed ready to pack in the season this afternoon.  Playing at home against an Arizona Cardinals team on a five game losing streak seemed like a guaranteed win.  Matt Ryan threw a career high five interceptions (three off tips), with the Falcons turning the ball over a ridiculous six times.     Oh, and we have no run game.   The offensive...
NFL News

Delivered to your inbox

You'll also receive Yardbarker's daily Top 10, featuring the best sports stories from around the web. Customize your newsletter to get articles on your favorite sports and teams. And the best part? It's free!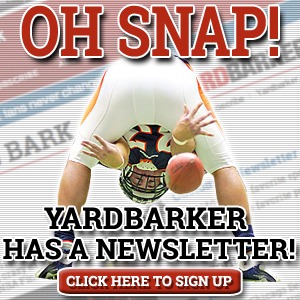 Latest Rumors
The Backyard

Today's Best Stuff

For Bloggers

Join the Yardbarker Network for more promotion, traffic, and money.

Company Info

Help

What is Yardbarker?

Yardbarker is the largest network of sports blogs and pro athlete blogs on the web. This site is the hub of the Yardbarker Network, where our editors and algorithms curate the best sports content from our network and beyond.