Found September 04, 2013 on Fox Sports South:
PLAYERS:
Dirk Koetter
,
Lamar Holmes
,
Jeremy Trueblood
,
Mike Smith
,
Matt Ryan
,
Jonathan Babineaux
,
Bruce Allen
,
Mike Shanahan
,
Matt Bryant
,
Roddy White
,
Asante Samuel
,
Stephen Nicholas
TEAMS:
Atlanta Falcons
,
Washington Redskins
,
Boston College Eagles
FLOWERY BRANCH, Ga. On Tuesday, offensive coordinator Dirk Koetter said the Falcons were proceeding "full speed ahead" with Lamar Holmes as their starting right tackle for Sundays season opener. But a simultaneous process to get newly signed Jeremy Trueblood up to speed is apparently afoot. Whether Trueblood was brought in to serve as a veteran backup for the right and left sides something the Falcons had previously lacked or was signed to compete with Holmes, who has only played in one NFL game (zero starts), is not immediately clear. The Falcons could have signed Trueblood, who boasts 84 career NFL starts with the Buccaneers, when he was cut by the Redskins a short time ago. If they had done that, Trueblood would have had another week of practice under his belt before the Week 1 game against the Saints. Falcons head coach Mike Smith said the team was more focused on evaluating its own players than seeing who was available as a free agent. "We were working our roster, trying to get our roster down to 53," Smith said on Wednesday. "After we got an opportunity to see who was available, we were very familiar with Jeremy, having had the opportunity to play against him when he was at Tampa all those years. "Youre going through a lot of evaluations on your own roster and they're pretty intense evaluations. After you make your evaluations, thats when you probably spend more time at who's available." Another possibility: The Falcons gave Holmes, a third-round draft pick last season, all four preseason games to prove himself; and after the fourth, they decided Holmes might need more competition or the team needed more help at the position. In any event, quarterback Matt Ryan appeared enthusiastic at the signing of his former Boston College teammate. Ryan had spoken to Trueblood a few times before Wednesday's practice, to help better prepare the 6-foot-8, 320-pound lineman. "I help out as much as I can when I have a free minute here and there," Ryan said. "But at the same time, I've got a lot of work to do myself to get myself prepared." Ryan, interviewed prior to practice, was asked about helping Trueblood on the practice field. "Absolutely," he said. "We havent had the opportunity to get out on the field, but I've talked to him about a handful of different things. He's a smart guy. I know that from having played with him. Hes played a long time in this league, so Im sure hell pick it up quick." Trueblood played left tackle in college but has mostly played right in the NFL. At Boston College, Ryan was a sophomore when Trueblood was a senior. "He's a great guy, very good teammate, good player," Ryan said of Trueblood. "He's a veteran guy that's played in a number of games, understands what it takes to be successful so I think it's a good pick-up for us." Trueblood received a call from his agent on Sunday, asking if he wanted to try out with the Falcons. Two days later, he was signed by the club. Asked after practice how Trueblood performed, Smith said he was more focused on other things but that he planned on watching the tape. Falcons defensive tackle Jonathan Babineaux, who battled against Trueblood at times in past NFC South battles, described the O-lineman's technical aspects. "He's a straightforward guy that does his work and makes sure and that he's keying on every little thing," Babineaux said. "He didnt give up too many tendencies pre-snap. He's got a lot of years in this league, so Im sure with him being here he can help most of the guys out." Trueblood was asked if his style was that of a brawler. "In the past, I've been like that," he said. "Im not scared to get down and dirty, but I dont think any offensive lineman really is." Trueblood said his biggest challenge is learning the terminology. "Oh, yeah, I'm getting thrown into the fire, but I welcome the challenge," he said, "It's fun. Its just football at the end of the day. Just fun to be playing." Trueblood injured his shoulder last season with Tampa Bay and was put on season-ending injured reserve. He said the shoulder is "100 percent" now. Bruce Allen, who was Tampa Bay's general manager when the Bucs drafted Trueblood seven years ago (Round 2), is now in Washington. However, it sounds like Redskins head coach Mike Shanahan didn't give Trueblood much of a look in training camp. "I didnt get to play much, so there's really not much to judge," Trueblood said. "If I would have got more of an opportunity, maybe I could've told you about that. Obviously, it wasnt the best camp of my life. Kind of hard when you only get a couple of reps." It remains to be seen if Trueblood gets a lot more reps with the Falcons in regular season games. Notes: The Falcons had four players on their injury report, all practicing in one form or another. Placekicker Matt Bryant (back) was at full participation. Wide receiver Roddy White, cornerback Asante Samuel and linebacker Stephen Nicholas were all limited.
Original Story:
http://www.foxsportssouth.com/nfl/atl...
THE BACKYARD
BEST OF MAXIM
RELATED ARTICLES
FLOWERY BRANCH, Ga. -- Five days before their season opener, the Atlanta Falcons have bolstered a position that stood out as a potential trouble spot throughout training camp: right tackle. Head coach Mike Smith said the Falcons signed tackle Jeremy Trueblood, who originally was drafted by Tampa Bay in 2006 (Round 2) and has played mostly with the Buccaneers. He was in camp with...
Earlier this week, the Falcons set their roster and announced their practice squad. Today they made three roster moves along the offensive. The Falcons reached an injury settlement with guard Phillipkeith Manley, who had been named to the practice squad on Sunday. They waived UDFA Terren Jones, who originally made the roster. Finally, they signed veteran Jeremy Trueblood...
I'm not saying that Roddy White shouldn't stand up for himself if people come at him on Twitter, but he needs to use just a bit of common sense, but it seems that he lacks it. This past Monday, being Labor Day, White sent out what was a pretty innocuous tweet: It's Labor Day we working — Roddy White (@roddywhiteTV) September 2, 2013 A follower decided to take a silly shot...
The Atlanta Falcons have signed offensive tackle Jeremy Trueblood, who started 84 games in seven seasons with Tampa Bay. The Falcons signed the 30-year-old Trueblood to add experience behind second-year right tackle Lamar Holmes, who has moved up as the starter after playing in only one game in his 2012 rookie season. The Falcons lost projected starter Mike Johnson for the season...
Falcons line up against the Jaguars in the Dome. (Photo credit:AtlantaFalcons.com) ATLANTA,GA- The Atlanta Falcons are now 0-4 for the preseason as they lost 20-16 to the Jacksonville Jaguars at the Georgia Dome Thursday night. As predicted not very many starters even saw the field on Thursday. Matt Ryan wasn't even in pads that night as coach Mike Smith wanted to preserve his...
Falcons wide receiver Roddy White is in midseason form when it comes to his Twitter interactions. White was on Twitter Monday and made a comment about it being Labor Day, and the Falcons were of course working.   Someone took offense to White making it seem as if an athlete who makes millions of dollar really puts in a day of work.  The young female let White know what he does...
According to D. Orlando Ledbetter of AJC.com, Atlanta Falcons WR Roddy White sustained an ankle injury in the second exhibition game against Baltimore on August 15, returned to practice on Wednesday. White has started 128 straight games and has not missed a start in his NFL career. He's been out ever since but hasn't suffered any setbacks. As a veteran who knows the system...
Atlanta Falcons' wide receiver Roddy White has Manziel's disease when it comes to Twitter. No matter how many times Roddy gets called on the carpet (or into Arthur Blank's office) for his questionable or inflammatory tweets, he still manages to jump right back onto the information twitter-highway and make himself look...well...Roddy. Roddy has tweeted himself into hot...
Roddy White may just want to leave Twitter all together, as it seems he can't keep things positive. Roddy had been good for a few years on Twitter since his incident with a few of the Saints players, but he was back at it again calling someone a 'peasant' via Twitter. I understand Roddy has about 300,000 Twitter trolls just trying to get a rise out of him, but he needs to...
Call it the game…before the game. The bitter rivalry between the Atlanta Falcons and New Orleans Saints is playing out on the internet long before it plays out on the field this Sunday. As a die-hard, passionate, unabashed Atlanta Fail-cants hater and New Orleans Saints lover, I've gotten my fair share of giggles over the past few weeks reading the smack talking t-shirts and...
The Saints open the season at home, thankfully, and will host the bitter rival Atlanta Falcons. It's been Falcons hate month(s), not Falcons hate week, but as the game nears we're definitely zeroing in our strong distate for the visitors. The Falcons had a quiet preseason that didn't showcase much in terms of their talent, much like the Saints to a degree. Here's...
Atlanta Falcons Prediction: 1st in division (13-3 overall) Strengths: Offensively, they have so many weapons. Two top ten receivers in Roddy White and Julio Jones. Addition of Steven Jackson will be huge. Matt Ryan is a top 10 QB. Defense is pretty solid as well. Causes for concern: Not too many causes for concern in Atlanta. Only concerns would result from injury.. Not a lot of...
NFL News

Delivered to your inbox

You'll also receive Yardbarker's daily Top 10, featuring the best sports stories from around the web. Customize your newsletter to get articles on your favorite sports and teams. And the best part? It's free!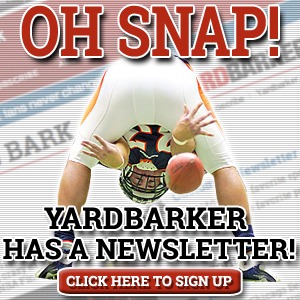 Latest Rumors
The Backyard

Today's Best Stuff

For Bloggers

Join the Yardbarker Network for more promotion, traffic, and money.

Company Info

Help

What is Yardbarker?

Yardbarker is the largest network of sports blogs and pro athlete blogs on the web. This site is the hub of the Yardbarker Network, where our editors and algorithms curate the best sports content from our network and beyond.