Familiar RBs who finished their careers in unfamiliar places
This fall, we are going to see Adrian Peterson in a New Orleans Saints uniform and Marshawn Lynch donning the silver and black of the Raiders, and we'll have to get used to it. A.P. not wearing purple? Beast Mode not bowling over guys in navy and "action green"? It will be weird.

As odd as it may be, we've been here before. All kinds of players spend a bulk of their careers on one team but finish off somewhere else. Running backs, with their longevity always an issue, have had quite a history of one team moving on from a back, while another takes a flier to see if the discarded player has any gas left in the tank.

Spoiler alert: There usually isn't.

Below are some of the most notable backs who finished their careers in different uniforms than the ones in which they made their names:

Emmitt Smith, Cardinals
Emmitt Smith will forever be remembered as a Cowboy but the Hall of Fame running back ended his playing days with the Cardinals.
Gary Williams/Getty Images
Emmitt Smith played 13 years with the Cowboys, winning three Super Bowls and an MVP award in Dallas. After Smith broke the all-time rushing record in 2002, the Cowboys released him after the season. He latched on in Arizona, who wanted to appeal to the local fan base where the Cowboys had quite the presence. He played 25 games and rushed for nearly 1,200 yards in the desert over two seasons before retiring.
Most notable moment in Arizona: Smith threw his first ever touchdown pass on a halfback option play, becoming the oldest player to throw his first TD pass.
Shaun Alexander, Redskins
Shaun Alexander played just four games for Washington before his NFL career was over.
Otto Greule Jr/Getty Images
Alexander played eight seasons in Seattle, where he led the Seahawks to Super Bowl XL during his record-breaking season. In 2005, Alexander rushed for 1,880 yards and a then-record 27 touchdowns, which earned him the NFL's MVP award. He played just two more years in Seattle after that amazing season before the Seahawks cut him after the 2007 season. 
Alexander started the 2008 unemployed before the injury-plagued Redskins were desperate and signed him midseason. Alexander appeared in just four games with only 11 rushing attempts before Washington cut him the following month.
Most notable moment in Washington:  Alexander got a great ovation when he returned to Seattle when the Redskins visited the Seahawks in Week 12.
LaDainian Tomlinson, Jets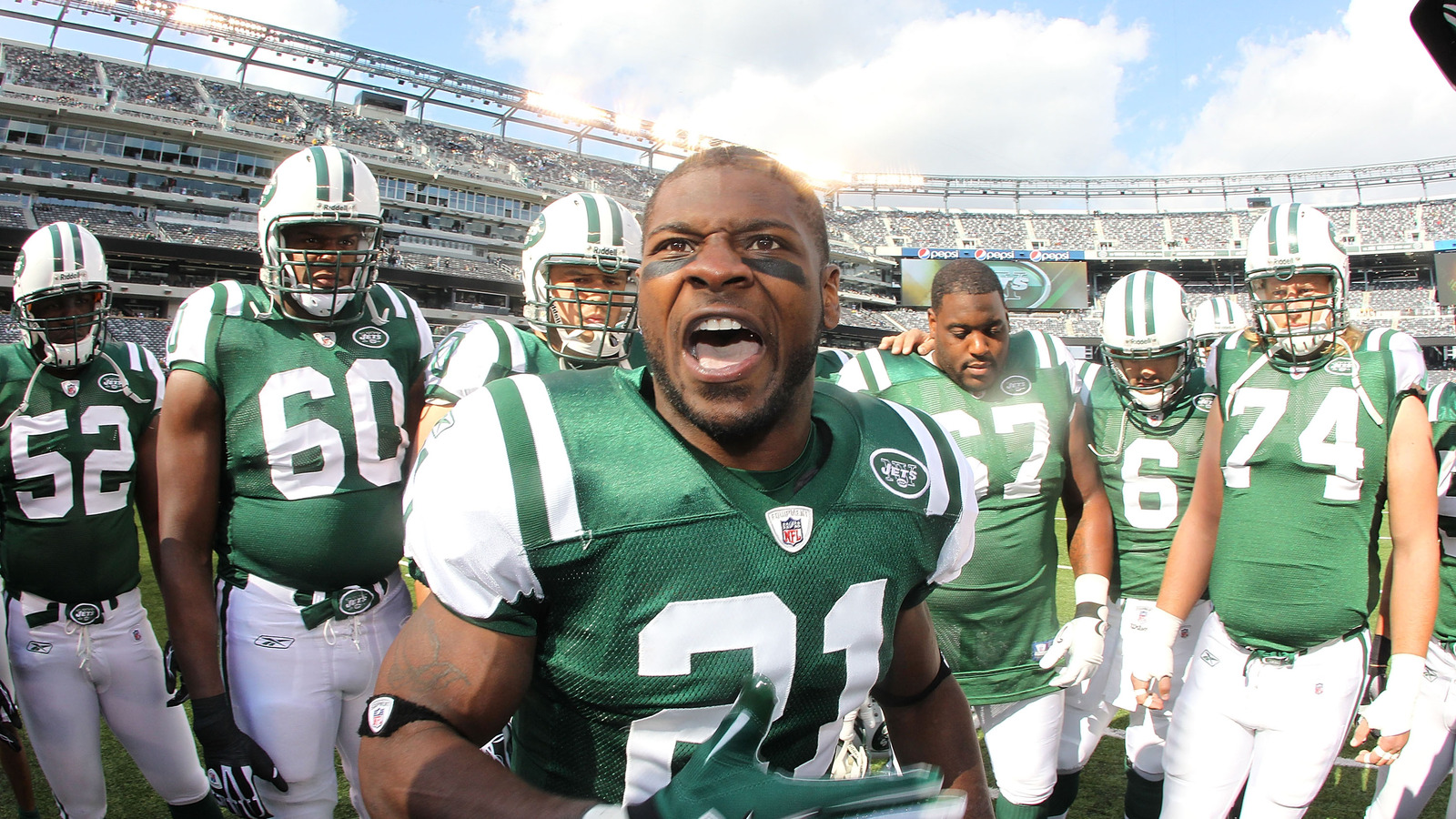 LaDainian Tomlinson set records with the Chargers before closing out his playing days with the Jets.
Al Pereira/Getty Images
Tomlinson played nine seasons in San Diego, where he broke Alexander's single-season touchdown record with his 31 in 2006. I mean, you have to be good if you can borrow the "LT" nickname from Lawrence Taylor. 
In his final years as a Charger, LT's production declined as well as his relationship with the franchise. He played his final two seasons with the New York Jets, where he rushed for nearly 1,200 yards and seven touchdowns.
Most notable moment in New York: In the Jets' wild card victory over the Indianapolis Colts, Tomlinson rushed for 82 yards and two touchdowns.
Earl Campbell, Saints
Earl Campbell followed Bum Phillips to New Orleans from Houston.
John Betancourt/Getty Images
Campbell is best known for his physical running style in those baby blue Oilers uniforms. He played 6.5 seasons in Houston (who gave up a ton of picks to acquire the No. 1 overall pick in 1978) and led the NFL in rushing his first three seasons in the league. Despite having an outstanding 1983 season, Campbell was upset with losing and the direction of the franchise and demanded to be traded. In the middle of the 1984 season, the Oilers dealt him to the Saints, where Bum Phillips, who was Campbell's first coach in Houston, was the head coach. 
He played the rest of the season as well as the next with the Saints, amassing over 800 yards and just one touchdown as George Rogers' backup.
Most notable moment in New Orleans: Campbell's one good game with the Saints was against the Vikings in 1985 when he rushed for 160 yards and his lone Saints touchdown.
Edgerrin James, Seahawks
After highly productive years for the Colts and Cardinals, Edgerrin James finished his playing days in Seattle.
Jonathan Ferrey/Getty Images
The Colts thought so highly of James that they dealt Marshall Faulk to the Rams to make room for him. James played seven seasons in Indy before a three-year stint in Arizona. Along the way, he rushed for over 12,000 yards and 80 touchdowns, notching two rushing titles. 
Most people forget that he spent his final NFL season with the Seahawks, where he rushed for just 125 yards over seven games. People may have forgotten that at the time he was mourning the passing of his longtime girlfriend, who died from leukemia.
Most notable moment in Seattle: In Week 5 against the Jaguars, James led the Seahawks in rushing with 46 yards.
Tony Dorsett, Broncos
Mitchell Layton/Getty Images
Dorsett found success early, winning Super Bowl XII as a rookie, just one year after winning the college national championship at Pitt. While Dorsett was wildly successful in Dallas (he became the team's all-time rushing leader at the time), he was always bumping heads with head coach Tom Landry and the front office. After the Cowboys signed Herschel Walker to share backfield duties, Dorsett wanted out of Dallas. 
He was traded to Denver in the 1988 offseason. Unlike most on this list, Dorsett had a decent final season with 703 yards rushing and three TDs. Injuries late in the year and tearing his knee ligaments during training camp forced him to retire after one year with the Broncos.
Most notable moment in Denver: Early in his lone season in Denver, he passed Jim Brown to become the NFL's second all-time career rushing yards leader.
Franco Harris, Seahawks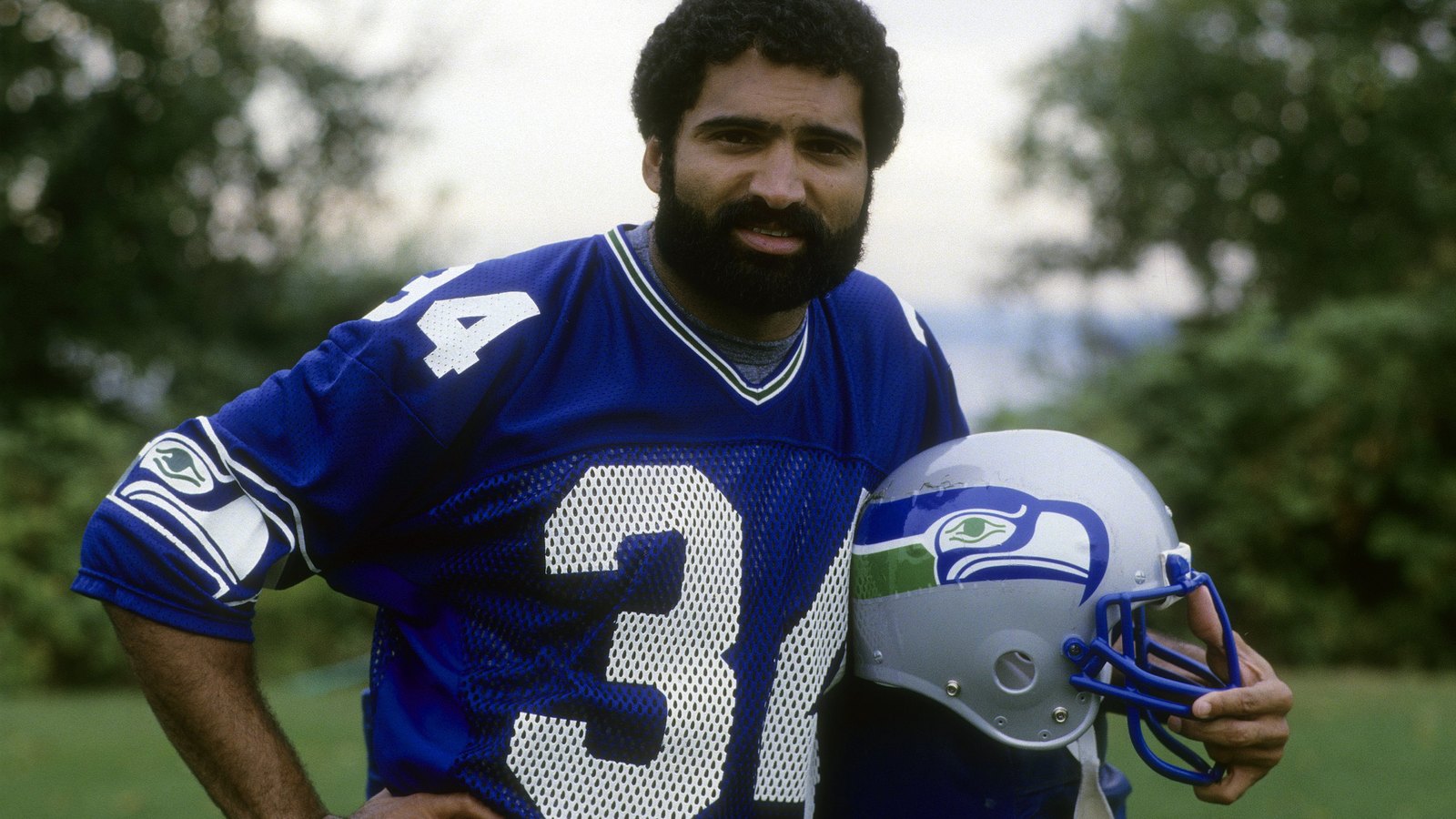 Franco Harris is synonymous with the Steelers but actually ended his career with the Seahawks.
Focus On Sport/Getty Images
All Harris did in his 12 seasons in Pittsburgh was win four Super Bowls, rush for 11,950 yards and rack up 91 touchdowns. Oh, and there was that whole Immaculate Reception thing. 
However, as Harris was bearing down on Jim Brown's rushing record (he and Walter Payton were neck and neck), he demanded a raise. As you know, the Rooneys aren't really big on giving aging players big contracts so they unceremoniously released Harris, who would latch on with the Seahawks. In Seattle, Harris played in just eight games and rushed for just 170 yards. He retired just 192 yards short of Brown's record.
Most notable moment in Seattle: In his first action as a Seahawk, Harris rushed for 46 yards against the Chargers.
Thurman Thomas, Dolphins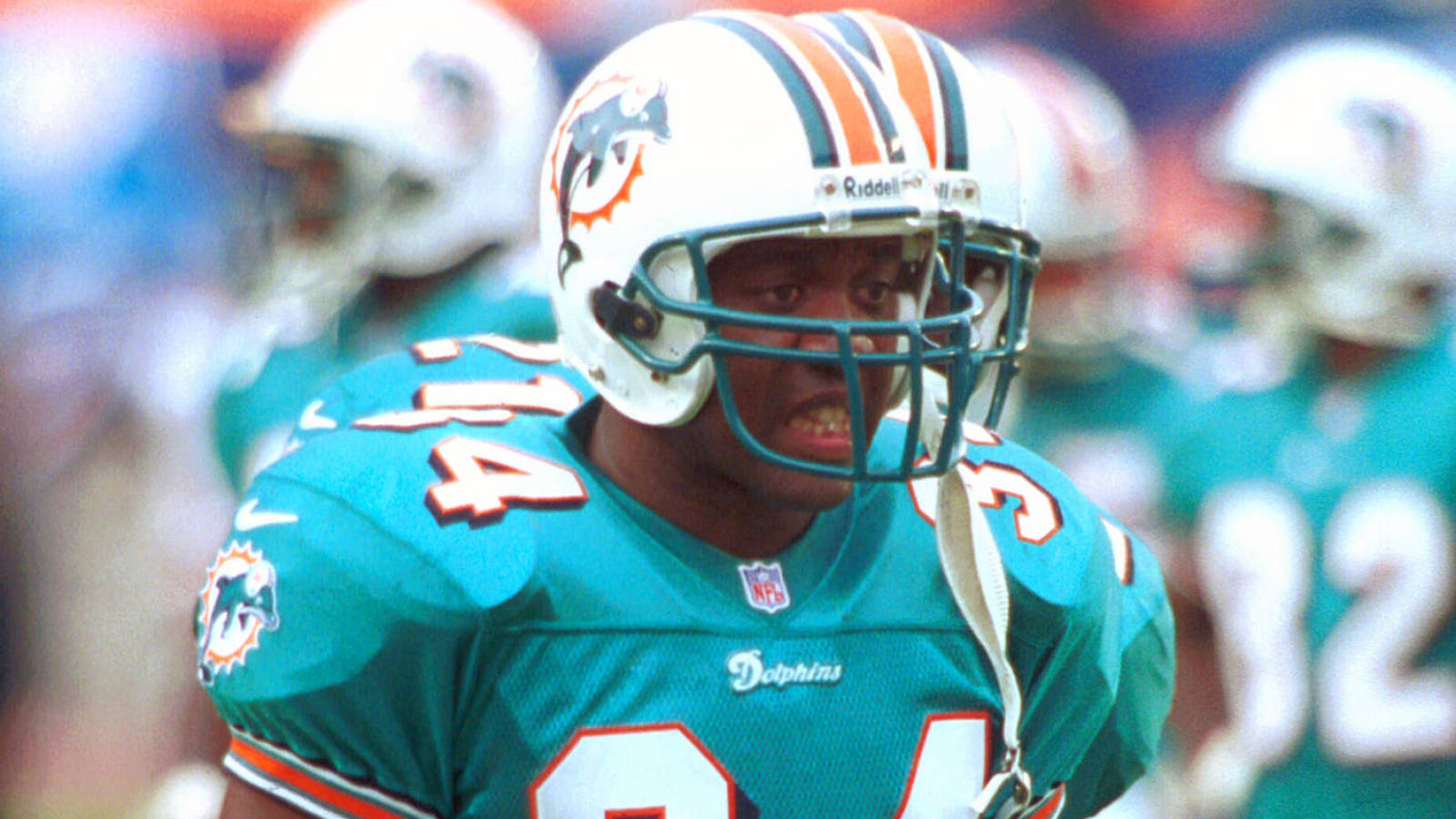 Thurman Thomas went to four Super Bowls with the Bills but finished his playing days with the division-rival Dolphins.
Icon Sportswire/Getty Images
Thomas was the Bills' all-time leading rusher and a huge part of four consecutive Super Bowl teams (even if he didn't play well in the last three of those Super Bowls). His production fell off in the late 1990s as the core of the team started to age and break up, and Thomas was cut from the team after the 1999 season. 
He signed with rival Miami, but Thomas wasn't productive at all with the Dolphins, playing in just nine games and rushing for 136 yards before a knee injury suffered in November ended his career.
Most notable moment in Miami: In his lone game against the Bills, Thomas rushed for 24 yards in the Dolphins' 22-13 win. The 24 yards don't seem like much, but they were more than any back the Bills put on the field that day.
O.J. Simpson, 49ers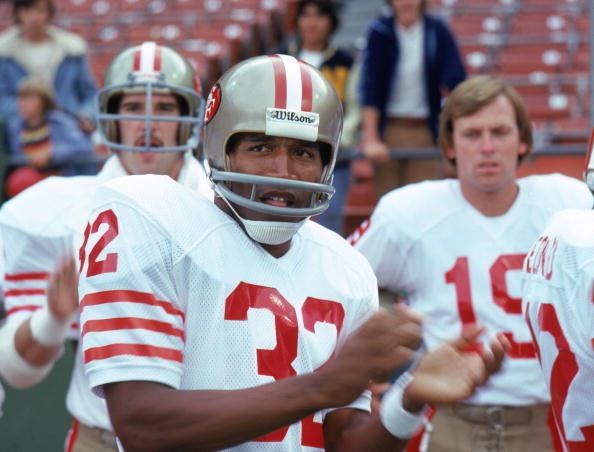 O.J. Simpson played his final two NFL season for the 49ers.
Michael Zagaris/Getty Images
Yeah, there's a lot to say about O.J.'s story, but we'll stick to football here. Simpson's Buffalo career was an outstanding one to say the least. However, his 1977 season was marred by injuries, and he was traded to his hometown of San Francisco that offseason. In his two seasons in the Bay Area, Simpson rushed for over 1,000 yards and four touchdowns before retiring in 1979.
Most notable moment in San Francisco: In his final game, the 49ers trotted Simpson out late for a sort of curtain call. Early in the game, Simpson fumbled, but the Niners somehow recovered it. On his next and final play as time was running out on another Niners' loss, Simpson broke through for a 10-yard gain on a 3rd-and-10 and picked up a first down. Then, it was over.
QUIZ: Name the leader in rushing touchdowns for every NFL franchise
Many running backs who lead a franchise in rushing touchdowns end up in the NFL Hall of Fame. How many of these touchdown leaders can you name?
Clue: Team-Number of rushing touchdowns
MORE FROM YARDBARKER
NFL News

Delivered to your inbox

You'll also receive Yardbarker's daily Top 10, featuring the best sports stories from around the web. Customize your newsletter to get articles on your favorite sports and teams. And the best part? It's free!