Found April 04, 2012 on Sports Blog Net:
With all the hubbub about Peyton Manning, Andrew Luck, RGIII and others, Tim Tebow has become the forgotten quarterback this offseason and after coming off the bench and winning seven of 11 games to take his team from 1-4 to division champs, Tebow was cast aside as yesterday's news once Manning came to Denver as a free agent. Even though the thought of getting traded probably never crossed his mind, as he likely figured winning a division title and a playoff game would be enough to keep his job, it shouldn't come as a shock.  There was always the sense that team President John Elway didn't want Tebow as his quarterback. Therefore, it took getting a player of Manning's caliber in order to trade Tebow without causing an uproar and Elway pulled off the coup seamlessly. However, things aren't all bad for Tebow. Although, the Jets may not seem like the perfect fit for him, after digging a little deeper, it is hard to find another team that would be a better. Sure, Tebow and Rex Ryan aren't exactly a match made in heaven (excuse the pun), but they do have one thing in common, they love winning. Despite the claim by critics that the Jets acquisition of Tebow is nothing but a publicity stunt, I believe the Jets got him because they think he can make them a better football team, simple as that. Not only does he give them a proven backup, who can compete with Mark Sanchez, it also brings the wildcat back to the offense. Offensive coordinator Tony Sparano was the Head Coach in Miami, when the Wildcat emerged in 2008, so he should be able to find some creative ways to utilize Tebow's ability. It will be interesting to see what offensive designs the Jets have in mind for Tebow, because this will be the first time the wildcat is going to be run by a true quarterback. Tebow may not be the most accurate passer,  for his career he has attempted 353 passes,  completing 167 passes, which equates to 48%. Not great numbers, but certainly better than anything Ronnie Brown or Brad Smith could put up. Now some of you may be saying that low completion percentage is exactly why Tebow will never succeed as a traditional quarterback, but the Jets will not ask him to be one because in the wildcat, he can threaten the defense as a runner and  thrower. The thing that makes the wildcat successful is that it gives you an extra blocker. On normal running plays, the quarterback hands the ball off to the runner, then is essentially out of the play, leaving nine blockers against 11 defenders. In the wildcat, the quarterback is the running back, meaning the offense has an extra player to block or use as a decoy. The other thing to keep in mind about this situation is that Tebow was given the chance to choose his destination and he chose New York because he believes he can beat out Sanchez for the starting job. My take is that Tebow has little chance to win the job in training camp. The Jets traded up and used the fifth overall pick on Sanchez in 2009 and they are not going to give up on him before his fourth season, particularly not after giving him a three-year $40 million extension. So at least early on, Tebow's role on the offense will be limited to be a wildcat/situational quarterback, a role in which he should be very successful. His usage by the coaching staff will depend largely on the play of Sanchez, but expect Tebow to see the field in some red zone and short-yardage situations with a few plays here and there from the wildcat. However, if Sanchez is unable to take a step forward at some point this season, the Jets may well turn to Tebow if necessary. At the very least, Tebow proved he can find a way to win games if  complemented with a good defense and a solid running game, two things the Jets believe they posses. In 2009, Sanchez completed 53% of his passes, threw 12 touchdowns and 20 interceptions, yet when the playoffs came, he was efficient, took care of the ball and made enough plays to get the Jets to the AFC Championship game, largely because they were able to lean heavily on the defense and ground game. It's entirely possible that Rex Ryan believes Tebow can help the Jets get back to their ground and pound mentality, while also giving the offense a little something extra to help make up for Sanchez's lack of elite ability. As you can see, this situation is worth monitoring. Ideally, the Jets want to see Sanchez take the next step in his development, which doesn't mean Tebow won't see the field, it will just be as the wildcat quarterback instead of the starter. Yet, he can still make an impact. As a freshman at Florida, Tebow was a situational quarterback, getting a majority of his snaps in red-zone and short-yardage situations, but he was extremely adept at it, helping his team to a national championship. If given the chance, he will succeed in that type of role again this year, however wildcat quarterbacks don't have much fantasy value. If Sanchez stays healthy and plays well, I see Tebow getting around 8-10 plays a game, similar to what the Eagles did with Michael Vick his first year back in the league and if that's the case he has almost no fantasy value. It would not surprise me to see him turn into a goal-line specialist for the Jets, giving him the opportunity to score some rushing touchdowns, which I believe he'll do, just not enough for him to become a relevant fantasy option as a part-time player. Unless he somehow is named the starter before the season, which would probably only happen if Sanchez suffers an injury, Tebow should not be drafted in any leagues, except possibly two-quarterback leagues, where he might worth a flier late as a 3rd-qb. However, he should be a priority free agent for owners to monitor because if he does become the starter due to injury or otherwise, he will be a valuable waiver-wire pickup and might just be able to spark quarterback needy fantasy teams down the stretch, just like he did the Denver Broncos last season.  
Original Story:
http://winyourleage.sportsblognet.com...
THE BACKYARD
BEST OF MAXIM
RELATED ARTICLES
KICKING THINGS OFF IN NYC
The Jets will no doubt try to get creative in finding ways to get their new QB onto the field in 2012, and the latest rumor is that they may even let him play on special teams.
Who knew that New York Jets quarterback Tim Tebow was into the entire male pampering regiment? Not I. But thanks to the persistence of TMZ, we have evidence of Mr. Tebow receiving a Mani-Pedi at West Hollywood's MB Nails salon on Tuesday. How fancy. Not that there's anything wrong with it. Any man who scoffs [...]
A Georgetown, TX church -- Celebration Church -- will use Tim Tebow's visit to draw a crowd of 30,000 people -- which is expected to be larger than a late-season Cincinnati Bengals home football game -- to their 60-acre complex.According to KVUE, Tebow will visit the church for Easter Sunday, where he'll speak for 20 minutes, as the church service will be done outdoors. It...
In an effort to to appease his new Jets head coach Rex Ryan, Tim Tebow was seen getting a mani/pedi in West Hollywood on Tuesday.  TMZ obtained a pic of Jesus 2.0 moments before the nail technicians got after it. Sources said that Tebow left a large tip while paying for the $23 procedure.  I've heard that many NFL and NBAers like to keep their feet well-groomed, but it extra...
Reebok wants a judge to lift a ban on its sale of apparel with the name of New York Jets quarterback Tim Tebow.
This idea has the makings of the greatest reality show of all time! Comedian Kyle Cowgill is at it again with this reality show spoof featuring the overexposed media big 3: Kim Kardashian, Jeremy Lin, & Tim Tebow. It seems that Mr. Lin has a soft spot for Kim's mindless seduction and needs to be rescued by the religiously unflappable Tim Tebow. Thanks to the New York Jets...
POLICE BLOTTER (X2)
Former NFL quarterback Ryan Leaf was arrested in Montana on Monday—the second time in four days—and faces charges of burglary, theft and two counts of criminal possession of dangerous drugs.
The Colts seemingly are incredibly interested in Robert Griffin III in the upcoming draft or are at least doing their best to convince us they're interested. Nate Dunlevy tackles this possibility with his usual deft touch: Sorry, not buying it. If they were making a late-in-the-game push to go after Luck then that means they didn't have enough information back in March...
Peyton Manning's arrival in the AFC West apparently has put the Denver Broncos' rivals on notice, as the need to acquire quality defensive help is now at a premium. In line with that thinking, the San Diego Chargers have re-signed defensive end Luis Castillo to a one-year contract. Castillo has been a valuable contributor to the Chargers front seven over the years, helping...
Chicago Bears fans could see both Peyton Manning and Robert Griffin III in their initial starts for their new teams. The club released its 2012 exhibition schedule Wednesday, and the first two games are home dates with Manning's Broncos and the Washington Redskins, who are fully expected to tab RGIII later this month in the NFL draft. The preliminary timeframe, [...]
Win a custom commissioned sports athlete portrait – valued at $300! Top Stories 'What if' game relevant in AFC West | ESPN The AFC West was the tightest division in the NFL in 2011.The Broncos, Raiders and Chargers finished 8-8 with Denver prevailing as the division winner via a tiebreaker. Kansas City was a game behind at 7-9. The Chiefs were a blocked field goal attempt...
NFL News

Delivered to your inbox

You'll also receive Yardbarker's daily Top 10, featuring the best sports stories from around the web. Customize your newsletter to get articles on your favorite sports and teams. And the best part? It's free!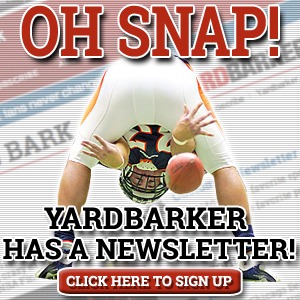 Latest Rumors
The Backyard

Today's Best Stuff

For Bloggers

Join the Yardbarker Network for more promotion, traffic, and money.

Company Info

Help

What is Yardbarker?

Yardbarker is the largest network of sports blogs and pro athlete blogs on the web. This site is the hub of the Yardbarker Network, where our editors and algorithms curate the best sports content from our network and beyond.