Found December 13, 2012 on Sports Blog Net:
. Evidently Green Bay Packers quarterback Aaron Rodgers has his fantasy owners as a tipping point. After his fourth straight mediocre performance, there are many fantasy owners making alternative plans for Week 15 as the Packers face the Chicago Bears in the Windy City. Is that a wise move? . Since the Packers' Week 10 Bye, Rodgers is averaging 228.5 passing yards per game. He has five touchdowns (four passing, one rushing), but just as many turnovers (three interceptions, two lost fumbles) during the stretch. He's averaging 18 yards per game on the ground, but that is hardly making up for his shortcomings. He has half as many picks in the last four games as he had all of last year. With Rodgers in that kind of funk, I can't blame his owners for being disenchanted with the superstar. So what do you do? . If you had a first round bye or had the rest of your team pick up Rodgers' slack this week, it's gut check time. Should you do the Discount Double Check or should you seek an alternative solution. Obviously, the caliber of your backup quarterback will determine whether or not you can even consider going another direction. . I wouldn't just haphazardly replace him with some flavor of the month. This is a player that has thrown 160 touchdown passes to 45 interceptions in the past 75 games. He's also ran for 17 scores. Yes, the weather could be a factor in Chicago, but he's used to it from playing his home games in Lambeau Field. According to Yahoo's numbers, Rodgers has 40 touchdowns and 11 interceptions in the 19 games he's played in when it was 40 degrees or below. Rodgers has 35 touchdowns and 10 interceptions in 18 December starts. I can totally understand why you'd want to bench Rodgers given his play of late. If you do, just make sure you can deal with a big game that you left on your bench. He threw five touchdown passes on Christmas last year against Chicago. He threw four on December 26th, 2010 against the New York Giants. He threw for 383 yards and three touchdowns on December 20th against the Pittsburgh Steelers. In relation to Rodgers, I go with the old adage. Dance with the partner you brought to the dance. Also check out: 2012 Week 15 Fantasy QB Rankings 2012 Week 15 Fantasy RB Rankings 2012 Week 15 Fantasy WR Rankings 2012 Week 15 Fantasy TE Rankings 2012 Week 15 Fantasy K Rankings 2012 Week 15 Fantasy DEF Rankings 2012 Week 15 Fantasy Football Get 'em or Don't Sweat 'em 2012 Week 15 NFL Picks Should You Ignore Denarius Moore? Can Cam Newton Deliver a Fantasy Championship? Check out other great articles at lesterslegends.com.
Original Story:
http://winyourleague.sportsblognet.co...
THE BACKYARD
BEST OF MAXIM
RELATED ARTICLES
The home stretch, the final sprint, the final turn, whatever racing metaphor you want to use, the Green Bay Packers are near the end of the season and have some work they need to do before it's over. The first game is the big one.  The Packers will take on the Bears and if they win, the Packers will take the division.  Even if the Packers lose they can still win the division...
It took 44 minutes of blabbering on the Tuesdays With Aaron Rodgers radio show on ESPN Radio Wisconsin before host Jason Wilde finally asked the Packers QB about the purported black thong from Sunday's Lions game. And then Rodgers ruined all the fun by telling Wilde that thing you see above isn't a black thong. Wilde asked, "Why were you wearing a thong?" "I was wearing...
Last fall, Stevens Point, Wis., Packers fan Jennifer Brilowski started a push on her Facebook page to turn Dec. 12, 2012 into Aaron Rodgers Day. More than a year later, she'll get the chance Wednesday to celebrate what has turned into an officially recognized event by the State of Wisconsin with Packers fans everywhere and Rodgers himself. Only Rodgers doesn't expect much...
GREEN BAY, Wis. -- Wednesday was a day unlike any other for Packers quarterback Aaron Rodgers, who was being celebrated throughout the state of Wisconsin for what was officially recognized as Aaron Rodgers Day. Rodgers, who wears jersey No. 12, had Dec. 12, 2012 (12-12-12) dedicated in his honor. And when the team's practice began Wednesday morning, Rodgers' teammates didn...
Last fall, Green Bay Packers fan Jennifer Brilowski of Stevens Point, Wis., started a push on her Facebook page to turn Dec. 12, 2012, into Aaron Rodgers Day. More than a year later, she'll get the chance Wednesday to celebrate what has turned into an officially recognized event by the state of Wisconsin with Packers fans everywhere and by Rodgers himself. Only Rodgers doesn...
GREEN BAY, Wis. -- It's a weekly tradition before every Packers game, with the three team captains lining up on the field for an official photograph. Well, quarterback Aaron Rodgers has his own tradition with the team-captain pictures: He photobombs every single one of them. When Rodgers first began showing up in the back of those pictures -- he was still Brett Favre's backup...
Hot News for QB Aaron Rodgers
Losersbracket.com offices is open today for awhile until we close early to celebrate Aaron Rodgers Day!  12-12-12.  Last night we encouraged our staff to spend the night with their families celebrating.  I sat my family all around the fire and told them the story of Aaron Rodgers.  How I thought they were nuts drafting a QB when we had Brett.  How Aaron looked pretty good playing...
Construction work at Lambeau Field sparked a minor fire that caused about $5,000 in damage to the Green Bay Packers stadium. WLUK-TV reports workers were cutting a beam near the fourth floor Wednesday afternoon when sparks landed inside a wall, igniting foam insulation. The area was evacuated. No one was hurt. Green Bay Fire Lt. Nick Craig says the fire was small but in an unwieldy...
Statistics show that Green Bay is one of the NFL's most injury-plagued teams in 2012. Aaron Rodgers needs no reminder. Rodgers himself hasn't missed a start, an impressive feat considering the star quarterback has been sacked an NFL-high 42 times in 13 games. But it's the absence of those around him that has taken just as heavy a toll. Six offensive starters or their...
Did you hear? It's 12-12-12. Of course you did because your annoying high school friends on Facebook won't shut up about this historic day. Have you seen a post today about famous athletes who wore #12? Of course you have because that's the easy way out on the Internet. Take a subject, give 40% effort and pump out a post that features Tom Brady, Aaron Rodgers and Andrew Luck...
To celebrate  12.12.12 today I wanted to take a look at some fun facts and events in the world of sports. It includes fans wanting to honor someone who wears the number 12, stats revolving around the number 12, and the over use of me using the number 12 in this article since it seems everyone is going crazy with this date! 1. Aaron Rodgers Day: It seems like the cheeseheads are...
NFL News

Delivered to your inbox

You'll also receive Yardbarker's daily Top 10, featuring the best sports stories from around the web. Customize your newsletter to get articles on your favorite sports and teams. And the best part? It's free!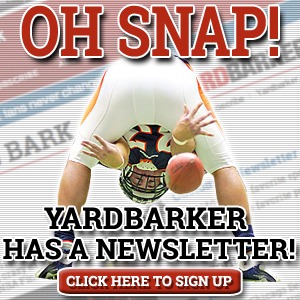 Latest Rumors
The Backyard

Today's Best Stuff

For Bloggers

Join the Yardbarker Network for more promotion, traffic, and money.

Company Info

Help

What is Yardbarker?

Yardbarker is the largest network of sports blogs and pro athlete blogs on the web. This site is the hub of the Yardbarker Network, where our editors and algorithms curate the best sports content from our network and beyond.