Found July 27, 2013 on isportsweb.com:
With the departures of some key players on offense, Baltimore Ravens tight end Dennis Pitta is in-line for a huge 2013 season. Yesterday, I brought to you who I thought would be the top five fantasy tight ends in 2013. In numerical order, those players were: Jimmy Graham, Rob Gronkowski, Tony Gonzalez, Jason Witten and Vernon Davis. Today, I will bring to you who I think will be the 6-10 fantasy tight ends in this upcoming season, while comparing my list to those from ESPN.com and NFL.com. 6. Dennis Pitta, Baltimore Ravens- ESPN.com (6) NFL.com (4) The 2013 projections on NFL.com has Dennis Pitta receiving 788 yards and 7 touchdowns. During the Super Bowl run for the Baltimore Ravens in 2012, Pitta emerged as one of the biggest targets for quarterback Joe Flacco. He finished the playoffs with 14 receptions for 169 yards and 3 touchdowns. Last regular season, Pitta altogether had 61 receptions for 669 yards and 7 touchdowns, which was more than half of the receptions, receiving yards and touchdowns he had before coming into the season. With former Baltimore Ravens wideout Anquan Boldin being traded to the San Francisco 49ers during the offseason, you can expect Dennis Pitta to have an even bigger role for his team in 2013. 7. Kyle Rudolph, Minnesota Vikings- ESPN.com (7) NFL.com (13) The 2013 projections on NFL.com has Kyle Rudolph receiving 589 yards and 6 touchdowns. In 2012, Rudolph was a mediocre tight end at best, finishing the season with 53 receptions for 493 yards and 9 touchdowns. His reception/td ratio was almost 6-to-1, which should worry fantasy owners a bit. His inconsistency to be an effective receiver for Christian Ponder and the Vikings offense also make fantasy owners scratch their heads. But we do know that when the ball is thrown his way, very rarely would you see Rudolph drop a pass. His soft hands make you believe that if he was 20-30 pounds lighter, he would probably be able to play the wideout position. But with the departure of Percy Harvin, Greg Jennings is the only other proven commodity in the Vikings' receiving corps, so I believe Rudolph will be a major target in 2013. His fantasy owners just need to hope that includes the red zone, where last year he tied for fourth among TEs with 16 targets, 14 of which he caught for all nine of his TDs. 8. Brandon Myers, New York Giants- ESPN.com (11) NFL.com (8) The 2013 projections on NFL.com has Brandon Myers receiving 697 yards and 5 touchdowns.   Myers broke onto the national scene last year, finishing top six among TEs in targets, catches and receiving yards for a bad Raiders offense and quarterback Carson Palmer. He finished the season with 79 receptions for 806 yards and 4 touchdowns. Now he changes to Eli Manning and the New York Giants, who show an annual willingness to make fantasy stars of their tight ends. In his one year with Eli Manning at quarterback, former tight end for the New York Giants, Martellus Bennett, finished with 55 receptions, 626 receiving yards and 5 touchdowns. That was Bennett's best season as a tight end. So the formula of Eli and Myers together could be a great connection in 2013. 9. Greg Olsen, Carolina Panthers- ESPN.com (9) NFL.com (7) The 2013 projections on NFL.com has Greg Olsen receiving 694 yards and 6 touchdowns. Olsen set career-high single-season marks in receptions and yardage in 2012, essentially serving as Cam Newton's No. 2 receiver and operating out of the slot on about two-thirds of his routes. Olsen finished the season with 69 receptions for 843 yards and 5 touchdowns. He's bigger and faster than most inside linebackers, which helps him get open down the seam, but despite seeing the sixth-most targets among TEs last year, Olsen posted only one 100-yard game. Plus in an offense where Newton and Mike Tolbert dominate in goal-to-go situations, Olsen only saw five end-zone targets last year, and caught one of them. In an ideal situation, you would want a guy like Olsen to serve as your backup tight end in most fantasy leagues. But the truth is, someone will probably draft him to be their starting tight end in 2013. 10. Antonio Gates, San Diego Chargers- ESPN.com (10) NFL.com (9) The 2013 projections on NFL.com has Antonio Gates receiving 617 yards and 6 touchdowns. Remember the days where Antonio Gates was the first tight end coming off your draft boards? Well injuries and Father Time has gotten to the 11th year man out of Kent State University. But Gates put his plantar fascia injury woes behind him in 2012, and his seven TDs were a respectable sixth among TEs. But he's fading along with the rest of the Chargers offense. He topped 60 yards receiving in a game once all year, and his 538 total yards easily represented his smallest total since his rookie year. Philip Rivers still looks for his TE down the field though, but Gates averaged just 3.0 yards after the catch, which was 29th among all tight ends. Most importantly, Rivers isn't the same player he used to be. Maybe Mike McCoy and Ken Wisenhunt can bring this entire San Diego offense back to form, and Gates will rebound. But don't hold your breath. You can follow me on Twitter: @MrOT3    
Original Story:
http://feedproxy.google.com/~r/isport...
THE BACKYARD
BEST OF MAXIM
RELATED ARTICLES
Steve Smith was oh so close 11 years ago to a Super Bowl Title. A kickoff out-of-bounds and an Adam Vinatieri field goal ended what could have been the one and only shot for the former All-Pro. He is still aching for another shot, and knows that time is running out. "I'm more at the point now where if I was a female and 35, I'm looking to get pregnant and married tomorrow,"...
SPARTUNBURG, SC – The Carolina Panthers' training camp is like every other NFL camp in that everyone feels they will not only compete, but win their division, conference and Super Bowl. As I pointed out in my last column (Friday, July 26), the Panthers have their issues…and after just the first weekend, they are addressing them quickly. A kicker's day ends early…Brad Nortman...
Panthers rookie guard Edmund Kugbila was carted to the locker room after injuring his right hamstring early in Saturday's training camp practice. Coach Ron Rivera says the extent of the injury is unclear. Kugbila, the team's fourth-round pick out of Valdosta State, missed most of the team's OTAs in June with a knee issue and Rivera says it's unclear if the injuries...
SPARTANBURG, S.C. The month of July reads like a press release in the NFL. Everyones excited. This is every team's year. There's always something for fans and players alike to point to, especially in the professional league with more parity than any other. The Panthers aren't immune from that line of thinking or excitement around the organization. What if Cam Newton...
Panthers quarterback Cam Newton said he has nothing to hide when it comes to testing for the human growth hormone. The same goes for two of his top targets in the passing game -- Carolina wide receiver Steve Smith and tight end Greg Olsen. All three players said they're in favor of the NFL working out an agreement with the players union on a reliable way to test for HGH, providing...
With the promotion of quarterbacks coach Mike Shula to offensive coordinator, the Carolina Panthers' offense will look to build on the momentum that they ended with at the end of the 2012 season. Coach Ron Rivera has already stated that one of the changes that will be made is simplifying the play calls. The hope is that this will allow the offense to run quicker and smarter...
Cam Newton says the only thing on his mind as the Panthers open training camp is a three-letter word: Win. Sure, Newton is aware of the $100 million contracts awarded this offseason to fellow NFL quarterbacks Joe Flacco and Matt Ryan - as well as the hefty deal that could await him after the season. But Carolina's franchise signal caller said a big contract isn't what motivates...
Sports fans have high sartorial standards when it comes to team uniforms. From a slight color tweak to a complete design overhaul, fans can get pretty passionate about their team's apparel. Dave Dameshek, also known as the "Uniform Monitor," created a bracket composed of each NFL team's current uniform, and his favorite throwback picks for each franchise. Throughout the...
Panthers quarterback Cam Newton has a plan to become a better leader: He intends to keep his frustrations in check because in the past they have been a distraction to his teammates. Newton took mistakes hard, his competitive drive leading to him getting down on himself - during and after games. He told The Associated Press, ''Oh man, I had it bad. I still do have it to...
Tight end Greg Olsen says the Carolina Panthers need to have a sense of urgency this summer at training camp after the team's sluggish starts the past two seasons. Five-time Pro Bowl receiver Steve Smith couldn't agree more. ''A sense of urgency is an understatement,'' said Smith, the team's senior statesman entering his 13th season. The Panthers started...
Panthers News

Delivered to your inbox

You'll also receive Yardbarker's daily Top 10, featuring the best sports stories from around the web. Customize your newsletter to get articles on your favorite sports and teams. And the best part? It's free!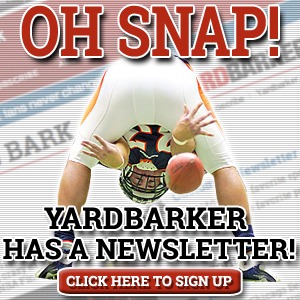 Latest Rumors
The Backyard

Today's Best Stuff

For Bloggers

Join the Yardbarker Network for more promotion, traffic, and money.

Company Info

Help

What is Yardbarker?

Yardbarker is the largest network of sports blogs and pro athlete blogs on the web. This site is the hub of the Yardbarker Network, where our editors and algorithms curate the best sports content from our network and beyond.