Found June 07, 2013 on Football Nation:
PLAYERS:
Peyton Manning
,
Donovan McNabb
,
Trent Edwards
,
Joique Bell
,
Cecil Shorts
,
Ryan Fitzpatrick
,
Tony Romo
,
Philip Rivers
TEAMS:
Minnesota Vikings
,
Detroit Lions
,
Jacksonville Jaguars
,
Tennessee Titans
,
Dallas Cowboys
,
San Diego Chargers
In 2007, my long-standing fantasy football league switched to a roster that starts two quarterbacks along with the normal two running backs and the not-uncommon three wide receivers. That year I finished the season rotating Peyton Manning, Donovan McNabb, and Trent Edwards into two starting quarterback spots, and I finished a pedestrian 6-7.It wasn't an easy transition, and I wasn't the quickest to learn new strategies appropriate to the two-quarterback format. Thankfully, after years of practice, I took home our league championship this last year, rotating Russell Wilson and Joe Flacco into the second spot, alongside Tom Brady.My goal in this article is to convince you that the two-quarterback format is an improvement over traditional one-quarterback leagues, and I'll show you reasons why.Why Start Two Quarterbacks?Although two-quarterback leagues are growing in popularity, they are far from the norm. Many long-time fantasy football players scoff at the idea and deride it for d...
Original Story:
http://www.footballnation.com/content...
THE BACKYARD
BEST OF MAXIM
RELATED ARTICLES
Broncos quarterback Peyton Manning told Mike Silver of Yahoo! Sports that the hardest thing about leaving Indianapolis was dealing with change. "I think the hardest part was when you're so ingrained in one place, embedded in the city and in the community, and all of a sudden it changes," Manning said. "[Some of] these players that change teams and coaches a lot, I mean,...
Someone is lying. Donovan McNabb made a big deal out of saying he tried to reach out to RG3 and was ignored, but RG3 tells a different story. Robert Griffin III said Donovan McNabb has not reached out to him privately. — Albert Breer (@AlbertBreer) June 6, 2013 I tend toward believing RG3.
At times, Peyton Manning looks like he's being fast-forwarded. No taking most of the play clock to deke defenders into tipping their hand, no surveying the entire field to decipher opponents' intentions. Just get to the line, take the snap and get rid of the ball in a hurry. Then, hustle up to the line and do it all again. And again. And again. The Denver Broncos didn...
Former Philadelphia Eagles quarterback Donovan McNabb made news last week when he said he wanted to meet with Washington Redskins QB Robert Griffin III. He not only said he wanted to meet with him but he also criticized him, well today RGIII gave his response. To no surprise, he's got no interest in meeting with the veteran. "I heard what he said," Griffin said. "It is...
Over the weekend one of the more popular stories on the web involved former NFL Donovan McNabb who insisted that RG3 was doing 'too much' and should just be concentrating on football. He claimed that he even reached out to Griffin and his family in order to have a sit down with the young quarterback so he could spread his wisdom. Sounded like it could be true, right...
I will be perfectly frank, I am just posting this to hopefully annoy Donovan McNabb. I think it is funny Albert Breer of the NFL Network posted this video and it just happens to be playing Juicy J in the background.  Wonder if he had ever heard of the song before.  Thanks for Pro Football Zone for the scoop. No one this means anything right now. RG3 shouldn't rush back, but...
Knee looking strong. Rumble Young Robert Rumble. RG3 rocking the headband like Nadal. I am 100% sure Donovan McNabb just spit up his chunky soup after watching this video. Before anyone get their panties in a bunch it was for a charity event. H/T @DragonFlyJones
This was posted on Vine, but quickly taken down.  I'm sure Donovan McNabb does not approve of this. Robert Griffin III at OTA's RG3′s Fans Buy Everything On His Wedding Registry
Generally around August, you and your buddies will congregate on your annual fantasy league. And then you'll draft in the other 5-7 leagues that you're in, because it's fantasy football: the greatest diversion to your workaday world that there is.Even the most novice fantasy player knows the value of Adrian Peterson and Peyton Manning and Calvin Johnson, but it's...
Although reports of Russell's performance at Friday's workout were altogether positive, it's unlikely that the Bears will be jumping at the opportunity to sign him, Trent Edwards or Jordan Palmer, both of whom worked out in the same session as Russell. While JaMarcus Russell showed up at an acceptable weight and threw the ball with exceptional arm strength, according...
NFL News

Delivered to your inbox

You'll also receive Yardbarker's daily Top 10, featuring the best sports stories from around the web. Customize your newsletter to get articles on your favorite sports and teams. And the best part? It's free!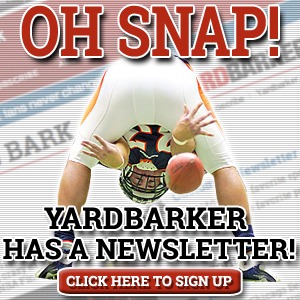 Latest Rumors
The Backyard

Today's Best Stuff

For Bloggers

Join the Yardbarker Network for more promotion, traffic, and money.

Company Info

Help

What is Yardbarker?

Yardbarker is the largest network of sports blogs and pro athlete blogs on the web. This site is the hub of the Yardbarker Network, where our editors and algorithms curate the best sports content from our network and beyond.