Eight weeks into the NFL regular season, one would be hard pressed to find an undefeated team like the 7-0 Kansas City Chiefs to scribble 'Improvement' over.  As a matter of fact, the Chiefs are the ONLY undefeated team heading into the midpoint of this 2013 NFL season.  They were 1-7 at this point last year, not winning their second game until Week 12 as the offense finished the season last in points per game despite running back Jamaal Charles, who finished sixth among running backs in fantasy football PPR leagues.  In a profession where it could be one injury away from mediocrity, the Chiefs would be careful to look around the league and take heed.  Fortunately, they HAVE come a long way in a short period of time as not many NFL teams (or fantasy teams, right now, for that matter) can adjust so rapidly.  It's not as if players like Charles, Chiefs receiver Dwayne Bowe or Chiefs defenders Tamba Hali, Justin Houston or Derrick Johnson just fell from the sky into Arrowhead Stadium this season.  All are first through third round draft picks made by the team within the last six years.     A new coaching regime, led by head coach Andy Reid and new defensive coordinator Bob Sutton, had come into the fold, implementing new schemes and philosophies, and trusted to wipe the stain left by a failed attempt in 2009 to copy the New England Patriots blueprint when the Chiefs hired the Patriots' ex-VP of player personnel, Scott Pioli, to become their general manager in 2009; making Tom Brady's former backup quarterback, Matt Cassel the starting QB; hiring former Patriots offensive coordinator Charlie Weis as their OC in 2010; and having kept former Patriots defensive coordinator Romeo Crennel as their defensive coordinator/interim head coach/head coach the amount of time the team did.  New offensive coordinator Doug Pederson was one of Reid's starting QBs when the two were in Philadelphia, but instead of mentoring Cassel he's helping new Chiefs starting QB Alex Smith, who is on pace with seven touchdowns to break his career high in TD passes (16).  The Chiefs were tactically wise in free agency this year, acquiring backup QB Chase Daniels, who had spent the last three years learning the New Orleans Saints sideline with Sean Payton and Drew Brees.  In a Reid-coached/West Coast style of offense with Charles in the backfield, former 2007 Heisman finalist Daniels should thrive if something were to occur with Smith.     On defense, the Chiefs have already bested their 2012 INT total by three and safety Eric Berry is finally living up to his 2010 fifth overall draft pick status by tying for second on the team in tackles to go along with a 'Pick 6'.  Defensive backs Sean Smith and Dunta Robinson were brought in this offseason and have contributed to a defense tied for third in INTs (10).  In the seven games under Sutton, Houston and Hali have both matched their 2012 sack totals (10 and 9 respectively) and defensive tackle Dontari Poe, last year's first round pick, must already be setting lofty goals for himself next season by notching 4.5 sacks of his own.  It would seem that defensively, the Chiefs are stacked across the board with depth, but at the defensive tackle is where they would bereft the most if something were to happen to the afore mentioned three players.  Tyson Jackson may have two sacks on the line, but he has struggled on his own the last four seasons with the Chiefs.     Against the Texans on Sunday, Bowe became the fastest Chiefs receiver to reach 6,000 yards career receiving with 17 of his 25 receptions this season have gone for first downs.  Those stats mean nothing to a FFL manager that drafted Bowe this year as he is currently ranked #29 among all wide receivers in a PPR league with 2 TDs so far.  Receiver Donnie Avery was brought in this offseason and is setting career highs for himself in yards a game and yards averaged a catch, but both receivers fall far below Charles' reception total of 36.  Charles and Bowe are the only ones to collect more than 1 TD collectively this year.  Outside of that trio, care to guess who has the other 2 TDs thrown by Smith?  Maybe receiver/returner Dexter McCluster or A.J. Jenkins (whom the Chiefs traded the San Francisco 49ers for during the preseason)?  Wrong, on both counts.  Those touchdowns belong to Sean McGrath and Junior Hemingway.  The Chiefs have had no answer at the TE spot since Tony Gonzalez departed the team and current TE Anthony Fasano, missing the first five games due to knee and ankle injuries, has only eight receptions in three games.  The Chiefs need to be concerned with their passing offense presently ranking #24, according to profootballreference.com.  What would help?  Why not put in questions to Cleveland about receiver Josh Gordon.  Imagine what Bowe could do if he was the SECOND option.     There are other receivers the Chiefs could try and pry, but Gordon would make the most sense for a team that spent so buoyantly in free agency with coaches and players.  It's doubtful the Cleveland Browns would want a first round draft pick in the 2014 NFL Draft from KC in exchange for Gordon, considering the Browns drafted him in the second round of last year's Supplemental Draft, but seeing where the Chiefs may pick from in said first round if their trajectory continues to progress and they have no second round pick to deal then it would be a bold move indeed to pluck Gordon for Smith and Bowe.  The Chiefs are 7-0 and have yet to play division opponents Denver Broncos and San Diego Chargers, who are ranked No. 1 and No. 3 in passing offense, TWICE.  In the waning regular season stretches like these, it's not just the league's No. 1 ranked defense that will be tested, but the Chiefs ability to acclimate their offense.  Will Smith be able to play shootout with Manning and Rivers, or with another team down the line, if need be?  Will he have to? Not yet and maybe. Thanks for checking out: Fantasy Perspective: Improving The Kansas City Chiefs! For the latest in Fantasy Football news, follow us on Twitter: @TDFantasySports, +1 us on Google+: TD Fantasy Sports and like us on Facebook: TDFantasySports. Image Courtesy of the Julie Scheidegger-US PRESSWIRE Related posts Week 1 Preview (0) AFC WEST – News & Notes: Final Draft Weekend (1) Off The Wire: Week 5 (0) Fantasy Perspective: A Quarter Shot (0) Previewing the AFC: AFC North (0) The post Fantasy Perspective: Improving The Kansas City Chiefs appeared first on TD Fantasy Sports by Jeff Menton.
Original Story:
http://tdfantasysports.com/fantasy-pe...
PLAYERS:
Jamaal Charles
,
Dwayne Bowe
,
Tamba Hali
,
Justin Houston
,
Derrick Johnson
,
Andy Reid
,
Scott Pioli
,
Tom Brady
,
Matt Cassel
,
Charlie Weis
,
Romeo Crennel
,
Alex Smith
,
Sean Payton
,
Drew Brees
,
Eric Berry
,
Sean Smith
,
Dunta Robinson
,
Dontari Poe
,
Tyson Jackson
,
Donnie Avery
,
Dexter McCluster
,
A.J. Jenkins
,
Sean McGrath
,
Junior Hemingway
,
Tony Gonzalez
,
Anthony Fasano
,
Josh Gordon
,
Will Smith
TEAMS:
Kansas City Chiefs
,
New England Patriots
,
Minnesota Vikings
,
New Orleans Saints
,
Cleveland Browns
,
Denver Broncos
,
San Diego Chargers
MORE FROM YARDBARKER
NFL News

Delivered to your inbox

You'll also receive Yardbarker's daily Top 10, featuring the best sports stories from around the web. Customize your newsletter to get articles on your favorite sports and teams. And the best part? It's free!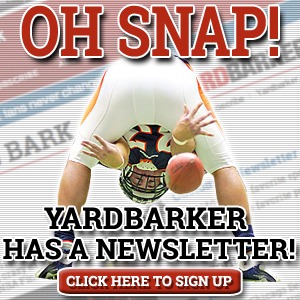 Latest Rumors
Best of Yardbarker

Today's Best Stuff

For Bloggers

Join the Yardbarker Network for more promotion, traffic, and money.

Company Info

Help

What is Yardbarker?

Yardbarker is the largest network of sports blogs and pro athlete blogs on the web. This site is the hub of the Yardbarker Network, where our editors and algorithms curate the best sports content from our network and beyond.