Originally written on
Ex Pats
| Last updated 11/8/14
Editor's note: This article is thanks to the hard work of Ex Pats member Kyle Samuelson. It's another great day for New England Patriots football. Our 5-1 Pats are up against rival Jets in their final game of the regular season. We all know how the last game ended, which is to say, not pretty at all. The game was full of infuriating drops and what seemed to be a new Brady that fans weren't accustomed to. Not even during the 2006 season, when players like Reche Caldwell and Chad Jackson were the top targets, had Brady ever looked so poor. Luckily, that shouldn't be the case tomorrow. Say it with me now, Pats fans. ROB GRONKOWSKI IS BACK!!!! Yes, that's right. Our main TE was finally cleared by his doctors to be an all go for this game. Now, seeing as it is the Jets (New England has a healthy lead over them in the division), don't be surprised to see Gronk play in only about half the offensive snaps, especially with the slight emergence of Michael Hoomanawanui against the Saints. The Patriots offense is one of the most inconsistent factions in all of the NFL this season. Some days they look really great (at Atlanta and hosting New Orleans). Some games they're atrocious (the aforementioned Jets game and two weeks ago against Cincinnati). If Gronk is in for a healthy amount of plays, then this offense should hum like the days of old. The running game should look to impress again. Stevan Ridley looked like a stud against the Saints, but the Saints aren't the Jets. The reason I see him being so successful is because the Jets will be so focused on the pass game again, that the holes should be wide open for a seemingly rejuvenated Ridley. Also, expect to see a healthy amount of Blount's power game too. Bolden seems to be getting less and less reps each week. He hasn't been catching out of the backfield very well and he is seriously lacking in the pass protection game. The defense shouldn't have to worry too much, even with the loss of three key players. No Kelly and the loss of Mayo hurt, but they can be replaced. The loss of Talib would be devastating if this were any other offense. The Jets are ranked only two spots ahead of New England in total offense (24 and 22) and the Patriots defense, even without Talib, should be able to handle the likes of a hobbled Santonio Holmes, Jeremy Kerley, and Stephon Hill. Geno Smith has improved (and actually has almost 100 more passing yards than Brady) but his inability to read defenses is going to show heavily against the multiple D sets that Bellichick loves to run. I expect Alfonzo Dennard and Devin McCourty to have huge games today. McCourty has really become a top level safety in the league this season. His elevation has been the second biggest reason this defense has vastly improved. My only big worry is the offensive line game. Scarnecchia is the best in the biz when it comes to making something out of nothing with offensive linemen. This year has been his biggest challenge so far, though. Connolly's seemed to be unable to overcome his concussion issues so don't be surprised to see the team hold him out and put Marcus Cannon in his place, again. Cannon had a lot of struggles against the Saints defensive line. He missed two blitz pickups which led to two Brady sacks. Yes, Brady seemed to hold on to the ball at times, but not on these couple of plays. Unfortunately, he is facing a much more intimidating front seven led by Muhammed Wilkerson and Quinton Coples. Expect a lot of blitzes from the always aggressive Rex Ryan. If Cannon can't handle these pickups, then Brady is going to have a very long day, spending most of it on the Turf. I predict that the presence of Gronkowski not only adds a much needed morale boost, but will help change the coverages and open up a lot of space for the young receiving corps. Thompkins should have the biggest game of everyone, his confidence has never been higher. I also predict that the Jets will crumble under another turnover filled day from the (like I said earlier, much improved but still young) Smith. Pats over Jets 34-17. What do you predict the final score to be?
Original Story:
http://expatsfootball.com/posts/final...
MORE FROM YARDBARKER
NFL News

Delivered to your inbox

You'll also receive Yardbarker's daily Top 10, featuring the best sports stories from around the web. Customize your newsletter to get articles on your favorite sports and teams. And the best part? It's free!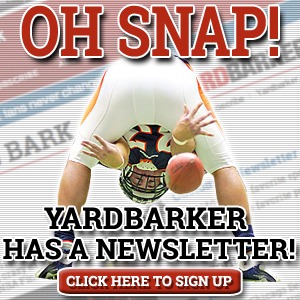 Latest Rumors
Best of Yardbarker

Today's Best Stuff

For Bloggers

Join the Yardbarker Network for more promotion, traffic, and money.

Company Info

Help

What is Yardbarker?

Yardbarker is the largest network of sports blogs and pro athlete blogs on the web. This site is the hub of the Yardbarker Network, where our editors and algorithms curate the best sports content from our network and beyond.