Found November 10, 2013 on Bob's Blitz :
Level 1 sex offender, misogynist, and noted human resources legal expert Lawrence Taylor has finally weighed in on the Richie Incognito / Jonathan Martin mess."Martin wouldn't be allowed back in my locker room," Taylor told the Daily News. "I understand Incognito may be a bad guy, but all that stuff should have stayed in the locker room. I don't know if I would let Incognito back in the locker room either, but he would be allowed back in my locker room before the other guy would. They are texting each other like two women. I don't understand that.""If you are that sensitive and weak-minded, then find another profession," he said. "That's the way I feel about it. This is the NFL. This is football. This is not table tennis. This is not golf. I don't know how you bully a 350-pound player.""If he's calling you n----, there's a whole bunch of black people in the locker room. Call a team meeting," LT said. "You stand up and ask the coach, 'I want a few minutes,' and ask the coaches to leave." Then you say, 'I've got to get this off my chest.' That's when people are going to respect you. At some point, you got to be a man. But it's a whole other league now from when I played. Now you got to take your lawyer with you to work. This should have been handled in-house. (Martin) took the dirty laundry out for everybody to see. Everybody is evaluating and investigating unnecessarily."The Daily News continued:Taylor said the n-word was tossed around plenty in the Giants' locker room. "I have a lot of friends on the team who used the word n---. You know where they are going with it," he said. "If they used it in a derogatory way, then we got a problem. You don't have a problem with just Martin, you got a problem with all of us. That's how you stop that s---."...Taylor said intimidation is part of football. But, he was asked, should teammates intimidate each other. 'It all depends," he said. "The things we used to do to guys on our team that were not ready to play."Such as?"We're not going to get into that stuff," he said. "We would open up another can of worms.""I'm not saying Incognito was a great player, but he's been in the league awhile and deserves some respect," LT said. "If Martin wants respect, he's got to earn respect. I would say this is something that is going to follow him. Guys don't know how to handle you. They can't trust you."Of course the NFL wants this kind of stuff handled inside the locker room. Because? If true, no matter the history or hitherto 'accepted behavior' -- it's a work place and would therefore be potentially illegal. Thankfully we finally have heard from the upstanding citizen and great mind that is Lawrence Taylor. It is a joke that the Snooze gave that scumbag a voice in this. Should have followed up the discussion above with something along the lines of, "So, LT -- what are your thoughts on female sideline reporters?"**Follow us on Twitter, Subscribe by Email, View via Our Mobile Site, or Return Home
Original Story:
http://www.bobsblitz.com/2013/11/fina...
THE BACKYARD
BEST OF MAXIM
RELATED ARTICLES
The Dolphins need to make a decision on Richie Incognito, and they have less than three weeks to decide his future. According to Pro Football Talk, a few playoff contenders will also be monitoring the status of Incognito's future with the Dolphins as well. Per a league source with knowledge of the situation, Incognito's suspension for conduct detrimental to the Dolphins is indefinite...
Left guard Richie Incognito has been suspended indefinitely by the Dolphins, presumably for his alleged role in bullying left tackle Jonathan Martin, who left the team last week and is currently in California seeking counseling. While the NFL investigates the matter, new details emerge daily. The latest: Incognito would regularly hold meetings for the offensive line ... at a South...
Topics: Richie Incognito, official visitors and JUCO DL
Greetings! Tis I, Tehol Beddict, here to counsel you on how to handle bullying on the message board and point out some interesting targets and touches from this past week. Let's begin with me admitting to be being guilty of the kind of verbal abuse on message boards  that would make Richie Incognito seek Jesus. Sh!t down your throat? I'll kill you? Rich please! These types of...
Former Eagles first-round draft choice Shawn Andrews (73) claimed on 97.5 The Fanatic in Philadelphia Friday that Donovan McNabb bullied him in a similar fashion to Richie Incognito's alleged actions. While Chip Kelly made it clear Thursday that the Philadelphia Eagles do not take part in the kind of hazing that allegedly has taken place between Miami Dolphins' offensive...
All the NFL pre game shows of course covered the Jonathan Martin-Richie Incognito situation. One of more interesting exchanges about it came on ESPN's pregame show where Mike Ditka gave his unique opinion about the situation: "I want to say one thing," he said, according to Pro Football Talk. "If I was the coach, I wouldn't have either Incognito, the bully, or the baby...
Watch the extended version of the Jay Glazer exclusive interview with Richie Incognito. Here now, highlights of the interview: Incognito: You can ask anybody in the Miami Dolphins locker room who had Jon Martin's back the absolute most. And they will undoubtedly tell you, me. Incognito: Jon never showed signs that football was getting to him, um, the locker room was getting to...
Richie Incognito has been the hot topic in the NFL recently, so it's understandable why Mike Tirico had this slip up. Tirico mixed up a Mike Pouncey 15-yard personal foul penalty with Richie Incognito during the Miami Dolphins Monday Night Football game with the Tampa Bay Buccaneers. Incognito is inactive for the game and likely won't be playing another down in the NFL for his...
Former NFL head coach Mike Ditka spoke about the Richie Incognito bullying situation during ESPN's Sunday NFL Countdown and gave a unique take. Rather than blasting Incognito for allegedly bullying Jonathan Martin like most other analysts have done, Ditka said he would not want either player in his locker room. "I want to say one […]
  Mike Tirico did perhaps the inevitable tonight on MNF. With Incognito-Martin being all over the headlines in the sports world, it shouldn't come as a shock when Mike Tirico just assumed a flag on Miami was the fault of a very suspended Richie Incognito. A sports Freudian slip, if you will. Hard not to giggle There, there
getty images With all the attention the Miami Dolphins are getting due to the alleged bullying of offensive lineman Johnathan Martin by teammate Richie Incognito it was inevitable that other odd stories would emerge. Ever wonder why the Dolphins traded corner back Vontae Davis to the Indianapolis Colts? It's because he went to the bathroom too much according to the Miami Herald...
DEAL WITH IT, Prime! There will be time to talk about how ****** WE ON is tomorrow, but you all want to officially know who won the headphones contest from Friday, don't you?  If you recall, Prime picked Gallon with 1 yard and demanded not to get Price Is Righted by anyone.  Saturday morning, from his honeymoon, Seal did just that!  By picking Nebraska and Gallon 2 yards...
Dolphins News

Delivered to your inbox

You'll also receive Yardbarker's daily Top 10, featuring the best sports stories from around the web. Customize your newsletter to get articles on your favorite sports and teams. And the best part? It's free!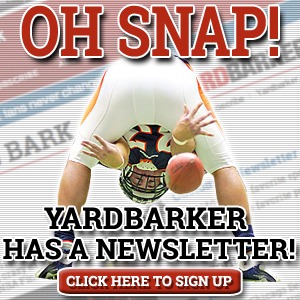 Latest Rumors
Best of Yardbarker

Today's Best Stuff

For Bloggers

Join the Yardbarker Network for more promotion, traffic, and money.

Company Info

Help

What is Yardbarker?

Yardbarker is the largest network of sports blogs and pro athlete blogs on the web. This site is the hub of the Yardbarker Network, where our editors and algorithms curate the best sports content from our network and beyond.