Found February 07, 2013 on Packer Update:
The Packers owe veteran tight end Jermichael Finley a hefty roster bonus in March Bob McGinn of the Journal Sentinel opined that Jermichael Finley would not return in 2013 "barring a shocking turn of events in the next month or so." Well, if one of the country's most respected football writers was correct in December, then the enigmatic tight end will no longer be a Packer by the middle of March. Truth be told, there was no shocking turn of events when it came to Finley in the final few months of the season. The 25-year-old simply looked like a guy who suddenly realized that he was on the verge of blowing millions of dollars. So he kept his mouth shut and caught 31 passes in the final 7 games. Good for him, but would that classify as a shocking turn of events? More importantly, is that worth $8 million? When I re-watched those 7 games, I saw better effort out of Finley, but I also saw a player who really struggled to block and who really struggled to separate from very ordinary safeties and linebackers. The majority of his 31 receptions came in the flat, and many were uncontested. Rarely did Finley make a play down the field. To be fair, Aaron Rodgers missed him a number of times, but that happens to all receivers. Finley supporters argue that his numbers will never be eye-popping because he has to share the ball with so many other quality receivers. There's some truth to that, but it's not all about numbers when it comes to the former Texas star. It's about making the most of opportunities – something he didn't do nearly enough in 2012. His Ed West-like yards per catch average (10.9) and measly 2 TDs would attest to that. So what will happen between now and the middle of March, when Finley is due a $3.5 million roster bonus? Probably nothing. With star wide receiver Greg Jennings on his way out of town, it's difficult to imagine GM Ted Thompson allowing another weapon – albeit more a pop gun than a cannon – to leave as well. And if Finley does return for another season, it won't be due to a shocking turn of events. It'll be due to his improved performance, his improved attitude, and most importantly, his good fortune to be playing for a team that will be losing its best wide receiver in a few months and has no decent backup plan at tight end.
Original Story:
http://packerupdate.net/?p=24147
THE BACKYARD
BEST OF MAXIM
RELATED ARTICLES
According to Tyler Dunne of the Milwaukee Journal-Sentinel, there's a 5050 chance tight end Jermichael Finley isn't back with the Packers next season. Also of note, league sources told @jasonlacanfora that Finley unlikely to stay in Green Bay. We'll see. Heard here that it's "a coin flip." — Tyler Dunne (@TyDunne) February 8, 2013 Even though Finley played better and...
Jermichael Finley is at a crossroads in his Green Bay career.  The Packers have a decision to make in terms of whether or not they want to pay him a $3 million in March. If the Packers release Finley, it would save the team $8.25 million in salary cap space.  Finley during an interview with the Milwaukee Journal Sentinel, said it's a 50/50 chance that he's back with the Packers...
Jermichael Finley believes his chances of returning to the Packers next season are "50/50." "It's the nature of the business," Finley said, via the Milwaukee Journal-Sentinel. "If there's a guy that's overpaid or that they think is overpaid, they'll ask for a pay cut. There's no doubt that I want to be there for life. But it's a business and the business will...
Green Bay Packers' fans flocked to watch wide receiver Donald Driver officially retire today at Lambeau Field's atrium.  As you can see from the photo of Driver on the stage, a street will be named after him. Tyler Dunne of the Milwaukee Journal-Sentinel transcribed from of his speech. Driver: Now you know why Packer fans are so special. They show the loyalty, they show the...
A former Green Bay Packers cheerleader is taking a stand against cyber bullying. Kaitlyn Collins, who cheered for the Packers in 2009, was recently the victim of cyber bullying when a photo of her was posted on the Chicago Bears Fan page on Facebook. According to the Green Bay Press Gazette, a Facebook user posted a photo of Collins on Monday with the following caption: "Like If...
As part of Donald Driver's retirement ceremony on Wednesday, the team assembled quotes from all sorts of Packers legends and standouts. Here are just a few, including Jerry Kramer, who called Driver a "quintessential Packer" who "cared about people."
It's been a tough year for Bears fans. Their team failed to make the playoffs AND they lost their coach. So in typical, classy Bears fan fashion, they took their aggression out on the person who REALLY deserved it. A former cheerleader for the Green Bay Packers. Someone put up a picture of Kaitlyn Collins on a Bears Facebook fan page and decided to diss her looks. And of course...
Since free agency became the norm in the NFL there has been one thing that has been slowly dying out--team longevity. Fewer and fewer players are staying with one team opting to head for greener pastures (more money), but not necessarily a better team. When the Green Bay Packers season ended one of their greats, wide receiver Donald Driver, decided to call it a career. Here...
GREEN BAY, Wis. -- Donald Driver went out in style, retiring from the Green Bay Packers in a way that no one else in the franchise's illustrious history ever had.The Packers' all-time leading receiver in yards and catches held a public ceremony Wednesday morning inside the Lambeau Field Atrium. Driver was joined by 1,000 of his most die-hard fans, most of whom waited outside...
Kaitlyn Collins is a former Green Bay Packers cheerleader whose photo was placed on a Chicago Bears fan page with the caption 'Like if you agree the Packers have the worst cheerleaders in the NFL!'... Full story at Bob's Blitz ~ http://www.bobsblitz.com
Team president and CEO Mark Murphy I want to first thank all the fans for coming out today. I know a lot of you waited in line in the cold to get your tickets and you waited this morning, so give yourselves a round of applause. It's always a little bittersweet when a great player's career ends like Donald's. But this is just special day. It's a great day for the...
Ok, Roste hasn't loved the love fest for Double D…even though he is a class act and a Packer and all… I mean it was INSANELY out of control, however this is pretty damn cool.  Only Packer Fans!   I love my Green and Gold Baby! Click here to view the embedded video.
Packers News

Delivered to your inbox

You'll also receive Yardbarker's daily Top 10, featuring the best sports stories from around the web. Customize your newsletter to get articles on your favorite sports and teams. And the best part? It's free!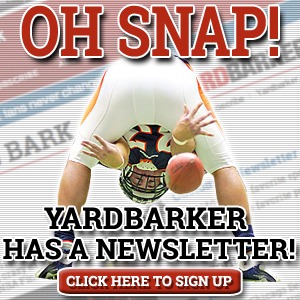 Latest Rumors
The Backyard

Today's Best Stuff

For Bloggers

Join the Yardbarker Network for more promotion, traffic, and money.

Company Info

Help

What is Yardbarker?

Yardbarker is the largest network of sports blogs and pro athlete blogs on the web. This site is the hub of the Yardbarker Network, where our editors and algorithms curate the best sports content from our network and beyond.