Found April 06, 2012 on CJ Sports NFL Talk:
PLAYERS:
Eli Manning
,
Justin Tuck
,
Joe Flacco
,
Tom Brady
,
Aaron Rodgers
,
Peyton Manning
,
Ben Roethlisberger
,
Randy Moss
TEAMS:
New York Giants
,
Baltimore Ravens
,
New England Patriots
,
Green Bay Packers
,
Pittsburgh Steelers
,
San Francisco 49ers
Is this just a supersticious thing?  Self-proclaim you're the best or elite in hopes you can become the next Super Bowl champion.  Everybody thought Eli Manning was out of his mind when he self-proclaimed himself to be elite.  Manning wasn't elite, but the NY Giants were the best last year.  The defense stepped up and became the reason they won the Super Bowl, Justin Tuck especially, who still should of been the Super Bowl MVP.
Joe Flacco whom is a lot like Eli Manning, decided he would inform the world he is the best, not top five, but the BEST.  Just like last year with Eli's outrageous statement, I will say the same thing this year about Flacco.  There is not a chance on a cold day in….  well you know the rest.
Here are the facts, neither one of these two quarterbacks are the best or elite.  Matter of fact, neither one of these two are in the top five.  Tom Brady, Aaron Rodgers, Drew Breese, Peyton Manning, and Ben Roethlisberger are the top five quarterbacks.  Both of these quarterbacks just happen to be on teams that are defense strong and have bailed them out.
People say what they want, Eli won two Super Bowls and Flacco has led the Ravens to many winning seasons.  I will say how it is and numbers don't lie, so I will try to set the less intelligent right.
Last time I checked this is a team sport and this is just as true with these two teams as any other.  Why do I say that, lets talk numbers.  Flacco and Manning are very inaccurate quarterbacks and turn the ball over a lot.  As you see:
Joe Flacco     74 INTs/FUMs to just 80 TDs
Eli Manning     179 INTs/FUMs to just 185 TDS
The two qaurterbacks that want to self-proclaim are the quarterbacks that are barely throwing more touchdowns then turnovers.
Then you have the silent ones who let their numbers do all the talking.
Tom Brady     172 INTs/FUMs with 302 TDs
Peyton Manning     235 INTs/FUMs with 399 TDs
Drew Breese     198 INTs/FUMs with 281 TDs
We don't hear these guys making any false statements, the numbers would back them if they wanted to start making self-proclaiming statements.  None the less, they have kept their mouths shut and let their performance speak for itself.
Now, I can be more forgiving to Eli Manning, he did get lucky and was on two Super Bowl winning teams.  He did get the fortune of a team bailing him out and making him look acerage two years.  Flacco, you have no foundation to what your saying, your team can't even make the Super Bowl.  I don't know what ever happened to letting your performance speak for itself, oh yea I do, it was a young Randy Moss and T.O. who ruined that.  These two quarterbacks need to learn a valueable lesson, self-proclaiming and self-praising will only get you disliked and criticized even more.
Let's put all the talk to the side and let's us prepare for the 2021-2013 season.  Come out and prove to me and the rest of the experts that you really are tha
Original Story:
http://cjsportsnflblog.com/2012/04/fi...
THE BACKYARD
BEST OF MAXIM
RELATED ARTICLES
Quarterback Joe Flacco is not close to reaching a new long-term deal with the Baltimore Ravens. Fantasy Spin: Flacco, who is entering the final year of his rookie contract, recently stated that he is the best quarterback in the NFL -- and most likely also believes that he should be paid among the elite, like Tom Brady. Baltimore may opt to target a quarterback in Aprils Draft for...
I can almost guarantee that the majority of the people that first read the title either laughed or assumed that this was written by a Ravens homer. The news was broke this morning and some people (myself included) are still laughing. What is this news? While speaking with Baltimore radio station WNST 1570, Flacco was asked if he agreed with the comments his agent, Joe Linta, made...
Joe Flacco raised plenty of eyebrows when he said he believed he was the best quarterback in football. You had to wonder if his teammates and organization agreed. Ravens GM Ozzie Newsome offered his opinion Wednesday. "Any player, any coach, any GM do not think they aren't the best at what they do," Newsome said Wednesday when asked about Flacco's comments. "For Joe to...
When the New York Giants agreed to trade Philip Rivers  for Eli Manning during the 2004 draft, they probably had no idea they would be getting the best quarterback the team has ever had, arguably. Somewhere, the San Diego Chargers are kicking themselves. The Giants have had a long history, and a long list of
As an Ole Miss grad, the subject of his alma mater might have proved a tempting one for Ruston Webster to bring up during his organization's recruitment of Peyton Manning seeing as Manning's brother Eli and father Archie played there but the Tennessee Titans new general manager kept the discussions to business. "All Titans," said Webster, who was elevated to...
Eli Manning warms up before a game against Miami at Metlife Stadium, October 30, 2011. Photo taken by NYGiantsFansUniteSF (no real name given). Used under Creative Commons License.by Adam Carman, BGB Assistant EditorWith the advent of baseball season, it's been harder and harder to focus on the world of football. While many teams are making a huge splash in free agency, the...
Cardianls quarterback Kevin Kolb is declining to answer questions about the team's pursuit of Peyton Manning and more updates inside.
Peyton Manning's arrival in the AFC West apparently has put the Denver Broncos' rivals on notice, as the need to acquire quality defensive help is now at a premium. In line with that thinking, the San Diego Chargers have re-signed defensive end Luis Castillo to a one-year contract. Castillo has been a valuable contributor to the Chargers front seven over the years, helping...
Chicago Bears fans could see both Peyton Manning and Robert Griffin III in their initial starts for their new teams. The club released its 2012 exhibition schedule Wednesday, and the first two games are home dates with Manning's Broncos and the Washington Redskins, who are fully expected to tab RGIII later this month in the NFL draft. The preliminary timeframe, [...]
I am not an NFL GM, obviously, but I thought it would be interesting to post here exactly what strategy I use to fill out my "Should" Mock.If a quarterback is needed in the first round, and there is one who I have given a first round grade to available, I take him. Good quarterbacks win games. 20 of the last 21 Super Bowls were won by teams starting former Pro Bowl quarterbacks...
The Denver Broncos have reportedly worked out another quarterback. This time however, it's not a free agent veteran but rather a rookie which will be available in the NFL Draft later this month. NFL.com reports that the Broncos worked out Arizona State University quarterback Brock Osweiler. Osweiler is a large quarterback, measuring in at 6′ 7″ and veteran talent...
NFL News

Delivered to your inbox

You'll also receive Yardbarker's daily Top 10, featuring the best sports stories from around the web. Customize your newsletter to get articles on your favorite sports and teams. And the best part? It's free!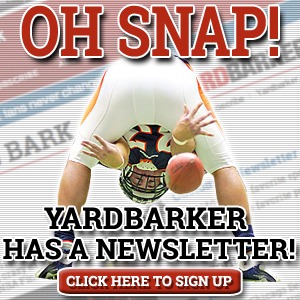 Latest Rumors
The Backyard

Today's Best Stuff

For Bloggers

Join the Yardbarker Network for more promotion, traffic, and money.

Company Info

Help

What is Yardbarker?

Yardbarker is the largest network of sports blogs and pro athlete blogs on the web. This site is the hub of the Yardbarker Network, where our editors and algorithms curate the best sports content from our network and beyond.