Found April 26, 2013 on Fox Sports:
The fine print on NFL commissioner Roger Goodell's invitation to elite players for a free trip to New York City strongly encourages them to stay as long as it takes to go. Or in other words, stay until you hear your name. In rare instances, this leads to the NFL version of the walk of shame, green room attendees not taken on Day 1 trudging back in their rumpled suits for Day 2 and another pick, or 10 picks, or round of national TV-scrutiny and public humiliation. This looked to be West Virginia quarterback Geno Smith's fate after a long Thursday of 32 up, 32 down and barely a nibble of interest much less being invited on stage for an awkward hug, cap and jersey. Smith flew all the way to NYC to watch Florida State quarterback EJ Manuel, his buddy from long ago, called up by Buffalo in what was supposed to be his moment and he looked crushed. He watched himself be passed on in favor of junk butts and head cases, his face falling deeper and deeper. And in that moment, he had to be thinking "What was I thinking? Why did I not hang with Barkley?" What Smith finally said was bleep this bleep. He bailed on Day 2, which is the right first step on his path to being a good quarterback in the NFL. As hard as Thursday had to be for Smith, and I felt badly for him as he looked gutted in screen shot after screen shot, this was exactly what needed to happen. The spots he had mentioned as being selected for--as high as No. 2 in a few mock drafts and in the mid-teens in most others--were too high. This is not about intangibles or intelligence or anything other than legitimate questions about how NFL ready Smith was right now. This is not a recommendation of the smear report on him, just proof that questions existed. He was in danger of being overdrafted. And because this is how it goes nowadays, Geno Smith turned legit questions as "haters". He tweeted about this this week. Just want to thank all those so called "experts" who say I can't be an NFL QB. Thursday will be a special day but the work has only begun -- Eugene Geno Smith (@GenoSmith_12) April 23, 2013 He was wrong about Thursday. He was right about the "so called experts". They had no idea how wary teams were of him, and really all the quarterbacks in this draft. USC's Matt Barkley did not get a call either. We were just not privy to his personal agony because he wisely said "thanks, but no thanks". This is best case for Smith, the public part notwithstanding. It really is. No longer will he be saddled with first-round expectations. Depending on who takes him, he has a chance to sit for a year and learn. He has a chance to develop whereas if he had gone to Jacksonville or Philly or even Buffalo he'd have gone from the frying pan right into the fire. And what happened Thursday is no indication of what kind of quarterback he is going to be. Good QBs have fallen before and landed in big fat piles of money, with a few walking away with Lombardis and rings as well. Aaron Rodgers and Tom Brady spring immediately to mind. Just this week ESPN treated us to a "30 for 30" walk down memory lane where we were reminded that none other than Dan Marino plummeted, going behind Todd Blackledge, Ken O'Brien and Tony Eason. It was a pre-green room era but experiencing being passed on by his hometown team in the privacy of his own place did not make it feel OK. Things worked out alright, just like for Rodgers. He, too, spent a long night being gawked at on TV. In a classy move, Rodgers tweeted: Hang in there Geno, "good things come to those who wait" -Paul Tagliabue -- Aaron Rodgers (@AaronRodgers12) April 26, 2013 Who knows if Goodell had such a line planned for Geno. And good for Geno for not sticking around to find out. There really needs to be a mercy rule at the NFL Draft. If a player falls below a certain number, they stop cutting away to him playing on his phone in the green room. There came a point Thursday when even I felt guilty about my snarky tweets about the only person calling Geno was Manti Te'o's girlfriend pretending to be a GM. The league certainly should spare these guys the walk of shame of coming back for Day 2. Yes, this is where Smith should have gone all along. It is the right first step on his journey to trying to be a good NFL quarterback, and there is no shame in that.
Original Story:
http://msn.foxsports.com/nfl/story/nf...
THE BACKYARD
BEST OF MAXIM
RELATED ARTICLES
The NFL Draft is a time for players to dress up, head to New York City, and soak in a fun evening that's all about them. It's a time when they can embrace Roger Goodell before spending the rest of their careers cursing him. The NFL Draft is also a time when players are shown on TV with their family members by their side. That means the draft is a time when wives and/or girlfriends...
The NFL will hold a moment of silence at Thursday's draft for the victims of the Boston Marathon attacks and Texas fertilizer plant explosion. Commissioner Roger Goodell said at a pre-draft event Wednesday that the league would recognize the two tragedies that took place last week. The three-day draft begins Thursday night with the first round. The NFL said Tuesday that it...
No. 5-overall NFL Draft pick Ezekiel Ansah was definitely sporting lens-free 3-D glasses on stage with commissioner Roger Goodell.
BYU defensive end Ezekiel "Ziggy" Ansah went from obscurity and never having played football to becoming the #5 overall pick in the 2013 NFL Draft. As we reported a few weeks ago, Ansah was also scheduled to graduate from BYU last night, but instead chose to attend the NFL Draft and shake Roger Goodell's hand. Ansah's mother traveled here all the way from Ghana expecting...
I'll admit it, when it comes to the NFL, I am a pretty casual fan.  Being a Minnesota Vikings fan will do that to a person.  It wasn't always this way, I remember as a kid re-enacting spin moves out in the yard and diving to catch passes I threw to myself all while wearing my #20 Darrin Nelson jersey.  But this isn't about how the Vikings have torn my heart out so many times...
11) Roger Goodell brought out Joe Namath, Phil Simms, Barry Sanders, Joe Andruzzi and wounded members of the nation's military in a transparent attempt to not be constantly booed10) The only guy drafted from a small school in the first round went first overall9) If you'd like to make fun of Geno Smith still being in the green room, you've got the overnight to keep working...
This year's NFL Draft isn't loaded with big-time names, but it will still make for tons of good television. Here are some things to watch out for: Roger Goodell hugs. The New York Times had a great explanation on how the tradition of picks hugging the commish came to be. I'm really hoping for an Obama-Pizza Guy hug moment. Or maybe one of these handshakes. Keep your eyes...
Roger Goodell may be done announcing picks, but I'm not! Another day down and we now know who some of the newest members of the New England Patriots are going to be. I am very happy that the Patriots used all four of their picks and they addressed the major needs along the way. Other than Jamie Collins, I did really mention any of these guys. They were not the highest rated players...
photo via cbssports.com Twitter is usually the perfect companion while watching live events — sports, award shows, political debates, whatever.  However, there are occasions when Twitter can become a nuisance for broadcast partners, and the NFL Draft ranks among the top. ESPN and the NFL Network produce months of programming and content about the many potential outcomes of the...
The Browns traded up for Trent Richardson in the 2012 Draft, will they trade down in the 2013 Draft? We are finally on the eve of the NFL draft.  The 2013 NFL Draft is set to get underway tomorrow night at 8pm in New York City at the Radio City Music Hall.  There will be no kick lines to be seen, but nervous twenty-somethings, and bear hugs by NFL Commissioner Roger Goodell will...
It looks like rumors that an NFL player(s) publicly coming out as gay has already prepped players for the possibility that they could be sharing a locker room together but, if they didn't get the implied message of tolerance from the league, the NFL announced that it will be putting their anti-discrimination policies in writing and on the walls of every one of those locker rooms...
NFL News

Delivered to your inbox

You'll also receive Yardbarker's daily Top 10, featuring the best sports stories from around the web. Customize your newsletter to get articles on your favorite sports and teams. And the best part? It's free!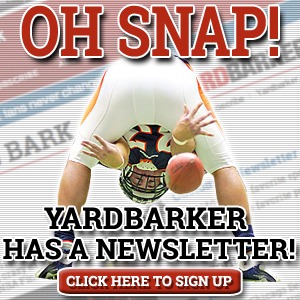 Latest Rumors
The Backyard

Today's Best Stuff

For Bloggers

Join the Yardbarker Network for more promotion, traffic, and money.

Company Info

Help

What is Yardbarker?

Yardbarker is the largest network of sports blogs and pro athlete blogs on the web. This site is the hub of the Yardbarker Network, where our editors and algorithms curate the best sports content from our network and beyond.