Found July 30, 2012 on Fox Sports Midwest:
ST. LOUIS - The start was subtle, almost nondescript after seven months of anticipation. But this transition will be judged on substance, not style, and the 17-year veteran coach of change carried on the only way he knew how. Jeff Fisher stood between two fields 10 minutes before the start of his first training camp as the St. Louis Rams' new leader. He gestured toward the horizon, and he chatted with players who had filed from the locker room. This day, he knew, made him feel like a rookie again. An air horn sounded, cutting through a cooler-than-expected Sunday afternoon at Rams Park. With it, a journey that will include growth for Fisher as well as his franchise began. There were claps from fans behind a steel fence. There were cheers. There were some who wore dark-blue jerseys honoring the Rams' past and present - names like Faulk and Bruce, Bradford and Laurinaitis that served as reminders that winning football has happened in St. Louis and can return. "Every training camp felt like my first one," Fisher said later, after the two-hour session. "I'm very excited about this." Sunday was a moment for excitement, a chance to forget about the bad (no playoff appearances since the 2004 season) and the ugly (a 15-65 record over the past five campaigns) that have accompanied fall in this baseball-crazed town far too long. It was a moment to remember that turnarounds don't occur in one day or, usually, a single season or two or three. It was a moment to remember building takes time. Sure, the Rams must be patient. But with training camp comes optimism: There's a sense that they have their man to deliver a winning campaign for the first time since going 12-4 in 2003. Don't expect a "Greatest Show on Turf" rerun this year though. There are too many unknowns, like a leaky offensive line that surrendered a league-high 55 sacks last season. Still, Fisher offers hope after the dreadful Scott Linehan and Steve Spagnuolo years. He offers credibility - a 142-120 career regular-season record with the Houston OilersTennessee Titans that included six playoffs berths, four division championships and a Super Bowl appearance after the 1999 season. Above all, he offers a chance to believe. "I think the greatest thing about coach Fisher is he is confident, and he's so confident he doesn't feel like he has to come out and give us a bunch of lip service every meeting or every practice," said Rams quarterback Sam Bradford, who added that a left ankle sprain sustained in a Week 6 loss to the Green Bay Packers last season has healed. "He doesn't say much, but when he speaks everyone listens, because we all understand if he's saying something it's for a reason and it's extremely important. I think his natural vibe, his calmness, his confidence rubs off on everyone." That confidence was constant throughout Sunday's practice. During drills, Fisher walked a short distance behind the offense, a model of composure. Responses like, "Ohhhh!" and "Nice catch!" and "There you go, Danny (Amendola)!" that lifted from the crowd and players on the sideline were met with a nod or a blank stare from the coach. Remember, Fisher has lived the preseason grind too many times before to be surprised. He exchanged quiet words with chief operating officer Kevin Demoff and general manager Les Snead early in the session. Later, he gave simple commands like, "First down, left hash!" His assistants, offensive coordinator Brian Schottenheimer and assistant head coach Dave McGinnis - who have 41 years of NFL coaching experience between them - barked his orders between repetitions. "It seems that Coach Fisher has put together an absolutely stellar staff," Rams running back Steven Jackson said. "There's a lot of knowledge amongst those guys. On top of that, he does a good job of feeling the chemistry of a team and piecing it together. There have been a few examples already within a day of how he takes control and asks guys for input on certain things." What Jackson saw was a glimpse of a culture change that Fisher insists is months old. In the offseason, cornerback Cortland Finnegan, St. Louis' headline free-agent signing this past winter, denied that the Rams are remaking themselves under a man who spent part of his year away from the NFL climbing Mt. Kilimanjaro. In reality, though, that's exactly what's happening. Someone must do it. After all, Fisher's job requires a climb of another kind. Linehan, a proven offensive coordinator, and Spagnuolo, an accomplished defensive coordinator, came to St. Louis without previous head-coaching experience. Eventually, the former rising stars flamed out, and both are to blame for the Rams' spiral the past six seasons. Enter Fisher, who cracked Sunday that most of the 1,602 in attendance came to watch the unrestricted free agents signed in the offseason. Yes, he's a reason to hope that competent football will be played at the Edward Jones Dome soon. But let's also use caution: His most recent victory in the playoffs happened way back in January 2004, and he last led a team to a winning season when the Titans went 13-3 in 2008. So are Fisher's best days long gone? Or does he have another climb left? "We're just carrying on," Fisher said. "We're just going to carry on. Our challenge today was to have the best first day of training camp that we possibly could. I thought it was a good practice. Tomorrow, we've got to add to today and we just take it one day at a time." It's a simple, subtle approach. And this early in the reconstruction, it's perfect for the Rams.
Original Story:
http://www.foxsportsmidwest.com/07/30...
THE BACKYARD
BEST OF MAXIM
RELATED ARTICLES
ST. LOUIS The mission began simple enough. It was introduced, like such things tend to be, in a meeting room at Rams Park during organized team activities at a time when coach Jeff Fisher pitched his vision to a young defensive line. It was received, like such things are, with optimism and a sense that history waited to be made. The mission inspired. It began as another Fisher...
There are good ways to start your NFL career, and there are bad ways. Rams rookie cornerback Trumaine Johnson knows about the bad ways. The third-round draft pick reached a contract agreement with the team on Tuesday, which made him eligible to join the team at training camp on Wednesday. But Johnson couldn't make it in time for his first official practice because of a regrettable...
Experiencing the play that ruined his 2011 season was plenty for Danny Amendola. The St. Louis Rams wide receiver has never watched a replay of the freak injury, saying all that matters is he's back. Amendola was Sam Bradford's go-to possession guy in 2010 with 85 receptions. He was durable, too, playing all 16 games and totaling 90 kickoff and punt returns. He didn'...
Chris Long was due 10.31 million in the final year of his rookie deal, after going 2nd overall in the 2008 NFL Draft. This extension adds an extra 4 years, 50 million to the existing deal to essentially make it a 5 year, 60 million dollar contract, with 37 million guaranteed. Long is one of the rare picks that panned out in St. Louis under the old regime. He doesn't stop the run...
ST. LOUIS (AP) -- A day after Chris Long got a new contract that'll keep him with the St. Louis Rams for five more seasons, the franchise focus has shifted to locking up their middle linebacker. Two days into training camp, James Laurinaitis said he's paying zero attention to negotiations. Laurinaitis, who has led the team in tackles all three of his seasons, said Monday...
More than 1600 fans piled in to the Rams' Earth City practice facilities yesterday, ready to see - and document - the new start under coach Fisher. As a result, the camp reports and fan photographs are starting to trickle in. Here's a morning's worth of geekout reading for you. Camp Report and Photos from Racetech at RealRamsFans.comMostly photos with some light commentary...
St. Louis Rams rookies got a three-day head start at training camp. New coach Jeff Fisher hopes that'll help them adjust now that the veterans have arrived. The first full-squad practice is Sunday afternoon, giving Fisher two weeks to prepare for the first preseason game Aug. 12 at Indianapolis. The Rams and Colts tied for the worst record in the NFL last year at 2-14. Players...
The St. Louis Rams signed fullback Ovie Mughelli to a one-year contract, the St. Louis Post-Dispatch reported Saturday. Mughelli, 32, was released by the Atlanta Falcons on May 8. He played seven games with the Falcons last year before a knee injury cut his season short. The 2003 fourth-round draft choice of the Baltimore Ravens went to the Falcons after four years and signed...
Defensive end Chris Long has agreed to a four-year contract extension with the St. Louis Rams, according to FOX Sports' Jay Glazer. Financial terms of the deal were not available, but the contact is believed to be "huge," according to the report. Long, 27, had 13 sacks last season and has 30.5 sacks in his four-year NFL career. Long is the son of former Raiders...
Getty Images According to Jay Glazer of FOXSports.com, the St. Louis Rams have signed defensive end Chris Long to a "huge" four-year extension. Long has been getting better each year and really busted out in 2011 with 13 sacks.
NFL News

Delivered to your inbox

You'll also receive Yardbarker's daily Top 10, featuring the best sports stories from around the web. Customize your newsletter to get articles on your favorite sports and teams. And the best part? It's free!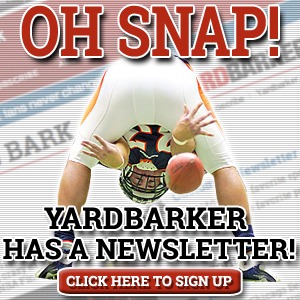 Latest Rumors
The Backyard

Today's Best Stuff

For Bloggers

Join the Yardbarker Network for more promotion, traffic, and money.

Company Info

Help

What is Yardbarker?

Yardbarker is the largest network of sports blogs and pro athlete blogs on the web. This site is the hub of the Yardbarker Network, where our editors and algorithms curate the best sports content from our network and beyond.