The NFL will announce official dates for regular season games in about an hour. Here are the five most intriguing games on my list. That means, these are the games I am most likely to buy a ticket to see live, away from the comforts of a friendly sports bar where food and drink prices are much more reasonable.
NFC East games are not on this list because all of those games are intriguing in their own right.
Carolina Panthers at Washington Redskins, August 2012 — Yeah, it's a preseason game, but it's also Cam Newton vs. RG3 (or, AL1). These are practice games. We are not likely to see Cam Neutron for more than three series. Still, the very idea of Newton and Robert Griffin III on the same field at once is tease enough.  We are not likely to see this again until some future playoff game.
The Panthers beat the John Beck-led Redskins 33-20 last October. That's behind us now.
Washington Redskins at Cleveland Browns — This drama has a soap opera feel. What will the Cleveland media say when RG3 comes to town? Mike Holmgren had to explain himself to season ticket holders when he failed to close the deal on a trade with St. Louis. The fact that he would have matched or enriched Mike Shanahan's offer silenced all dissent that the 'skins gave up too much to get the second overall draft position.
Don't feel too bad for Cleveland. Holmgren is as crafty as Mike Shanahan, so expect the Browns to be better in 2012. The Redskins play down to the level of bad opponents, especially for away games. Everyone expects that Griffin III with change that. That's to be proven, not assumed.
Washington Redskins at New Orleans Saints — This game is all about where the Saints fall in the Redskins schedule. Any team that faces New Orleans early will have an advantage as the Saints cope with coach and player Bountygate suspensions. I hope this game is early.

UPDATE - The Redskins open against the Saints Sunday, September 9, 1:00 PM ET 
Washington Redskins at St. Louis Rams — What we said about the Browns applies to the Rams. The Redskins struggle against bad teams. Washington is 2-2 against St. Louis who they faced for four consecutive years because each franchise played the division fourth-place schedule. The Rams outscored the 'Skins 66-59 in that run.
Can the Shanahans fix Washington's scoring handicap before Jeff Fisher fixes St. Louis' defense? Struggling against fourth-place teams like the Rams and Browns will suggest the Redskins are ready to challenge for the division. And just who did the Rams get with the Draft picks the Redskins traded away?

UPDATE - The Redskins face the Rams in NFL Week Two in a double-header game. Kick-off is 4:05 PM ET.  
Baltimore Ravens at Washington Redskins — The NFL thinks it can engineer "rivalries" between teams in adjacent cities. There's so much more to it than that. Washington faces Baltimore in a real game once in the four-year scheduling cycle. The number has come up.
The Ravens are a tough opponent known for its rugged defense. They have one of the league's best-managed front offices and they do a stellar job harvesting the NFL Draft. I don't want to see the Ravens, or the Steelers, until late in the season when RG3 has a better understanding of pro defenses.
There is bad blood between communities in this mostly one-sided rivalry. When I ask Ravens/ex-Colts fans why the venom towards Washington, I get answers that fall into two categories. The Baltimoreans say something like, "They do not like what's going on in Washington," or they have some persecution sense that Jack Kent Cooke stood in the way if the NFL's return to Baltimore.
To the first, I say that Washingtonians who are residents of the District of Columbia have no say whatever in stupid stuff that Congress does. (Someone should get mad that U.S. citizens who live in the USA have no Congressional voting rights.) The voting pattern of Washingtonians who live in Maryland are not any different that Maryland's overall voting pattern. If one doesn't like what's going on in Washington, talk to the man in the mirror. He has more say than District residents have.
I cannot find a quote or link or any hint at all that The Squire hindered the NFL's return to Baltimore. He had nothing to lose by it, unlike Peter Angelos, Baltimore Orioles owner who pointed to a MLB contract that gave his franchise the broadcast rights to baseball in DC. The two cities have separate media markets and the Redskins were selling out every game. Cooke was indifferent. If you know differently, say something in the comments, but come armed with links to proof.

For our part, Washingtonians are indifferent about Baltimore and the Ravens. That seems to incense Ravens fans even more. We don't like how insufferable Baltimoron coworkers become when the Ravens win, which is a regular occurrence. Cheering for the Redskins to win is for peace of mind at work.  
MORE FROM YARDBARKER
NFL News

Delivered to your inbox

You'll also receive Yardbarker's daily Top 10, featuring the best sports stories from around the web. Customize your newsletter to get articles on your favorite sports and teams. And the best part? It's free!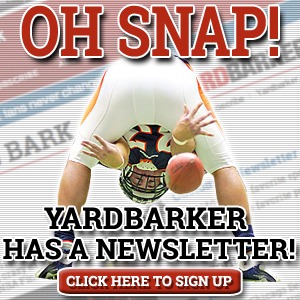 Latest Rumors
Best of Yardbarker

Today's Best Stuff

For Bloggers

Join the Yardbarker Network for more promotion, traffic, and money.

Company Info

Help

What is Yardbarker?

Yardbarker is the largest network of sports blogs and pro athlete blogs on the web. This site is the hub of the Yardbarker Network, where our editors and algorithms curate the best sports content from our network and beyond.