Found September 05, 2012 on NorthWest Sports Beat:
PLAYERS:
Pete Carroll
,
Russell Wilson
,
Tarvaris Jackson
,
Braylon Edwards
,
Sidney Rice
,
Golden Tate
,
Doug Baldwin
,
Robert Turbin
,
Marshawn Lynch
,
Michael Robinson
,
Leon Washington
,
Matt Flynn
,
Kevin Kolb
,
JR Sweezy
,
John Moffitt
,
James Carpenter
,
Allen Barbre
TEAMS:
Seattle Seahawks
,
Buffalo Bills
,
Arizona Cardinals
,
Dallas Cowboys
A better O will lead to more wins
We are almost ready to hunker down at our favorite bar, or crank the volume on our home theater systems at home, or in my case, hope to score tix for the game in AZ.
Wherever you end up watching it, truth is, it will be the most anticipated moment of your year thus far.
And Pete Carroll knows how to start a season with dynamics. Think of this years Cardinals as a preseason D-II school to lead off the NCAA season with, a weak team that will get you into the win column early.
And with the college football analogy still relevant, the Seahawks will start a college football style QB for the first time in coach Carroll's tenure in Seattle.
The Seahawks will look to start the season the same way they ended the preseason, perfect. And what better place to start then the University of Phoenix stadium against the team that edged them out at the end of last year.
Here is my list of 5 guys on the offensive side of the ball that will get us over .500, and back into the top spot in the NFC West.
Russell Wilson
Russell Wilson is a God send.
Not only did he defy the odds that coach Carroll gave to him, but the odds of every self proclaimed college football expert at the same time.
Plus, he showed the disastrous Tarvaris Jackson the way out the door at the same time.
Wilson will hit the field running on Sunday. His supposed "too short" stature will go to work against a very weak Arizona Cardinals team, and depending on how great he does, take it to the Dallas Cowboys the week after in front of a sell out crowd in Seattle.
Turning the corner will all begin with the offense and Russell Wilson
This man has the ability to lead us to the promised land, and make his way up the Totem pole of great Seattle sports Icons at the same time.
If we win with him under center, it will automatically wipe out 36 years of heart ache and anger that us 12′s have felt.
Wilson is a winner. Plain and simple.
3,000 yards passing was a gimme for this kid in college, I think it will be for him in the NFL as well.
A huge backfield, the addition of a big-game receiver, a very mobile QB, and the Hawks have all the right tools on offense to win it all.
Braylon Edwards
If ever there was a time for a player to have a huge comeback campaign, this is it for Braylon Edwards.
This may not be the last stop on the line for him, but it's getting close.
A brilliant player with a troubled past.
It never helped his case though that the teams he has played for have been a step above pathetic, but a fresh start here in Seattle could be just what he needed.
Speaking of needs, he is exactly the big name receiver that the Seahawks need.
Trying not once, not twice, but three times this year to land a big name guy, Edwards is the only one that survived.
Coach Carroll knows how to breed QB's, we all know that, but his second biggest talent at USC was getting big-game receivers over the plateau, and into the NFL.
If his magic is still here, look for a standout year from Edwards.
Sidney Rice
Sidney Rice has all the talent in the world in NFL WR speak, but his downfall has been staying out of the bandages, and keeping himself on the playing field.
Once again, this year has started out badly for him, missing the first 3 preseason games with injury.
With Rice, Edwards, and the combination of Golden Tate, and Doug Baldwin, this team can be lethal in the air this year.
Braylon Edwards will have to get back to the coveted rookie roll, and leave the drama behind.
But success will rely on Sidney Rice being healthy.
As you look at our first opponent, the Cardinals, a one horse WR corps does not get it done in this league.
We will need all of our guys to step it up and stay healthy if we are to win the division.
Robert Turbin
Robert Turbin may be the biggest key this year to a winning season, more so than Marshawn Lynch, and even more so that Michael Robinson.
Already we are hearing that Marshawn Lynch is questionable for Sundays season opener, giving way to Leon Washington as the featured back if he's not a go.
A beast this preseaon, Turbin should be the 3rd down back this year, which is a very hard role for a rookie to step into.
If Lynch's injury is persistent, I look for Turbin to make a huge impact as a tandem back with Washington, who may even get the majority of the work load as Washington doesn't have the power back build to carry an offense.
Regardless of the outcome of Lynch's injury, Robert Turbin will be the deciding factor in a winning team, and a sub .500 team this year.
Beast Mode made us (and Skittles) famous last year, and that means defenses will be working all week to stop him.
Turbin is an unknown commodity. College and preseason tape will not justify exactly what he can do in an NFL game.
This is where the Hawks will need to be strongest, a 3rd down back that can get the 1st down on a regular basis.
Turbin will have to be the bread to Marshawn Lynch's butter this season.
Matt Flynn
This is another huge role for the Seahawks this year.
If and when the Russell Wilson experiment goes south, Matt Flynn will need to not be fretting over not being name the starter, and get in the game and lead us.
I know he is a little upset about coming over here thinking he would win the starting job, but, as a professional, he is getting paid no matter what to help this team in any way, shape, or form.
If that includes wearing a ball cap and holding a clipboard, than so be it.
He did make the team, so it's not all that bad for him.
Plus he joins the like of Kevin Kolb, as the two highest paid back-up QB's.
J.R. Sweezy
Starting because of injury to John Moffitt, rookie J.R. Sweezy will need to be bigger than life for the Hawks on the O-line.
Sweezy was taken later in the draft, and I think this is even more unexpected to him than it is to the rest of us that he is numner 1 on the depth chart for week 1.
There is depth at the LG spot, so if Sweezy doesn't impress, look for possibly a move of position of James Carpenter or Allen Barbre if Moffitt isn't ready to go soon.
Regardless of what happens on the practice field, these guys will need to step it up exponentially during game days.
The time is now to go out and win this division.

San Fransisco is getting older, Arizona is a team without a leader, and the Rams still aren't ready to win just yet. This is our time to take back our division.
Let's start it off with a W on Sunday boys!
CLICK HERE CHECK OUT THE SEAHAWKS BLOG IN OUR CLUBHOUSE SECTION AT NWSB!
© Clinton Bell for North West Sports Beat, 2012. | Permalink | No comment |
Follow NWSB on Twitter or join US on Facebook for real-time updates OR... | Share This on Twitter | Share NWSportsBeat.com on Facebook
Post tags:
2012
,
Braylon Edwards
,
JR Sweezy
,
Matt Flynn
,
NFC West
,
Pete Carroll
,
Predictions
,
Robert Turbin
,
Russell Wilson
,
Seahawks Blog
,
seattle
,
Seattle Seahawks
,
Seattle Seahawks Blog
,
Sidney Rice
Original Story:
http://www.nwsportsbeat.com/seahawks/...
THE BACKYARD
BEST OF MAXIM
RELATED ARTICLES
  .It's that time of year again folks. After a wait which seemed like forever, the NFL is finally back.  And with a new season comes new predictions. So without further ado lets get started with my 2012-13 NFL predictions. .NFC WEST. As usual, the NFC West is arguably the worst division in football. The only playoff caliber team in the division this year, the 49ers, will...
The Seattle Seahawks are not sure whether running back Marshawn Lynch will be able to play in Sunday's regular-season opener against the Cardinals because he has had back spasms, ESPN.com reported. Lynch did not practice Monday and has not played since the second week of the preseason. Lynch rushed for 1,204 yards last season, when he started 15 games for Seattle. The one...
Seattle Seahawks RB Marshawn Lynch has been suffering back spasms this preseason and his status is uncertain for Sunday's game against the Arizona Cardinals. If Lynch is unable to go, rookie RB Robert Turbin will start in his place according to 710 ESPN Seattle. In deeper leagues, Turbin is worth owning this season. I have watched every Seattle Seahawks preseason game this summer...
Seattle Seahawks rookie Robert Turbin may be forced into a starting role for his NFL debut as Marshawn Lynch is reportedly questionable for their opener against the Cardinals. Turbin may start on Sunday The Seahawks also have Leon Washington and Kregg Lumpkin on the roster, but Tubrin would be the best fit in terms of replacing Lynch. He's a physical runner with a similar build...
Marshawn Lynch sat at his locker on Wednesday as Seattle's star running back talked for the first time since the start of training camp. The Seahawks hope Lynch is on his feet and on the field come Sunday in the season opener at Arizona and not just a spectator on the bench. ''The goal is to (play). But I stay ready,'' Lynch said. ''So if I do, I do...
TEMPE, Ariz. When the Seahawks signed free agent quarterback Matt Flynn this summer, some assumed they were grooming their franchise quarterback a guy who would eventually take the reins from Tarvaris Jackson (now with Buffalo). Then Seattle drafted Wisconsin standout Russell Wilson in the third round and the game changed. After an impressive preseason, Wilson was named the starter...
Seattle halfback Marshawn Lynch (back) returned to practice on a limited basis Thursday, according to the Tacoma News Tribune.Fantasy Spin:There's really no way of predicting whether Lynch will be available Sunday. Even if he doesn't have back spasms for a few days the spasms could always return prior to Sunday's game. Lynch owners should be ready to plug in another option...
The Seattle Seahawks may be without their starting running back when they open their season in Arizona on Sunday.Marshawn Lynchhas had troubles with chronic back spasms this week, putting his status for Sunday's game in question and possibly in doubt. The trickle down affect in fantasy football leagues is great, as this could put more on the shoulders ofRussell Wilson. The Cardinals...
According to ESPN's Adam Schefter, Seahawks running back Marshawn Lynch has experienced back spasms and the team is uncertain if he'll play Sunday.Fantasy Spin:It's looking like Lynch is going to carry a questionable tag Sunday and he may even wind up being a game-time decision.
The Seattle Seahawks could possibly be without Marshawn Lynch for Sunday's season opener at the Arizona Cardinals. The running back has been experiencing issues with back spasms, according to Adam Schefter of ESPN, and his status remains up in the air at this point.
The Patriots continue to weed through tight ends, and thus the upcoming visit of Kellen Winslow isn't surprising. Rob Gronkowski, Aaron Hernandez, and Visanthe Shiancoe are currently gainfully employed as the Patriots tight ends, however, we all know Shiancoe could be gone in a heartbeat. Winslow, released last week by the Seattle Seahawks will be passing through Gillette, but...
These teams have strong defenses.In a division won by the 49ers last year because of defense, this should come as no surprise. Teams often wind up mimicking their divisional rivals (the Ravens are built around defense, power running, and a developing quarterback with a big arm and big body, just like the Steelers), and the NFC West is no exception.Both teams have considerable continuity...
NFL News

Delivered to your inbox

You'll also receive Yardbarker's daily Top 10, featuring the best sports stories from around the web. Customize your newsletter to get articles on your favorite sports and teams. And the best part? It's free!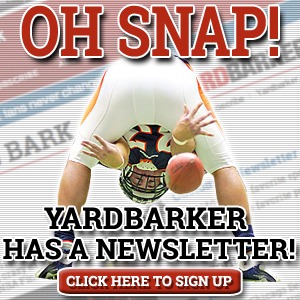 Latest Rumors
The Backyard

Today's Best Stuff

For Bloggers

Join the Yardbarker Network for more promotion, traffic, and money.

Company Info

Help

What is Yardbarker?

Yardbarker is the largest network of sports blogs and pro athlete blogs on the web. This site is the hub of the Yardbarker Network, where our editors and algorithms curate the best sports content from our network and beyond.