Found August 10, 2012 on NorthWest Sports Beat:
PLAYERS:
John Schneider
,
Pete Carroll
,
Terrell Owens
,
Jeff Garcia
,
Donovan McNabb
,
Shawn Springs
,
Braylon Edwards
,
Marshawn Lynch
,
JR Sweezy
,
Kelly Jennings
,
Tom Cable
,
John Moffitt
,
Kellen Winslow
TEAMS:
Seattle Seahawks
,
Minnesota Vikings
,
New England Patriots
,
Cincinnati Bengals
Time for another #PCJS checkup!
In the first part of this series, we looked at some players that would make Tim Ruskell's ticker stop…, well, ticking.  Known for distancing himself from players who who got into trouble, he would surely question certain players that John Schneider and Pete Carroll's Seahawks have signed.
For the record, I firmly believe in that old adage that "they can't all be choir boys".
Sure, you've got to have a core group of guys that bleed football, and who's only vice is working out and reading the playbook.
Those players who never make the headlines unless it is for their production on the field, and since the Seahawks have a good group of those kinds of players, why not pepper in some players with checkered pasts and see what happens?
You don't take risks on these kind of players unless they have produced in the past or have loads of potential.
Ruskell, wherever you are, "Getcha heart medicine ready!"
TO has always been a showman on the field. Understatement.
1. Terrell Owens
Where do we even begin with this guy?
From an impromptu press conference complete with sit ups in his driveway, to an apparent suicide attempt by overdosing on pills, Terrell Owens is known to be a head case who has to be one of the most alienated players in NFL history.
Most teams wouldn't touch him with an 81-foot pole this offseason.
Lest we forget about him calling out his Quarterbacks in the press (see Jeff Garcia and Donovan McNabb).
He has always been a showman on the field, especially after scoring, like when he pulled a Sharpie out of his sock in front of Shawn Springs and signed a football after reaching the endzone.
Don't forget catching hell for standing on the Dallas Star at midfield  after scoring a touchdown when he was with the 49ers.
Though he is a lock for the Hall of Fame, some people claim he shouldn't be in, and that's based solely on his polarizing antics.  According to him, he's always open, and he'll let you know about it.  He demands the ball, and he "loves him some him!"
More than he loves the team?
Maybe.  It's not like he had his own reality show or anything.
Oh…, wait…
2. Braylon Edwards
Boy, two troubled Receivers on one team.
Ruskell would never hear of such a thing!  Braylon Edwards was put on probation for punching a party promoter outside a Cleveland nightclub in 2009.  He then promptly got a DUI whilst on said probation and picked up yet another year of probation and an additional 100 hours of community service.
Not really the type of stats you want to see your WR racking up.
He was implicated in a bar fight in Michigan recently, and then turned around to sue the bar for slander.  Sounds like he finds himself on the police blotter more than in the game plan these days.
Ruskell would never hear of such a thing!
3. Marshawn Lynch
While he made the list in the first installment of this article, Marshawn Lynch makes a repeat performance due to his most recent DUI.
He has been formally charged in California now for driving under the influence, and there is still fear that he may miss a game or two due to his past transgressions.
4. J.R. Sweezy
Probably not a guy to make a huge impact this year, but seventh round draft pick in this year's 2012 class probably wouldn't have been on Ruskell's radar.
He would have been to busy trying to find the next Kelly Jennings.
J.R. Sweezy is a college level DT who is being tried out at guard.  He has been arrested in the past for having pot in his house, and for an altercation with a 65-year old bus driver in which Sweezy was suspended by N.C. State for assaulting the shuttle bus worker.
Hopefully he can rough up D-lineman as well as he can a senior citizen. Word out of Seahawks camp + Tom Cable is this guy is good enough to challenge for a starters position NEXT year.
5. John Moffitt
YES! This is probably a reach. But in Ruskell's regime would John even be on the team anymore? I doubt it.
Seattle Seahawks rookie guard John Moffitt was suspended 4 games last year for violating the league's policy on performance enhancing substances.
It was apparently due to use of the prescription drug Adderall, but would that stop Ruskell from getting a heart palpitation!?!?!?
Heck no!
(Note: A side effect of the drug Adderall is heart palpitations.  Irony much?)
Did you miss the Ruskell article (part 1) ?
CLICK HERE CHECK OUT THE SEAHAWKS BLOG IN OUR CLUBHOUSE AT NWSB!
© Reggie Gill for North West Sports Beat, 2012. | Permalink | No comment |
Follow NWSB on Twitter or join US on Facebook for real-time updates OR... | Share This on Twitter | Share NWSportsBeat.com on Facebook
Post tags:
Adderall
,
Beast Mode
,
Braylon Edwards
,
Donovan McNabb
,
J.R. Sweezy
,
Jeff Garcia
,
John Moffitt
,
John Schneider
,
Kellen Winslow
,
Marshawn Lynch
,
NC State
,
NFL
,
PCJS
,
Pete Carroll
,
San Francisco 49ers
,
Seahawks
,
Seahawks Blog
,
Seahawks Free Agency
,
Seahawks signings
,
Seattle Seahawks
,
Seattle Seahawks Blog
,
Terrell Owens
,
Tim Ruskell
Original Story:
http://www.nwsportsbeat.com/seahawks/...
THE BACKYARD
BEST OF MAXIM
RELATED ARTICLES
The Seattle Seahawks may have violated the NFL's collective bargaining agreement by allowing Terrell Owens to practice in shoulder pads during his first on-field practice. League spokesman Greg Aiello said in an email Thursday that the league is gathering facts about Owens' debut practice on Wednesday. The Fort Worth Star-Telegram first reported the possible violation. ...
The Seattle Seahawks decided to take a chance on free agent Terrell Owens and have come to terms with the 38-year-old wide receiver on a one-year deal reportedly worth $1 million. Owens headed to Seattle to work out with the NFL team and apparently impressed the brass during his session on Aug. 6. Sources said that he ran the 40-yard dash in 4.45 seconds and looked pretty impressive...
Terrell Owens seemed to be all washed up. He was playing in an indoor football league and making appearances on the Dr. Phil Show, meanwhile his NFL career appeared to be all but over. That is until Wednesday. After signing a one-year, $1 million deal with the Seattle Seahawks on Tuesday, TO returned to the practice field in Renton, Washington for the first time in more than a year...
Seattle Seahawks guard John Moffitt is expected to undergo surgery on his left elbow and miss the next two to three weeks. Moffitt's elbow has been causing problems for him recently and forced him to leave practice early on Thursday. His left arm was in a sling during Friday's walkthrough. Coach Pete Carroll said Moffitt is likely to undergo surgery to clean up some '...
Pete Carroll has a reputation for being a prankster. Terrell Owens has a reputation for being a diva. Now that T.O has signed a one-year deal with the Seahawks, it only makes sense that the two would combine their most notable characteristics to pull a fast one on the rest of the team. Anyone who knows the Seahawks could have anticipated that T.O. was going to get punked in some...
  Bill Cosby explained in one of his comedy routines ("Himself" in 1983) why grandparents are so nice, "they are old people trying to get into heaven".  Well in two NFL pre-season camps, I think you are hearing and seeing two old veterans trying to find a way to get the final approval into the Hall of Fame after the waiting period. This March, San Francisco reached...
He's Back. With Terrell Owens signing a one-year deal with the Seattle Seahawks things suddenly became a lot more interesting in Seattle. While Marshawn Lynch has the running back position all to himself (assuming he doesn't get a suspension for his recent DUI) the whole passing game seems to be in total flux. With Owens in the mix he joins Sidney Rice, Doug Baldwin, Golden Tate...
  This week the Seahawks signed one of the most popular diva WRs of our time in Terrell Owens. Owens is the 3rd big name diva wide out to sign with a team this off season joining the likes of Randy Moss (49ers) and Chad "formerly known as Ochocino" Johnson (Dolphins).   These three divas's use to be the NFL's elite, being the league leaders in...
These sports themed corn mazes have been around for years. Cities have used them as a way to thank great players or recognize their teams, so it's not like we're shocked to see these continue to pop up. This one is different though. A corn maze sponsored by Olympia, WA area car dealer "All Star Ford" has constructed a maze with the likeness of Marshawn Lynch. Yes, Lynch...
By: Todd C. Clark The Seattle Seahawks have been in the news a lot this offseason thanks to some high profile players. First, they made a controversial draft pick in DE Bruce Irvin, the speedy rusher from West Virginia. Then, Marshawn Lynch was back in the news after being arrested for a DUI in Oakland in July. Finally, the most recent news came when the team signed Terrell Owens...
It's Baaaaack! I know it's only the preseason, but real football fans get excited for any chance to see their team.  I can't believe we're only about a month away from the real games! Praise the football gods! Tomorrow the Seattle Seahawks play the Tennessee Titans, and there are some real reasons to get excited about the first chance to see the 2012-13 incarnation of...
Titans Seahawks Storylines Saturday's Seahawks game against the Titans has as many story lines as I can remember a pre-season game in Seattle having. I'm always glued to position battles between Seahawks players but on Saturday I'll be just as tuned in to the battle between former Seahawks quarterback Matt Hasselbeck and former University of Washington quarterback Jake Locker...
NFL News

Delivered to your inbox

You'll also receive Yardbarker's daily Top 10, featuring the best sports stories from around the web. Customize your newsletter to get articles on your favorite sports and teams. And the best part? It's free!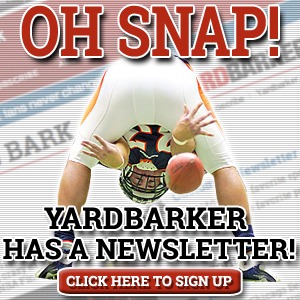 Latest Rumors
The Backyard

Today's Best Stuff

For Bloggers

Join the Yardbarker Network for more promotion, traffic, and money.

Company Info

Help

What is Yardbarker?

Yardbarker is the largest network of sports blogs and pro athlete blogs on the web. This site is the hub of the Yardbarker Network, where our editors and algorithms curate the best sports content from our network and beyond.