Found March 11, 2013 on Fox Sports Arizona:
TEMPE, Ariz. Joe Flacco moved through the crowds at the Kurt Warner Ultimate Football Experience on Saturday like Gulliver wading through the Lilliputians. Clearly weary but never wavering, Flacco paused for autographs, stopped to snap every phone photo, chatted with children and smiled at every beaming face in this odd but enduring American fascination with celebrity. Lifes definitely been a little different, said Flacco, who quarterbacked the Baltimore Ravens to a 34-31 victory over the San Francisco 49ers a little more than a month ago, earning Super Bowl MVP honors. It changes your life forever. Youre being pulled in a lot more directions and the attention is much more noticeable. Its definitely exhausting, but its all for a good reason, and I wouldnt give it back for anything. Flacco has been in the headlines almost nonstop since that fate-altering game. He appeared on the David Letterman Show, he made the most publicized McDonalds drive-through in history and he recently signed a six-year, 120.6 million contract that makes him the highest-grossing player in NFL history, although Marylands 51.98 percent marginal income tax rate will prevent him from taking home the most cash. On Saturday at Warners annual event, Flacco joined a cast of NFL stars, past and present, including Warner, Larry Fitzgerald, Steve Young, Michael Irvin and Flaccos Super Bowl-winning teammate, Anquan Boldin, who chided Flacco for being the worlds richest man after signing that deal -- a deal that has perhaps altered Boldins future with the Ravens. Ha! Thats good stuff, said Flacco, when informed of Boldins comments regarding his gaudy salary. Its honestly stuff I dont think about. Its so surreal that you cant really comprehend it. As has been noted, Flacco and the Ravens negotiated before last season in an attempt to forge a new contract but were never able to come to an agreement. I thought I was worth a little bit more, so once the season started, we didnt want to talk anymore. There wasnt a timetable forcing us like there was this year, said Flacco, who admits it was a risk but one that paid off handsomely when he won the Super Bowl. Pretty crazy, huh? he said. When pressed for how he plans to spend his money, Flacco shrugged. Im sure if you want to spend all that money, it would be very easy to spend all that money, but I have no idea. I dont have things that Im so into where I could go and blow it, he said. Im probably going to get a house in Baltimore. I dont have a house down there; I only rent down there. So I would say thats the only thing on my mind. That includes next season, when Flacco will face increased expectations with a roster that will look vastly different from this seasons following the retirements of linebacker Ray Lewis and center Matt Birk, the apparent defection of Boldin, the release of guard Bobbie Williams and a dozen free agents, including safety Ed Reed, whose futures the Ravens are still contemplating. I understand there will be lots of turnover. Thats the nature of the NFL, said Flacco, the 18th overall pick in the 2008 draft. But were still at the point of enjoying it right now, trying to get some rest and just soak all this in. Flacco said it was difficult to comprehend what the AFCs fourth-seeded Ravens were doing while it it was happening. I think you just go along for the ride, he said. When we beat Denver in Denver, we were definitely looking at each other going, 'Wow, what was that?' The whole week we were in New Orleans, it was tough not to sit back and enjoy it and just say, 'Were in the Super Bowl. But once you get there, you realize how much you need to win that game to make people believe and to build your own belief. That belief will be tested in 2013 in a what-have-you-done-for-me-lately league. And the scrutiny will focus on Flacco because of his new contract. No question it creates greater expectations, said former quarterback and current NFL analyst Kurt Warner. But I think thats true for what Joe expects from himself as much as for what the fans or the media expect. The good thing is, he has the confidence now to know he can take a team to that level. That certainly wasnt the perception heading into last season. If you had conducted a wide-sweeping poll asking for the NFLs best quarterbacks, few outside of Baltimore, and perhaps few in Baltimore, would have added Flacco to that list. And there are still many who dont believe Flacco is worth all that money. I dont care, Flacco said in a response that wasnt petulant but rather that of a man who has heard the slights before, understands their basis and simply doesnt agree. I believe in who I am. I believe Im pretty darn good. Thats why Ive said it before when asked about it. It doesnt really matter what people think, but theres definitely a little bit of pride that goes into it -- a little bit of wanting to prove my ability. Maybe people will start to realize it a little bit now. Follow Craig Morgan on Twitter
Original Story:
http://www.foxsportsarizona.com/03/11...
THE BACKYARD
BEST OF MAXIM
RELATED ARTICLES
IS THIS A JOKE TO YOU?
Ray Lewis may be one of the most dramatic players in NFL history, but Joe Flacco says he couldn't help but chuckle at some of his speeches.
PAY THE MAN
Joe Flacco wants the Ravens to keep Anquan Boldin, but he knows a little something about sticking to your guns during contract talks.
Joe Flacco's opinion may not be popular with the Ravens' front office, but it's one that will resonate with his teammates and the NFL players' association. The Ravens' quarterback supports Anquan Boldin's decision to reject a pay cut from Baltimore. Boldin's cap number is $7.531 million for 2013, and the Ravens' are in a bit of a bind salary cap-wise after signing...
Ravens star quarterback Joe Flacco believed in his talents, bet on himself, and cashed in after winning the Super Bowl last month. Flacco stuck to his guns, and now according to USA Today, the quarterback thinks wide receiver Anquan Boldin should do the same when it comes to the Ravens demanding he take a pay cut. "Without him, we don't win the Super Bowl. He's a huge part...
On March 4th, fresh off a Super Bowl MVP award, Joe Flacco signed a six-year, $120.6 million deal (or three years... depending on whom you ask), not only the richest contract in Ravens', but NFL, history.  It marked a high point in what has been an often, unfulfilled journey in Baltimore's search for a franchise quarterback.  From the likes of Vinny Testaverde and Eric...
Bernard Pollard is the latest Raven to fall victim to what we shall now deem Flacco Gate.   Please click here to read this story. The post Bernard Pollard is released by the Baltimore Ravens appeared first on Players View.
Photo by Keith Allison Baltimore Ravens quarterback Joe Flacco got quite a kick out of Ray Lewis' speeches at times.  He told USA Today Sports that he would some times laugh when the future Hall of Famer would address them in the locker room. "Oh, it's funny," said Flacco. "His speeches come from the heart, but there's definitely times where I'm sitting there kind...
So here we are, a couple of weeks removed from the signing of the most ridiculous contract in NFL history.  The same contract that will ultimately tear the Baltimore Ravens apart. In hopes to move pieces around so they can afford to keep as many players as possible, the Baltimore Ravens traded Anquan Boldin to the San Francisco 49ers on Monday. The 49ers acquired wide receiver Anquan...
For over a decade, Ray Lewis was the unquestioned leader of the Baltimore Ravens' defense, giving countless speeches that rallied his troops around him. They were fiery, and they came from the heart, but they were also ridiculous, even for his teammates. "Oh, it's funny," Ravens quarterback Joe Flacco told USA Today Sports while talking about Lewis' passionate...
It was reported Saturday morning that wide receiver Anquan Boldin will likely be released by the Ravens after refusing to take a pay cut. At least one of his teammates is siding with the Baltimore wideout. Quarterback Joe Flacco told Craig Morgan of FOX Sports Arizona that he believes Boldin is making the right move after not being offered the contract he deserves. Joe Flacco on...
Trade for Baltimore: I get that the Ravens were going to cut Anquan Boldin if they couldn't find a suitor via trade and given that it's good that they got something for him, but I question the logic of cutting him in the first place. He was just as big a reason why they won the Super Bowl as Joe Flacco and Flacco, who they just signed to a massive long-term deal, took Boldin's...
An enterprising seller of Seattle sports merch is offering Richard Sherman's on-air putdown of Skip Bayless in shirt form. Is $20 too much to pay to be insulting Bayless at all times? Probably, but that won't stop folks from buying it. One drawback: anyone who wears this will likely have to spend time explaining the context to others who are not well-versed in petty sports media...
Ravens News

Delivered to your inbox

You'll also receive Yardbarker's daily Top 10, featuring the best sports stories from around the web. Customize your newsletter to get articles on your favorite sports and teams. And the best part? It's free!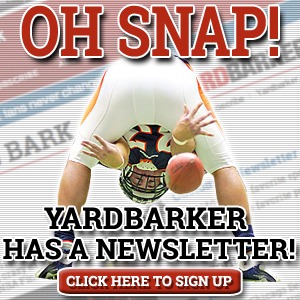 Latest Rumors
The Backyard

Today's Best Stuff

For Bloggers

Join the Yardbarker Network for more promotion, traffic, and money.

Company Info

Help

What is Yardbarker?

Yardbarker is the largest network of sports blogs and pro athlete blogs on the web. This site is the hub of the Yardbarker Network, where our editors and algorithms curate the best sports content from our network and beyond.