Found April 23, 2013 on Fox Sports South:
PLAYERS:
Todd McClure
,
Tyson Clabo
,
Lamar Holmes
,
Mike Johnson
,
Garrett Reynolds
,
Peter Konz
,
Joe Hawley
,
Thomas Dimitroff
,
Joe Flacco
,
Mike Smith
TEAMS:
Atlanta Falcons
,
Baltimore Ravens
ATLANTA Matt Ryans offseasons have mostly resembled an ocean of calmness in past years. For the Falcons quarterback, who offers an air of unflappability, little appears to distract him from his stated goal of winning football games. This offseason, a couple of factors some under his control, some not have derailed him a bit. Ryan being Ryan, they are mostly small ripples but at least a couple could threaten to gain momentum and transform themselves into thornier issues. The first was the shoulder injury that he suffered in the NFC Championship Game against the San Francisco 49ers. On Tuesday, as Ryan met with the media to kick off the start of the teams offseason team activities, Ryan explained how it took him about seven or eight weeks to rehab the injury to his left (non-throwing) shoulder, which did not require surgery. Last year, much ado was made of how Ryan spent the offseason strengthening himself and his arm. This year, from the sounds of it, rehabbing his shoulder prevented him following a similar regimen. In this case, this one required a lot of rehab, Ryan said of the injury. Usually, I take some time immediately following the season to get out of here and to take some time away from here. With the situation I was in at the end of the season, I was here for six or seven weeks, something like that before I even took a week to kind of get away from here. Thats just part of how it goes. Its one of those things where, it changed a little bit, but after I got through those seven or eight weeks I was able to start training and start to get back into shape, and do the things I wanted to do. The next issue also could potentially affect Ryans health: That of significant changeover in the offensive line that protects him. Long-time veteran center Todd McClure was forced into retirement and former Pro-Bowl right tackle Tyson Clabo was cut, leaving that unit in somewhat of a state of flux and uncertainty. Its inevitable, Ryan said. When you play in this league there are going to be changes around you. Thats just part of the business. I dont like to see anybody go. I loved playing with Todd. He taught me so much, helped me out so much. I loved playing with Tyson Clabo. I thought Tyson was exactly what you want from an offensive lineman, tough-nosed, smart player, physical, relentless, and a great teammate. Its tough. You dont want to see those guys go, but thats the nature of the sport and the business that were in. Ryan then praised the players who will compete for those spots: second-year tackle Lamar Holmes, Mike Johnson and Garrett Reynolds. Peter Konz, who played right guard as a rookie last year, most likely will move to center but if the Falcons want to keep him in his current spot at right guard, Joe Hawley or a free agent could become the starting center. Ryan expressed, complete confidence in those guys that they are going to be able to step up for us. He had better. His ability to stay healthy will rely on their ability to keep him upright. Lastly, there is his contract status, which has the potential to redefine his relationship with the organization and with his teammates. He is in the final year of his deal and general manager Thomas Dimitroff has said the two parties will most likely address the issue after the NFL Draft, which begins on Thursday, is complete. To this point in his five-year career, Ryan has molded his public persona around being selfless, the ultimate teammate. If negotiations become divisive, would he ever refuse to participate in voluntary workouts? The idea almost seems inconceivable. Would he force the team to offer him a deal similar to that of Baltimores Joe Flacco? That contract ate up so much salary cap room that it prevented the Super Bowl champion Ravens from being able to re-sign important players, creating something of a me-first image for Flacco. In all honesty, its not something that Ive worried about or thought about or let my mind go away from the things that are important, Ryan said. Since Ive been here, Ive been focused on taking care of business on the field. I think in these situations, you let the smart people handle that stuff and you stick to what you know. What I know is going out there and trying to be the best football player I can be. All the other stuff will take care of itself. Im not too worried about it. Ive said it to everybody, I want to be here. Its home. Its where I want to be. As usual, Ryan said all of the right things. For the Falcons to have the kind of season they want to have and that means getting to the Super Bowl all of those issues must remain placid, which has mostly been the natural state of affairs around the teams headquarters in Flowery Branch since Dimitroff and head coach Mike Smith took over. If not, Ryan and the Falcons could make a splash for the wrong reasons.
Original Story:
http://www.foxsportssouth.com/nfl/atl...
THE BACKYARD
BEST OF MAXIM
RELATED ARTICLES
According to Clark Judge of CBS Sports, the Atlanta Falcons are trying to trade up in the first round of the NFL draft to select either cornerback Dee Milliner or Xavier Rhodes. Source I trust tells me Atlanta trying to trade up to get one of two top CBs in draft — MIlliner or Rhodes. — Clark Judge (@ClarkJudgeCBS) April 24, 2013 After losing Brent Grimes this offseason, the...
NFL News: The Atlanta Falcons waived wide receiver Kerry Meier on Monday who played a total of 12 games for them, specializing on special teams. A fifth-round pick from 2010, he will be trying to brew up some interest around the league to extend his playing career. Players like this though usually last only a few seasons, so don't be surprised if he calls it a career before too...
Trader Thomas. The Gambler. Monty Hall Jr. Whatever you want to call him, Thomas Dimitroff clearly relishes his reputation on draft day. The general manager of the Atlanta Falcons is always ready to make a deal. This year is no different. Dimitroff is positioned for another busy draft, holding the 30th overall pick and plenty of extra selections in the later rounds to restock...
1. Defensive End: Edwards and Abraham were the starters at this time last year, and both have been released since. Umenyiora was signed, but he's an average starter at this point in his career at best. They also have no one across from him. They will need to take a defensive end with one of their first two picks. They've also been rumored to be considering trading up for...
Defensive tackle Jonathan Babineaux said Tuesday he'd like to see the Falcons make defense their top priority in this week's NFL draft. Some important names were missing from the 2012 defense when Atlanta returned this week to begin its offseason program. Defensive end John Abraham and cornerback Dunta Robinson were released. Cornerbacks Brent Grimes and Chris Owens and...
Last year on the eve of the draft, Thomas Dimitroff pulled a rabbit out of his hat. While the Eagles weren't looking, he stole Asante Samuel for a seventh round pick.  Samuel had a nice season for the Falcons and definitely brought some attitude to the roster. This year, Asante looks to be even more of a key as we head into the season without Dunta Robinson or Brent...
The draft is right around the corner with round one kicking off tonight at 8 pm and running until around 11. The big question on the minds of Atlanta Falcons fans is when will the Falcons be picking?  The Falcons have a lot of options as we are sitting on eleven picks in this draft with seven of those being trade able picks (the four compensatory picks are not trade able...
On the defensive side of the ball, the Defensive Tackle rotation has been one of the more consistent in terms of service time. Jonathan Babineaux, Corey Peters, Peria Jerry, and Vance Walker had all been a part of the rotation for at least 3 seasons. With Walker departing, that leaves room in the middle for someone to step in. Many feel that can be 2nd year man Travian Robinson...
One of the great things about Twitter is that you can quickly get a sample of what the fanbase is thinking. This evening I asked the Atlanta Falcons fanbase who they would target if the Falcons decided to trade up in the draft (as has been heavily rumored). I also asked them to put themselves in the position of armchair GM and asked what they would do in the first round. Here are...
Every team in the NFL takes a different approach to the draft process. Some teams adhere to the so-called "best available player" strategy, or BAP. Others declare themselves to draft on the basis of needs, such as the Atlanta Falcons. Still others use other obscure ways of picking their players. The Raiders for instance used to seemingly draft on the basis of pure athleticism...
ATLANTA FALCONS (13-3) 2013 Draft Picks: 30 (1st), 60 (2nd), 92 (3rd), 127 (4th), 133 (4th), 163 (5th), 198 (6th), 236 (7th), 243 (7th), 244 (7th), 249 (7th) 2012 Early Draft Selections: OC/OG Peter Konz, WISC (55, 2nd), OT Lamar Holmes, SMSP (91, 3rd) Decision Makers: GM Thomas Dimitroff, Head Coach Mike Smith The Falcons current regime finally broke through last season by winning...
NFL News

Delivered to your inbox

You'll also receive Yardbarker's daily Top 10, featuring the best sports stories from around the web. Customize your newsletter to get articles on your favorite sports and teams. And the best part? It's free!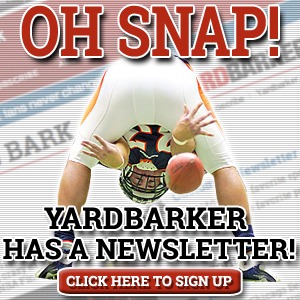 Latest Rumors
The Backyard

Today's Best Stuff

For Bloggers

Join the Yardbarker Network for more promotion, traffic, and money.

Company Info

Help

What is Yardbarker?

Yardbarker is the largest network of sports blogs and pro athlete blogs on the web. This site is the hub of the Yardbarker Network, where our editors and algorithms curate the best sports content from our network and beyond.