Found October 26, 2011 on Fox Sports:
PLAYERS:
Tony Romo
,
Jason Witten
,
Randy Moss
,
Rex Ryan
,
Jim Caldwell
,
Norv Turner
,
Hue Jackson
,
Todd Haley
,
Jim Schwartz
,
Roger Staubach
TEAMS:
Dallas Cowboys
,
Tennessee Titans
,
Indianapolis Colts
,
San Diego Chargers
,
Kansas City Chiefs
,
Detroit Lions
,
New York Jets
The T.O. Show appears to be just about played out, wheezing and gasping for a last breath of relevance on Tuesday as he "worked out" for NFL teams, none of whom bothered to show. ESPN and The NFL Network were there, but that felt kind of like break-up sex -- a last final nod to better days and a reminder of why it is probably best they do not see each other any more going forward. The relationship always was toxic, an immature and psychologically fragile player immolating while chased and chastised simultaneously by media types including myself for soley our own benefit. And your entertainment. T.O. and his media frenemies like myself need to fist bump and say "good game." It was a pretty good run considering the protagonist was slightly crazy, and we so willingly participated in his every drama. I once sat in a crowded room of reporters in Dallas after an "accidental" T.O. overdose and diligently took notes as Lil' Kim Etheredge lectured on how "Terrell has 25 million reasons why he should be alive." I watched as he shed tears for "my quarterback" beneath his Ray Bans, listened to his jealous and delusional rants about secret meetings between Tony Romo and Jason Witten. I sadly recounted the tale of Cowboys owner Jerry Jones dumping him via table cloth, that line drawn by Jerry beginning his spiral from antagonist to punch line. So if any sadness lingers from Tuesday, it is my culpability in using him and now giggling as he is tossed aside. Because Tuesday was ultimately just another reminder that the league did not need him. There is always somebody willing to be the talking point. Forget T.O., Randy Moss, The Ocho and Key, coach is the new diva. NFL coaches have become the wide receivers of the league -- the misbehaving, trash-talking, look-at-me divas always drawing attention to the league and themselves. And New York Jets coach Rex Ryan has become T.O., for sure. He always seems to be stepping into a big pile of controversy -- intentionally or just by being himself with his truthiness and brashness. I do not mean this as slight some might take it. Before the ODs and the bipolar QB assassinations, the reality show and the insanity, T.O. had been pretty good at drawing attention to himself -- by his play and with his bravado. He was unique, and the league was better for it. Love him or hate him, he added personality into a league that too often strays into corporate. We say this reality is what we want and then we junk punch anybody who gives it to us in a sentence we do not like. This makes us hypocrites, of course, bemoaning the dull musings of a coach like Jim Caldwell and then quickly assembling to destroy guys like T.O. and Rex Ryan when he veers off script -- as happened last week. Ryan said the most ridiculous thing, you probably heard. Not his all-too-honest shot at Norv Turner for failing to produce with that Chargers team but what came afterward. "It's all on me. I'm guilty, absolutely," he said. What exactly are you sorry for, Rex? Sorry for being honest about the massive underachievement that has taken place in San Diego under Turner? Sorry for firing up what has at times been a tottering Jets team? Sorry for being you? Do not be. In fact, I am imposing a moratorium on coaches and athletes apologizing for being interesting. If "I'm sorrys" must be issued, save them for coaches muttering garbage about needing to look at tape, and having to give the other team credit, and countless inanities repeated at pressers daily. Rex Ryan is a cocky little cuss, for sure, in danger of offending every time he spits words into a mic -- which is dangerous in this hypersensitive, easily offended society we live in nowadays. He leaks chutzpah just like his daddy nowadays, and is hardly alone among his NFL coaching brethren for doing so. Just in the last 10 days, we have had this tepid little exchange between Rex and Norv, a promise of potential future ugly between Hue Jackson and Todd Haley and actual angry man touching between Jim Schwartz and Jim Harbaugh that somehow exploded into a controversy among an apoplectic media wanting fines assessed and order restored. We jump Ryan for non-PC thoughts on a fellow coach while typing cowardly takedowns of other journalists on Twitter. We criticize T.O. for being a train wreck, yet it was us who benefited from the carnage. We long for the good old days when coaches coached and players played and never admit how intellectually dishonest that is. I found myself doing it as I talked to Hall of Famer and former Cowboys QB great Roger Staubach on Monday. I asked if he could possibly imagine iconic Cowboys coach Tom Landry aggressively back-slapping an opposing coach after beating him? "No," Staubach said. Trash talking, dog cussing? "No," he said. Chasing or shoving? "No," he said. Mocking about lack of rings? "No," he said. Each no came out his mouth faster than the previous. The questions were not even fully formed and he was saying no and shaking his head as he said them. And then Roger said something really smart -- as he usually does. "We had some coaches back then, too. We had some guys that 'Oh boy'," Staubach said. "You do anything today you get caught. Because things happened with players, too, back then and you get every angle now. You catch them on film and you see the worst. We got to rewrite history a little." Coaches back then were competitive little cusses, too. They had drama queens and train wrecks and George Allen who, by the way, would probably love Rex Ryan. The problem is when the show is not backed up by the game. This ultimately is what undid T.O. It is not likely for Ryan. For everybody prematurely celebrating the downfall of the Jets this season, I hope you were paying attention to what Ryan and his team did Sunday. The defense is coming back, as is the running game. So do not stay classy, Ryan. Stay you. Just know, one day, you will find yourself where T.O. was today, being ridiculed by the very people who so willingly entered into the dysfunctional relationship. My only hope is we can fist bump and say "good game" and part as friends.
Original Story:
http://msn.foxsports.com/nfl/story/Fo...
THE BACKYARD
BEST OF MAXIM
RELATED ARTICLES
Rex Ryan talks to Jeane about the Jets win over the Chargers and a little bye week break.
The day after the Ravens dismantled the Jets , Rex Ryan knew he made a mistake and was ready to admit it. Ryan realized his team had to get back to running the ball the way it had in his first two seasons as head coach. He met with offensive coordinator Brian Schottenheimer and then with the team to tell them that they were going back to Ground and Pound. Three weeks later, that...
Calvin Pace's play has been talked up by Rex Ryan and defensive coordinator Mike Pettine lately, with both saying they believe he is having the best season in Ryan's three years as coach.
The New York Jets currently sit at 4-3, likely a game or two behind the place many people thought they would be at this point of the season. When looking at their remaining nine games, it is very conceivable the Jets could still finish with 10 or 11 wins. Of course the deciding factor in that is going to be if they play like they did in the second half against San Diego for the...
Jets WR Plaxico Burress reflects on three-touchdown performance [NJ] The real story on Tom Moore [ESPN] Jets' secondary fires back at San Diego's Randy McMichael [NJ] Rex Ryan: "We're going to be tough to beat" [PFT] Harris, Ellis injuries not serious [ESPN] Rex Ryan vows not to talk about "rings" again [NJ]
The New York Jets defense has problems and shortcomings, as any unit in the NFL does. However, thanks to Rex Ryan and Mike Pettine's ability to gameplan on a weekly basis they can still come up with big time performances, which will allow the Jets to remain a playoff contender throughout the rest of the year. One of the other reasons for optimism with the Jets defense in their...
The swagger is just part of the DNA of the Jets now, LaDainian Tomlinson said. Wins, losses, no matter the record, the Jets are going to have that swagger. Our coach is Rex Ryan and they say you are a product of your head coach. We certainly are. That confidence is never lacking, Tomlinson said.
In a month, outside linebacker Aaron Maybin has gone from a first-round flameout to a player the Jets are counting on to consistently make plays. "[I have seen] great production," coach Rex Ryan said yesterday as the team entered its bye week following Sunday's 27-21 win over the Chargers...
NFL News

Delivered to your inbox

You'll also receive Yardbarker's daily Top 10, featuring the best sports stories from around the web. Customize your newsletter to get articles on your favorite sports and teams. And the best part? It's free!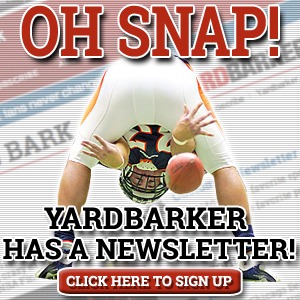 Latest Rumors
The Backyard

Today's Best Stuff

For Bloggers

Join the Yardbarker Network for more promotion, traffic, and money.

Company Info

Help

What is Yardbarker?

Yardbarker is the largest network of sports blogs and pro athlete blogs on the web. This site is the hub of the Yardbarker Network, where our editors and algorithms curate the best sports content from our network and beyond.