Found March 27, 2012 on Fox Sports North:
The Gregg Williams-led bounty program has been far reaching in NFL circles and more than once it has targeted Minnesota Vikings' quarterbacks. Brett Favre received a lot of attention after being battered by the New Orleans Saints in the 2009 NFC Championship game, but apparently another Minnesota signal-caller had been targeted years before. A report by David Elfin at the CBS affiliate in Washington, D.C., cites several anonymous players that former Vikings' quarterback Brad Johnson was targeted by the Washington Redskins' defense, then led by Williams, during the 2006 season opener. "Gregg came in and dropped 15,000 on the table and said, 'Brad Johnson doesn't finish this game,'" Elfin quoted one player as saying, while another player backed up the assertion. Johnson, who once played for the Redskins and owner Dan Snyder, wasn't surprised by the accusations, but was caught off-guard by the bounty system. "I knew at the time something was going on, that they wanted to take me out," Johnson said. "I had heard wind of it. I didn't know it was presented in terms of money." The NFL had investigated Williams and the Saints due to more recent allegations and came down hard last week, suspending Williams indefinitely for his role in the bounty program. New Orleans coach Sean Payton was suspended for the entire 2012 season and the team was fined 500,000 and lost two second-round draft picks. But reports say Williams had been running bounty programs long before his time in New Orleans. The accusations have been met with disbelief by some NFL players and dismissed by others. Johnson said he never recalled hearing about bounties, even during his time in Washington. "I honestly had never heard about money to take a player out of a game," Johnson said. "I always heard things like the first tackle within the 20-yard line, or who caused the first fumble. Money to take a player out was something I had never heard talked about before. My coaches were always very respectful of the game. It's shocking to hear there was money value placed on something of that sort." Johnson, who battled injuries throughout his career, wasn't knocked out of the game in 2006 and didn't feel like he was unnecessarily targeted. "I didn't think there was a dirty, cheap shot taken at me, nothing out of the ordinary," Johnson said. "Honestly, you expect teams to blitz. You expect big hits. It's part of the game. I wasn't thinking about anything extreme or money or things at that time." Regardless of whether he was a target or not, Johnson finds it hard to believe anyone would maliciously injure another player. "I can't imagine it," Johnson said. "Injures are a part of the game. It's your chance to make money and you hate to see someone to do down. Injuries happen and it can be in minicamp, training camp, freak accidents; but, taking a cheap shot at someone? I can't imagine someone wanting to live with that, a coach or player doing it on purpose."Follow Brian Hall on Twitter.
Original Story:
http://www.foxsportsnorth.com/03/27/1...
THE BACKYARD
BEST OF MAXIM
RELATED ARTICLES
The Minnesota Vikings have re-signed receiver Devin Aromashodu to a one-year deal. The team announced the deal on Wednesday, continuing an offseason filled with low-impact signings that are geared more toward adding depth than making headlines. In his first season with the Vikings last year, Aromashodu caught 26 passes for 468 yards and three touchdowns. He signed with the Vikings...
At the end of February, Minnesota Vikings running back Adrian Peterson indicated that he plans on being ready to play in the first regular season game of the 2012 season, despite tearing both his ACL and MCL at the end of this past season. At this week's NFL owners meetings, Vikings head coach Leslie Frazier made it clear that even though they're trying to help Peterson pace...
Obviously Peyton Manning felt he had unfinished business. Among the items on his to-do list are some records currently held by Brett Favre and Dan Marino. Weller Ross takes a look at those records and finds that Manning may find himself at the top of the charts sooner rather than later: So similarly to completions, Peyton should catch Marino this year, and despite being 109 behind...
Two weeks into free agency, followers of the Minnesota Vikings have questioned new general manager Rick Spielman's relative inactivity coming off of last season's 3-13 record. The moves included re-signing several players from last year, adding a tight end and offensive lineman who both missed all of last season and bringing in two fullbacks. Yet perhaps the one move that...
Former Chicago Bears' cornerback Zack Bowman will spend his fifth NFL season with a division rival. Bowman, 27, has signed a one-year deal with the Minnesota Vikings. Bowman was drafted in 2008 and spent his first four years in Chicago. He was a starter, but lost his job in 2010 and has played little since then. His best NFL season came in 2009 when he made six interceptions...
The Minnesota Vikings signed free-agent cornerback Zack Bowman to a one-year deal on Monday. Terms were not disclosed on the contract, which was first reported by ESPN Chicago. Bowman fared well two seasons ago when he led the Chicago Bears with six interceptions. He then spent much of the last two campaigns in a reserve role as well as on special teams. Bowman had 15 tackles last season.
The Vikings have signed a number of blockers in free agency, but they have yet to add a speedy running back in reserve if Adrian Peterson isn't ready to go. That could happen in the draft.
Vikings running back Adrian Peterson is scheduled to start running on land this week, according to head coach Leslie Frazier, as part of his rehabilitation from ACL surgery.
I'm not trying to sound all cool for you college kids that read this, but as you get older you sit back and say to yourself, "Man, I've seen some really messed up **** in my lifetime." Like there was that time the stripper had a seizure while giving a lap dance to a friend, or the time we almost died in a car accident but managed to come to a stop without spilled...
The Vikings have been trying to build a trade market for their No. 3 pick, but one team says it is not moving up. Plus, Randy Moss gets a backing in San Francisco and Joe Webb talked about his development as a quarterback.
Among the quarterbacks the Packers like in this draft is Austin Davis, who broke records set by Brett Favre. We have the scoop on Davis, straight from Dave-Te Thomas of NFL Scouting.
NFL Commissioner Roger Goodell has already gutted the Saints of much of their key leadership for the 2012 season, banishing HC Sean Payton for the duration, GM Mickey Loomis for half of it and assistant coach Joe Vitt for six games, in the wake of the league's investigation into the team's bounty program. However Goodell has, to this point, refrained from punishing any of the...
NFL News

Delivered to your inbox

You'll also receive Yardbarker's daily Top 10, featuring the best sports stories from around the web. Customize your newsletter to get articles on your favorite sports and teams. And the best part? It's free!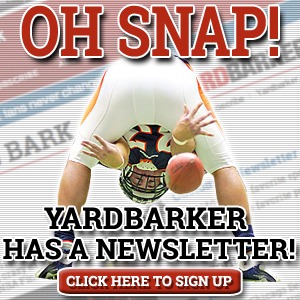 Latest Rumors
The Backyard

Today's Best Stuff

For Bloggers

Join the Yardbarker Network for more promotion, traffic, and money.

Company Info

Help

What is Yardbarker?

Yardbarker is the largest network of sports blogs and pro athlete blogs on the web. This site is the hub of the Yardbarker Network, where our editors and algorithms curate the best sports content from our network and beyond.