Found March 05, 2012 on Fox Sports Houston:
PLAYERS:
Arian Foster
,
Mario Williams
,
Maurice Jones-Drew
,
Ray Rice
,
Ben Tate
,
Reggie Bush
,
Beanie Wells
TEAMS:
Houston Texans
,
Jacksonville Jaguars
,
Baltimore Ravens
,
Miami Dolphins
,
Arizona Cardinals
Running backs are replaceable, they say. If you are (a) alive and (b) near another human, there is a 10 percent chance someone is saying that to you at this very moment. It is a thing people love to say. Just plug in another running back. How hard can it be? Can you find a young man between 5-foot-7 and 6-2 who weighs between 190 and 250 pounds and can run reasonably fast? Well, congratulations. You've found a running back. They're all the same, basically. If the one you've got crapped out on you, just discard him and remove the protective packaging from your new running back, sprinkle some Gatorade on him to loosen him up and send him out there. That's not just good football, that's thrifty football. Or so they say. That sentiment is floating around in Houston this week. The Houston Texans re-signed 25-year-old running back Arian Foster to a five-year, 43.5 million contract. He will make 34 times as much money in 2012 (18 million) as he did in 2011 (525,000), when he accounted for almost 1,900 yards and 12 touchdowns in 13 regular-season games. It is an oversimplification, but the takeaway is that the Foster signing is an indication the Texas will not be re-signing 27-year-old pass rusher Mario Williams, who was averaging a sack per game in 2011 until a pectoral injury ended his season. If you are operating within the idiom of Smart Football Analysis deviance is punishable by 40 lashes to the head with Merrill Hodge's tie knot then you are required to observe that running backs come and go and that King Belichick hardly ever spends any money on them while elite pass rushers can sometimes elude franchises for decades. While this is all kind of true, it also is nonspecific to the point of meaninglessness. We are not talking about Mystery Running Back X and Mystery Outside Linebacker Y. We are talking about Arian Foster and Mario Williams, and that changes the discussion considerably. That moves it outside the gray walls of Smart Football Analysis and into what I refer to as "actual thinking." The air's fresh out here. At 25, Foster has completed his second season as a full-time running back. He has 659 rush attempts. Adrian Peterson is 26, and he has 1,400. Maurice Jones-Drew is 26, and he has almost 1,500. Ray Rice is 25, and he has 959. Michael Turner is 30 and has 1,400. LeSean McCoy is 23 and has 635. Those guys, minus Peterson, were the NFL's top five rushers in 2011. You want a proven, elite running back? Your options are going to look something like that. Foster has played an unusually low number of snaps for a player in his circumstances and, I would add, runs in such a way he rarely absorbs a major blow. He is not unlike Marcus Allen in that regard. This brings up another point, which is that Foster is a proven, elite running back. Yes, the Texans could have let him go and plugged in Ben Tate. Tate is a fine player, but in my expert and highly nuanced opinion, Foster is, like, way better. It is true that an NFL team could possibly pull somebody off the scrap heap and, in a decent offensive system, squeeze 1,000 yards out of him. Fourteen players rushed for 1,000 yards in the NFL in 2011, and that includes Reggie Bush. It nearly included Tate, who finished with 942. But there is a major distinction somewhere in the continuum between Beanie Wells (1,047) and Maurice Jones-Drew (1,606). Some guys can turn a hole into 10 yards, and most NFL teams have somebody like this. But some guys can turn 10 yards into 40. They can turn a punt and a field goal, a field goal and a touchdown, and sometimes, if you've got one that plays on third down like Foster, a punt into a touchdown. There aren't many of those guys, and Foster is one of them. Yes, the Texans could find another running back. And yes, there are a few other Fosters out there, but they aren't free. This is not so much a comment on Williams, who in my estimation also is among the NFL's elite at what he does. It is luxurious to have a pass rusher like Williams on the team, and if the Texans lose him, he will be nearly impossible to replace. But Foster would be, too.
Original Story:
http://www.foxsportshouston.com/03/05...
THE BACKYARD
BEST OF MAXIM
RELATED ARTICLES
Arian Foster, who led the NFL in rushing two years ago and finished 5th last season, agreed to a new, five year contract with the TexansMonday morning. Sources with knowledge of the talks confirmed the agreement this morning. Foster was scheduled to become a restricted free agent next week. Details of the deal are unknown that this time but the Texans made it clear throughout the...
AT HOME IN HOUSTON
The agent for the Houston Texans running back announced that his client has signed a five-year contract extension with the team.
  Early Monday morning the Houston Texans and restricted free agent Arian Foster agreed on a new 5-year deal worth $43.5 million dollars with $20.75 of that guaranteed. The first three years of the deal is worth $30 million according the NFL Networks Jason LaCanfora. Arian Foster's agent Mike McCartney tweeted this early Monday morning "Congrats to @ArianFoster for agreeing...
The Houston Texans and Running Back Arian Foster agreed on a five-year, $43.5 million contract, that includes $20.75 million in guarantees. The 25 year-old RB will make $18 million in 2012 but in the remaining four years of the deal, Foster will get $8.7 million annually. Fantasy Spin: Fosters story is quite remarkable, he went from being an un-drafted Free Agent to one of the most...
According to a tweet from Arian Foster's agent, Mike McCartney, the All-Pro running and social media sports star has agreed to a five-year contract extension with the Houston Texans. "Congrats to @ArianFoster for agreeing to a 5 year contract with the @HoustonTexans! Arian has showed tremendous class the last couple years," McCartney tweeted on Monday....Read the Rest...
The Houston Texans have reached a deal with running back Arian Foster, according to multiple sources. Adam Schefter of ESPN is reporting that the Texans have signed Foster to a five year contract, although the terms have yet to be released. Foster probably would have designated with the team's franchise tag today had they not come to an agreement, as the deadline for...
According to ESPN's Adam Schefter, the Houston Texans have signed running back Arian Foster to a five-year extension. Foster will make a total of $43.5 million over five years, with $20.75 guaranteed, $40 million in the first three years of the contract and $18 million in 2012. Foster tore apart the NFL in 2010 and quickly became one of the NFL premiere running backs.  He had...
The Houston Texans locked up Pro Bowl running back Arian Foster to a five-year contract, according to his agent, Mike McCartney. The deal is worth $43.5 million and includes nearly $21 million in guaranteed money, per a league source. It includes a $12.5 million signing bonus and a $30 million payout over the first three years.
HOUSTON, MARCH 5- In a move that could signal the franchise tag being placed on defensive end Mario Williams, the Houston Texans have agreed to a five-year contract extension with RB Arian Foster according to NFL.Com. Foster started the 2011-2012 season with a bit of controversy after he "tweeted" a MRI of his injured hamstring. Please click the link to read the rest of this...
It was widely reported this morning that the Houston Texans and two-twim pro bowl running back Arian Foster has agreed to terms on a new contract to keep him in town for five years. The terms of the deal have now been released and Foster is slated to earn $43.5 million, with $20.75 million guaranteed, $18 million this year and $30 million over the first three years...
Ever since it's inception in 2007, the franchise tag has been applied to some of the best players in the NFL. It's an easy way for teams to keep their stars for at least one more year, without having to sign them to a long-term deal. Teams and players are then able to take the franchise tag year to work out a longer deal if possible. Some players don't take too kindly to the...
Houston Texans The Texans made waves this morning by announcing that two-time pro bowl running back Arian Foster had agreed to terms on a new five year contract. Many expected him to be franchise tagged as the team struggles with being up against the cap and trying to bring back a plethora of free agents that include Mario Williams, Chris Myers and Mike Brisiel among...
NFL News

Delivered to your inbox

You'll also receive Yardbarker's daily Top 10, featuring the best sports stories from around the web. Customize your newsletter to get articles on your favorite sports and teams. And the best part? It's free!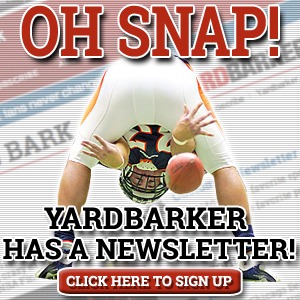 Latest Rumors
The Backyard

Today's Best Stuff

For Bloggers

Join the Yardbarker Network for more promotion, traffic, and money.

Company Info

Help

What is Yardbarker?

Yardbarker is the largest network of sports blogs and pro athlete blogs on the web. This site is the hub of the Yardbarker Network, where our editors and algorithms curate the best sports content from our network and beyond.