Found November 27, 2012 on Bacon Sports:
Yinzers are like seeing 1992′s fashion trends combined with early Internet web design with flashing smiley faces and head to toe black and gold. You are taken back by what you are seeing and can't believe that they actually exist and walk around in public like that. Yinzers can be obnoxious, are always waving around a Terrible Towel, and like Waldo they always seem to pop up rocking Steelers gear in the unlikeliest of places. Here are a few instances that I captured of Pittsburgh Steelers fans being yinzerific in very public places. At the TGI Friday's in the Pittsburgh airport I caught this gem. Your eyes are not deceiving you, that is a chick rocking an Amos Zereoue Steelers jersey while at work. Nothing makes that Jack Daniels chicken and shrimp combo taste better than having it served to you by someone rocking the jersey of a running back named after a well known cookie. After the dumpster fire of a performance against the Browns on Sunday by their running backs the Steelers should give Famous Amos a call. It's not like he could be any worse than Rashard Mendenhall. No, this isn't a Southwest ticket counter where things are fun and loose like a foam party at Coco Bongo on Spring Break. This is just a regular old United ticket counter where rocking jerseys is the norm and not wearing Steelers gear makes you lamer than watching Mike and Molly. In Pittsburgh when you wake up your thought process goes something like this: "Which four articles of Steelers gear should I put on today?", "Oh wait, I've got a wedding to go to, I'll only put on three", "Boy am I glad Plaxico Burress is back. I can now put him back into rotation with my Erric Pegram jersey". Freaking yinzers. While flipping channels in the morning I came across this yinzer who somehow managed to get on TV because he's 102 years old. Naturally he took this opportunity to yinzer-up this occasion for national attention by rocking a Steelers hat. I guess the cameraman wouldn't show him in his Zubaz pants so the hat had to do. If I'm ever 102 years old and my picture is superimposed on a Smucker's jam graphic on the Today Show I hope that I look as spry as this guy. His smile says "I haven't watched the games that Byron Leftwich and Charlie Batch started at quarterback this season" but his hat says "I did watch those game but I just forgot about it already because I'm 102 freaking years old".   The post Freaking Yinzers, they are everywhere! appeared first on Bacon Sports.
Original Story:
http://www.baconsports.com/freaking-y...
THE BACKYARD
BEST OF MAXIM
RELATED ARTICLES
On Tuesday there was a report that a source within the Pittsburgh Steelers organization would be "shocked" if quarterback Ben Roethlisberger plays this week. Now ESPN's Bob Holtzman is reporting that there's a less than 50 percent chance that Roethlisberger will play on Sunday against the Ravens. Buckle up Steelers fans, it looks like it's going to another rough ride with...
The Pittsburgh Steelers have one less wide receiver on their practice squad right now as the Jacksonville Jaguars signed Toney Clemons to their 53 man roster today. Clemons was drafted by the Steelers as their first of four seventh-round picks (231st overall) of the 2012 NFL Draft out of Colorado. The rookie registered just one catch for 14 yards during the preseason for the...
Pittsburgh Steelers head coach Mike Tomlin said Tuesday during his press conference that quarterback Ben Roethlisberger threw on Monday and that the door was still open for him to play Sunday against the Baltimore Ravens. While that sounds like a very optimistic outlook, Gerry Dulac of the Pittsburgh Post-Gazette reported via Twitter on Tuesday after Tomlin talked to the media that...
Assuming the Pittsburgh Steelers don't turn the ball over 8 times this coming Sunday, they still will have a tough chore in beating the Baltimore Ravens should quarterback Ben Roethlisberger not play. Hell, even if Roethlisberger does play it will be a tough chore, as it always is. Do the Steelers have a chance to win if Charlie Batch winds up starting? Sure they do, but even...
There were so many things that went wrong for the Steelers, in the week 12 loss to the Browns, not the least of which was the 6 fumbles (4 of them lost) by the running backs. No sense going back and reliving the 3 interceptions by Charlie Batch and the final fumble on the last drive of the game; but hey, who's counting? For the last month or so Mike Tomlin has preached about going...
Fantasy Football News - Mike Tomlin, during his Tuesday press conference, named Jonathan Dwyer the starting running back for the Steelers in week 13 versus the Baltimore Ravens. FFLockerRoom Take - That is great news for Dwyer owners who were holding out hope that the cream would rise to the top. Dwyer has been the most effective running back for the Steelers all year. His numbers...
The pre game media release for the Pittsburgh Steelers upcoming game Sunday against the Baltimore Ravens is now out and the included depth chart has a noticeable change on it at the running back position. Jonathan Dwyer is listed atop the running backs this week on the depth chart with Isaac Redman listed behind him and Rashard Mendenhall listed third. In the pre game release...
Rashard Mendenhall came into Week 12′s matchup as the Steelers starting running back, but that appears to have changed if the team's recently released depth chart is any indication. Ed Bouchette tweets that Jonathan Dwyer is now listed as the team's starting running back, while Mendenhall has dropped to No. 3 behind Issac Redman. The fact that Mendenhall fumbled twice probably...
Below are the initial week 12 offensive and defensive snap counts from the Pittsburgh Steelers 20-14 loss to the Cleveland Browns Sunday. Thanks to his two fumbles in the game Rashard Mendenhall only played 8 snaps in total, so basically you can say that he was benched. Isaac Redman saw only 5 snaps in the game and the same goes for him. Head coach Mike Tomlin obviously wanted...
@AnthonyLimaFAN Prior to Sunday's Browns – Steelers game, Cleveland Browns fans lit a Ben Roethlisberger dummy on fire. Poor Big Ben twitter.com/AnthonyLimaFAN… — Anthony Lima (@AnthonyLimaFAN) November 25, 2012 The good news for the Browns today was that Roethlisberger didn't play on Sunday and Charlie Batch made the start and threw a load of interceptions that led to...
Could there be a Pennsylvania football curse? The Pittsburgh Steelers could be on pace to sink as fast as the Philadelphia Eagles. The two situations are comprised of very different circumstances yet their end result could be the same in that neither team will cash in their post-season expectations. Despite holding out hope that injured [...] [[ This is a content summary only. Visit...
While it remains unclear if Pittsburgh Steelers quarterback Ben Roethlisberger (rib/shoulder) will be able to suit up this weekend against the Baltimore Ravens, coach Mike Tomlin sounded positive regarding the chances of wide receiver Antonio Brown (ankle) and safety Troy Polamalu (calf) playing Sunday, reports Gregg Rosenthal of NFL.com. Tomlin also sounded positive about...
Steelers News

Delivered to your inbox

You'll also receive Yardbarker's daily Top 10, featuring the best sports stories from around the web. Customize your newsletter to get articles on your favorite sports and teams. And the best part? It's free!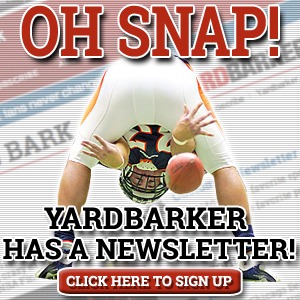 Latest Rumors
The Backyard

Today's Best Stuff

For Bloggers

Join the Yardbarker Network for more promotion, traffic, and money.

Company Info

Help

What is Yardbarker?

Yardbarker is the largest network of sports blogs and pro athlete blogs on the web. This site is the hub of the Yardbarker Network, where our editors and algorithms curate the best sports content from our network and beyond.