Found December 02, 2011 on Obsessed With Sports:
As the end of the week approaches, a pair of OWS contributors banter about some of the important (and not so important) news items of the week.

…the Eagles.
So, um, they're kind of bad, huh? All that aside, my favorite character in this whole thing is Desean Jackson (or, as the back page of the NY Post will soon label this clubhouse cancer, DISEASE Jackson). He's kind of like Randy Moss and TO, except 150 pounds and not good. The huge contract who's trying to get is going to be like $35K a year. To play devil's advocate, though, if Vince Young was trying to talk to me, I'd be ignoring him, too
Our co-contributor WaWaFan tweeted last night wondering how this Eagles team is this bad. I didn't have the heart to kick him while he is down. I mean, the guy has an Eagles winter hat adorning the top of his Xmas tree for heavens sake.
…The Most Dangerous Game.
Now for a murder case based on one of my recurring nightmares…This story further highlights that there is no such thing as a good boy/man relationship. If any of you ever have a teenaged son who starts hanging out with the old neighborhood recluse, pull the plug on that **** IMMEDIATELY. The guy's less likely to be getting your son into time traveling and more likely to be getting him into neo-Nazism or battling Asian gang members.
I just watched Zodiac earlier this week. It's a solid movie. They actually mention the old The Most Dangerous Game movie in Zodiac, otherwise I probably wouldn't have heard of it to this point. There are some good (ridiculous?) lines in that NY Times piece. Such as; "The perpetrators appeared to be looking for loners who would not be missed." Well, now these crazy bastards will know how that feels, too. The worst part is that they will be behind bars when this gets made into a Sundance b-movie.

… Blackberry party plane!
I had to bring this up because, sadly, you and I are both Blackberry users. I guess this is what happens when you do one too many "Battery Pulls". By the way, were you aware that people who have never owned a Blackberry don't even know what a Battery Pull is? I'm glad RIM's stock is in the *******.

How did no one take cell phone video of the executives going ape **** on the plane? The new iPhone has an HD camera, I hear. This would have been a great viral video. And I think this might actually be the ultimate endorsement to get an iPhone. If I'm on a plane and some rich Canadians are getting rowdy, I want to have that recorded in HD. If all these Canadian Air Canada passengers hadn't had RIM BlackBerries maybe we'd be discussing a video right now.

Original Story:
http://www.obsessedwithsports.com/201...
THE BACKYARD
BEST OF MAXIM
RELATED ARTICLES
PHILADELPHIA FREEDOM
The Philadelphia Eagles' DeSean Jackson has popped up in a racy online video promoting a nightclub appearance with a controversial TV star. Jackson and the Eagles don't play this Sunday and he will be appearing at a nightclub in Philadelphia on Sunday night, "celebrating" his birthday. It was the same type of appearance awhile ago [...]
DeSean Jackson didn't have a great game on Thursday night when the Eagles lost to the Seahawks. More than that, it appears as if he might be alienating his teammates. Jackson was seen not running out routes and at one point, ignoring Vince Young when he attempted  to talk to him while on the sidelines. But, what really has feathers ruffled was the following: when Eagles'...
Philadelphia Eagles wide receiver DeSean Jackson wasn't in the best of moods after his team dropped a 31-14 setback to the Seattle Seahawks on Thursday. The Eagles (4-8) has lost four of their last five games and have underperformed greatly. Jackson was shown sitting on the sideline by himself, prompting reporters to ask if he had an issue with his teammates. He also ran a...
The 2011 season has been filled with disappointment for the Philadelphia Eagles and as with any team struggling to win, the club has had more than it's share of controversies. None bigger than the current turmoil surrounding WR DeSean Jackson. On Wednesday, Philadelphia Eagles RB LeSean McCoy came to the embattled wide receivers defense. Jackson has had a chaotic regular...
  We often look for scapegoats when things go terribly wrong. After all, it has to be somebody's fault right? Someone who is not completely imbibed in their job or giving off the sense of being disengaged. DeSean Jackson seems to be the persona non grata and posterboy for the Philadelphia Eagles' failed season, as their year took a turn for the worse last night losing 31-14...
Everything else you could see coming. Michael Vick hadn't had a great game since torching the Washington Redskins in that epic Monday night game last November. Chemistry problems on the defense were unavoidable after the team brought in two cornerbacks to play with Asante Samuel. Coordinating that defense would be a coach who spent the last two decades working with offensive...
Eagles coach Andy Reid is "disappointed" in how DeSean Jackson was portrayed during Thursday night's game broadcast, saying he was proud of his receiver for having a great attitude.
Three keys to Seahawks victory 1. Get caught up in the holiday rush.One way to mute Philadelphia's explosive offense is to play keepaway, which is a page right out of Seattle's recent blueprint of giving the ball to Marshawn Lynch early and often. He has rushed for more than 100 yards in three of the team's last four games. The Eagles defense allowed three players to...
To hear Eagles coach Andy Reid tell it, when it comes to DeSean Jackson, the NFL Network is guilty of trick photography. After...
NFL News

Delivered to your inbox

You'll also receive Yardbarker's daily Top 10, featuring the best sports stories from around the web. Customize your newsletter to get articles on your favorite sports and teams. And the best part? It's free!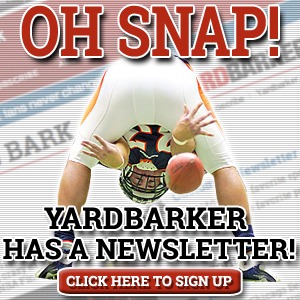 Latest Rumors
Best of Yardbarker

Today's Best Stuff

For Bloggers

Join the Yardbarker Network for more promotion, traffic, and money.

Company Info

Help

What is Yardbarker?

Yardbarker is the largest network of sports blogs and pro athlete blogs on the web. This site is the hub of the Yardbarker Network, where our editors and algorithms curate the best sports content from our network and beyond.