Found January 16, 2012 on Razzball Football:
PLAYERS:
Peyton Manning
,
Donovan McNabb
,
Aaron Rodgers
,
Drew Brees
,
Tom Brady
,
Tony Romo
,
Eli Manning
,
Michael Vick
,
Philip Rivers
,
Matt Schaub
,
Ben Roethlisberger
,
Jay Cutler
,
Ryan Fitzpatrick
,
Carson Palmer
,
Kevin Kolb
,
Matt Hasselbeck
,
Rex Grossman
,
Kyle Orton
,
Matt Cassel
,
Tarvaris Jackson
TEAMS:
Indianapolis Colts
,
Minnesota Vikings
,
Green Bay Packers
,
New Orleans Saints
,
New England Patriots
,
Dallas Cowboys
,
New York Giants
,
Philadelphia Eagles
,
San Diego Chargers
,
Houston Texans
,
Pittsburgh Steelers
,
Chicago Bears
,
Buffalo Bills
,
Oakland Raiders
,
Arizona Cardinals
,
Tennessee Titans
,
Washington Redskins
,
Kansas City Chiefs
,
Seattle Seahawks
So what I did here was extrapolate how many fantasy points quarterbacks would have if they started all 16 games. To make this list you either have to have played 8+ games or have been drafted in fantasy leagues in the top 24 QBs which really is only Peyton Manning and Donovan McNabb. So unfortunately I didn't add Matt Flynn but if I had he would have averaged 44 fantasy points a game for a hefty total of 704 fantasy points! He also would have had over 8,000 yards and 90 touchdowns which may have broken a record or two. It's blatantly obvious that he should have played against the Giants in the playoffs! AD PPlayerPointsExtrapolated PointsActual RankingNew RankingFan Pts/game 1.09Aaron Rodgers3854101125.625 3.03Drew Brees3803802223.75 2.07Tom Brady3523523322 13.1Cam Newton3523523322 7.06Matthew Stafford3333335520.8125 4.05Tony Romo2652827617.625 9.02Eli Manning2732736717.0625 1.05Michael Vick22227311717.0625 6.01Matt Ry...
Original Story:
http://football.razzball.com/fun-with...
THE BACKYARD
BEST OF MAXIM
RELATED ARTICLES
Being both a big mouth and a football-obsessed member of the media for 18 years, I have spent a fair amount of time trying to figure things out in the NFL. Over 3,100 episodes of the Bob and Dan show since 1999 on Sportsradio 1310 the Ticket on Dallas airwaves at three hours per show has put us dangerously close to the Malcolm Gladwell "10,000" hour rule. That rule argues...
New York Giants quarterback Eli Manning left Wednesday's practice early because of symptoms that head coach Tom Coughlin called "a stomach bug, hopefully a 24-hour deal." The Giants have weathered a battery of player's injuries and sicknesses all season but, as the team gets ready to face the San Francisco 49ers in Sunday's NFC Championship game, Manning is...
Paul Schwartz on weather slowing New York Giants against San Francisco 49ersAPHOLD ON:Mario Manningham let a pass slip through his fingers when the Giants met the 49ers in Week 10. If he and his fellow receivers can't hold onto the ball in what is expected to be sloppy conditions Sunday, Eli Manning and Big Blue could be walking off the field at Candlestick Park losers again.By...
The 15-1 Green Bay Packers (who peaked in September-November)  have indeed been exited from the NFL Playoffs by the New York Giants (who are peaking now), and Hakeem Nicks was indeed wide open on an end-of-half Hail Mary. So much for the Green Bay dynasty; as former GM Ron Wolf would say, the 2011 Packers proved to be just a fart in the wind. Deal with it. The silver lining is...
New York Giants quarterback Eli Manning missed part of Wednesday's practice session with a stomach illness. Coach Tom Coughlin calls it ''a stomach bug, hopefully a 24-hour deal.'' The team is preparing to play the San Francisco 49ers on Sunday for the NFC championship. Manning is on the Giants' injury report for the first time this season as a limited...
It wasn't the dropped passes.  It wasn't the mistackles.  It wasn't Eli Manning tearing up the Green Bay secondary.  No no.  The real reason why they Packers … [visit site to read more] The Real Reason Why The Green Bay Packers Lost To The Giants - Nice Pick, Cowher - Nice Pick, Cowher - A Pittsburgh Steelers Fan Site - News, Blogs, Opinion and more.
Archie is certainly willing to talk and this week he says his son wants to remain in Indy: "Peyton kind of likes his roots in Indy," Archie Manning said yesterday after watching his youngest son, Eli Manning, lead the Giants to a 37-20 Divisional victory over the Packers at Lambeau Field. "We'll see what happens there. If that doesn't work and he can get healthy we'll...
The year of the quarterback: fans thought 2009 was that season with ten quarterbacks amassing 4,000 yards or more. QB's such as Peyton Manning, Tom Brady and Drew Brees made it look easy, dropping balls into places where they'd never been before. Even QB Kyle Orton, who seemingly couldn't throw the ball effectively downfield, passed for 3,802 yards in 2009. But quarterback...
If today's game is anything like the Dec 4th meeting between these two clubs (or yesterday's Niners-Saints game) make you have 911 on your speed dial.  It won't be for the faint of heart. Our staff has some unique angles on the big showdown in Green Bay….. Rich Resch: If Eli Manning and the Giants' pass rush play their A-game…yada yada yada. You know the deal by now...
Shale BriskinBGB ContributorNow that the New York Giants have upset the Super Bowl favorite Green Bay Packers, many comparisons are being drawn between this team and the team that won Super Bowl XLII over the Patriots, which was also in upset fashion. The coaching staff and most of the player personnel between the two teams are very similar and this current group of Giants looks...
The NFC East champion Giants (11-7) travel to Candlestick Park to face the NFC West champion San Francisco 49ers in classic matchup of two of the league's most storied franchises. From the NFL media guys…. The NFC Championship Game marks the eighth postseason meeting between the Giants and 49ers, with San Francisco currently holding a 4-3 edge in the series. New York won the...
NFL News

Delivered to your inbox

You'll also receive Yardbarker's daily Top 10, featuring the best sports stories from around the web. Customize your newsletter to get articles on your favorite sports and teams. And the best part? It's free!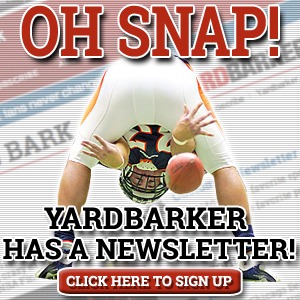 Latest Rumors
Best of Yardbarker

Today's Best Stuff

For Bloggers

Join the Yardbarker Network for more promotion, traffic, and money.

Company Info

Help

What is Yardbarker?

Yardbarker is the largest network of sports blogs and pro athlete blogs on the web. This site is the hub of the Yardbarker Network, where our editors and algorithms curate the best sports content from our network and beyond.