Found November 23, 2012 on Metta Chronicles:
PLAYERS:
Mike Smith
,
Matt Ryan
,
Michael Turner
,
Eric Wright
,
Roddy White
,
Julio Jones
,
Tony Gonzalez
,
Gerald McCoy
,
Adrian Clayborn
,
Mason Foster
,
Lavonte David
,
Mark Barron
,
Doug Martin
,
Robert Griffith
,
Davin Joseph
,
Carl Nicks
,
Josh Freeman
,
Vincent Jackson
,
Mike Williams
,
Asante Samuel
,
Dunta Robinson
,
Thomas DeCoud
,
William Moore
,
John Abraham
,
Jonathan Babineaux
,
Sean Weatherspoon
TEAMS:
Atlanta Falcons
,
Tampa Bay Buccaneers
,
Boise State Broncos
*This article was originally written for AccuScore.com At the midpoint of the NFL season, two of the biggest surprises have been from two NFC South teams, the Atlanta Falcons and the Tampa Bay Buccaneers. Though the Falcons have made the playoffs three out of the previous four seasons, no one expected the Mike Smith coached team to sport the league's best record while winning multiple close games. Likewise, many analysts and experts expected the upstart Bucs to be a several seasons away from playoff contention, due to their youth, inexperience and questionable lack of depth under rookie Head Coach Greg Schiano. However, after just ten games, the Falcons looked locked into the NFC's top playoff seed while Tampa attempts to win a Wild Card and play in January. On Sunday afternoon, the two will meet for the first time this season in what is expected to be a close game. The Falcons are expected to cover the -1 spread, from our simulations we predict a 51.7% probability that this will occur. The Falcons have a slightly better percentage in the money line, as there is a 53.3% probability they will cover. The Over/Under is set at 50.5, and there is a 52.5% chance that these teams will go over. As in most cases, ball security likely means the difference between games lost and won; the turnover margin in this game should be no different. In these simulations, the Falcons committed fewer turnover in 31% of the sims and went on to win 80% of the games. The Bucs won 59% of the games where they committed fewer turnovers. In years past, the Falcons featured a very balanced offensive attack between the arm of QB Matt Ryan and the power legs of RB Michael Turner. While Ryan is on pace to shatter his previous career seasons bests and is currently among the league's elite in his statistics. Ryan ranks sixth in TD passes (20), fourth in completion percentage (67.5) and passing yardage (3,000+), and recently dropped to eighth in quarterback rating (94.8, but he did uncharacteristically throw 5 interceptions last weekend). While the sample size is small (the Falcons only have one loss on the season), Ryan actually had better numbers against the Saints in the 27-31 November 11th loss compared to his averages over the team's nine victories. While Turner used to be the key that ignited this Falcon offense, Ryan has emerged as not only the team leader but deservingly among the league's elite at his position. For Sunday's game, if he has at least a 2-1 TD to INT ratio (35% chance), the Falcons have a 61% of winning. Simulations averaged 313 passing yards, 2 TDs and 1 INT for Ryan, but against this porous Buccaneer defense, I wouldn't be surprised if his numbers are significantly higher. Tampa allows an average of 313 yards passing (good for last in the league!), and they've played some bad passing offenses including Carolina (twice), Kansas City, Minnesota, and Oakland. With starting cornerback Eric Wright out for Sunday's contest, both Atlanta wide receivers Roddy White and Julio Jones figure to be able to pad their stats; both are playing near pro-bowl levels. The simulations showed White having an outstanding day with 90 yards receiving and .5 TDs, while Jones added almost 80 yards himself and 0.6 TDs. As of this moment, Jones is questionable for Sunday's game with an ankle injury, although he did practice on Friday. If Jones misses this contest, expect more targets for age-less TE Tony Gonzalez, who would look to improve upon his 67.5 yards and 0.6 simulated numbers. While in years past, the Falcons were among the league's top rushing teams, the team's run attack and specifically starting running back Michael Turner have significantly fallen off this season. Turner seems to have lost power in his legs, and it shows with a paltry 3.7 yards per rush average (575 rushing yards on 155 carries). Excluding his top three rushes (only attempts where he reached 20+ yards), his average drops to a ugly 3.5 ypc. Fantasy Dynasty league owners should expect and anticipate Turner's release this upcoming offseason. Turner is projected to have under 50 yards rushing and 0.4 TDs, but against this stout Tampa rush defense I could see him having a smaller impact on less carries. Unfortunately for Turner, the Buc's lead the league in run defense, although that figure is skewed by having the league's worst pass defense. While the Bucs rank last in the league in Pass Defense, they have room for improvement and have impressively won their last four games to get into the playoff picture. The Bucs are now without their week 1 starters (the injured Wright and recently traded CB Aqib Talib) at cornerback but hopefully over these next few weeks their youthful corners will develop into solid starters with decent futures. Despite being one of the league's most injured squads, Schiano has led this team to become a hard nosed, no nonsense team that plays until the final whistle. Gerald McCoy seems to have developed into the player the Bucs thought they were drafting 3rd overall in 2010, he's become one of the league's premier run defenders. The Bucs feature a nice core of youthful playmakers on defense between McCoy, injured defensive end Adrian Clayborn, linebackers Mason Foster and Lavonte David, and Safety Mark Barron. Under Schiano, this unit will only improve. The biggest surprise concerning the Bucs has been the impressive play of the Muscle Hamster, rookie running back Doug Martin. Martin, a late 1st round pick from Boise State, has quickly become a football sensation since his breakthrough performance against Oakland, where he gained 251 yards on just 25 carries enroute to 4 touchdowns. Martin how has over 1,300 total yards on the season, and if it weren't for the stellar play of rookie QBs Robert Griffith III and Andrew Luck, would be in talks for Rookie of the Year honors. Miraculously, Martin has continued to perform at this level even without the Buc's starting guards Davin Joseph and Carl Nicks, who both rank among the league's elite at their positions. Offensive Line Coach Bob Bostad and Schiano have gotten the most from the offensive line unit, as they have played above their potential and kept QB Josh Freeman healthy. Martin projects to rush for 85 yards and close to 1 total touchdown. If the game remains close, he'll be the Bucs best option to move the chains, so his numbers could reach into the triple digits for rushing yards. The signing of former San Diego Charger WR Vincent Jackson has really benefited WR Mike Williams, who slipped in his sophomore season after debuting in 2010 to a great stat line of 964/65/11 (yards/receptions/TDs). While Jackson leads the team with over 860 receiving yards, Williams is on pace to surpass 1,000 yards for the first time in his career. Opposing defenses routinely doubled Jackson in the beginning of the season, but they can no longer afford to due to Freeman's chemistry with Williams. Despite the Falcons featuring one of the deepest and experienced secondaries in the league, I expect both Buccaneer receivers to surpass the projections. I think Jackson will be closer to 100 yards than his projected 78 yards and 0.7 TDs, while Williams' 53.4 projection seems low. Yet again, the Falcons will start Asante Samuel and Dunta Robinson across from them, while having the most underrated safety combination of FS Thomas DeCoud and SS William Moore watching Freeman like hawks (err Falcons?). Freeman has beautifully rebounded from his disappointing 2011 season, where his numbers dipped to a below average 74.6 passing rating and a horrendous 16-22 TD to INT ratio. The combination of more talent to throw to and a more balanced offensive attack has allowed Freeman to take less chances, and it shows in his 21-7 TD/INT ratio. Freeman projects to pass for almost 260 yards and 2 TDs to just 1 interception. Luckily for Freeman, this Bucs offense has the ability to play with the lead (and hammer the trenches with Martin) or play catch up through the air. The Atlanta defense mirrors their offense: strong passing units (4th offensively, 7th defensively) but weak rushing (28th offensively and 26th defensively). The defense has maintained a "bend don't break" mentality, as they've come through in the clutch and have allowed over 24 twice (in their loss to the Saints, and in a 30-28 September victory over the Panthers). While the defense has 19 total turnovers, outside of DE John Abraham, few Falcon defenders have been able to consistently get after opposing quarterbacks. After Abraham's nine sacks, DT Jonathan Babineaux is a distant second with just 3.5 sacks. These figures aren't likely to change this weekend either. The offensive and defensive units have played harmoniously as it's clear that if onf them struggles, the other has been able to step up their play. This is obvious due to their seven games decided by a touchdown or less. The projections predict an average of 1.5 sacks and almost two turnovers for this unit. Hopefully defensive coordinator Mike Nolan will have LB Sean Weatherspoon at his disposal; Weatherspoon's right ankle has caused the linebacker to miss action since week 8 but has resumed practicing of this week and might be able to play Sunday? Although the Falcons are in first place in the NFC, this game is more important to the Bucs as their 2nd half schedule is among the worst in the league. Over the next few weeks they play Denver, New Orleans and against these same Falcons. In order for Schiano & company to remain a threat in the NFC, they will have to win at least three of their next six games. While this Falcon team has been fortunate to win several close games, I wouldn't be surprised to see Tampa take this important game. If Atlanta is able to get Turner going early and often, they should be able to lock up this game and potentially their division early. However, if the Bucs' secondary is able to contain Ryan, White and potentially Jones, expect this one to be a nailbiter. I'm taking the upset here and taking the Bucs 31 Falcons 27.  
Original Story:
http://mettachronicles.com/game-previ...
THE BACKYARD
BEST OF MAXIM
RELATED ARTICLES
Mike Smith, Matt Ryan and Roddy White know all about winning. You see, they have been here before and quite often. It started back in 2008 when Mike Smith was named NFL Coach of the Year and quarterback Matt Ryan earned the Offensive Rookie of the Year Award. It was supposed to be a rebuilding year coming off a 4-12 record and a dog fighting scandal, but the Falcons shocked everyone...
Atlanta Falcons LB Sean Weatherspoon returned to practice Wednesday, albeit in a work jumpsuit. He missed the last three games with a right ankle injury. "This is just my coming back to work suit," he said."That's all that it is. I got a chance to get out there with the guys a little bit for the walk-through. I'm feeling pretty good, so I'm looking forward to practice...
The Tampa Bay Buccaneers host one of the best teams in the NFL and the NFC South division leader Atlanta Falcons. But Atlanta has seen it's fair share of close calls this season and the Bucs could very well hand them their second loss of the season. Secondary needs to step up this week. Bucs have been at the bottom of the NFL ranks all season against the pass. Matt Ryan and the...
The Falcons have not performed in the playoffs with Matt Ryan at QB.  This is the season to show what this team is really made of. After going a red hot 13-1 in week 11, I went 2-1 on Thanksgiving day.  For the season that makes it 106-57.  I'm still in striking distance of .750 for the season. Let's take a look at week 12. Minnesota at Chicago - The Vikings...
Linebacker Sean Weatherspoon and cornerback Asante Samuel have returned to practice in a limited role on Friday for the Atlanta Falcons. Another defensive starter, nose tackle Peria Jerry, misses his third straight practice with a quadriceps injury. All three players are listed as questionable for Sunday's game at Tampa Bay (6-4). The Falcons (9-1) list reserve defensive tackle...
The Buccaneers are hanging around a playoff spot late into the season.  Do they have enough to jump into the picture and make the postseason? After going a red hot 13-1 in week 11, I went 2-1 on Thanksgiving day.  For the season that makes it 106-57.  I'm still in striking distance of .750 for the season. Let's take a look at week 12. Minnesota at Chicago - The...
Atlanta Falcons wide receiver Julio Jones (ankle) and running back Michael Turner (groin) practiced in a limited capacity yesterday, while quarterback Matt Ryan (finger) was a full participant. Jones returned to practice after sitting out Wednesday due to an ankle injury. His participation in Thursday's practice is an encouraging sign as he prepares for this weekend's matchup...
When the Buccaneers picked former Rutgers head coach Greg Schiano to lead their team, they pulled some valuable college scouting with them as well. The rookie class that general manager Mark Dominik, director of player personnel Dennis Hickey and Schiano put together has — so far — been among the best in the NFL. The Bucs came away with three starters with their first three picks...
Falcons quarterback Matt Ryan was a full participant in Friday's practice. He's been dealing with a left finger issue.Fantasy Spin:Ryan suffered through his worst game of the season last weekend, throwing five interceptions and zero touchdowns, but the Falcons still won the game. Facing the Bucs' underperforming secondary, Ryan should return to top-five fantasy form.
The Atlanta Falcons have listed wide receiver Julio Jones as questionable for today's game against the Tampa Bay Buccaneers as he continues to deal with a lingering ankle sprain. The amount of playing time he receives and the role he plays in the contest may depend on the pace of the matchup, reports Jeff Darlington of NFL Network. NFL Network's Jeff Darlington reported...
Atlanta Falcons (9-1) at Tampa Bay Buccaneers (6-4) The Falcons may be 9-1 and the Buccaneers may be 6-4, but the Buccaneers are playing better football right now. They've had 5 wins by a touchdown or less against sub .500 teams, including 4 at home. Denver is the only team better than .500 they beat and that was back week 2 before Denver got hot. Despite their 9-1 record, they...
If week 11 in the NFL had one name assigned to it, it would be Houdini.  The smoke and mirrors used by Houston, Dallas, Tampa Bay, and Atlanta to magically pull victories out of strait jackets is nothing short of miraculous.  The top suicide picks all managed to inch out wins in dramatically late fashion:  Matt Ryan throws five interceptions yet the Falcons fly passed the Cardinals...
NFL News

Delivered to your inbox

You'll also receive Yardbarker's daily Top 10, featuring the best sports stories from around the web. Customize your newsletter to get articles on your favorite sports and teams. And the best part? It's free!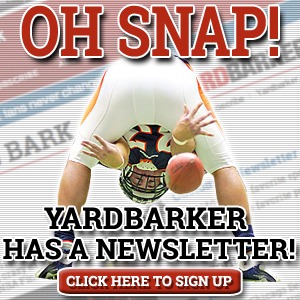 Latest Rumors
Best of Yardbarker

Today's Best Stuff

For Bloggers

Join the Yardbarker Network for more promotion, traffic, and money.

Company Info

Help

What is Yardbarker?

Yardbarker is the largest network of sports blogs and pro athlete blogs on the web. This site is the hub of the Yardbarker Network, where our editors and algorithms curate the best sports content from our network and beyond.