Found April 26, 2012 on Boston's Bettah:
PLAYERS:
Nate Solder
,
Luke Kuechly
,
Todd Mcshay
,
Sean Lee
,
Courtney Upshaw
,
Bill Belichick
,
Mark Barron
,
Barron Smith
,
Dre Kirkpatrick
,
Asante Samuel
,
Rob Gronkowski
,
Aaron Hernandez
,
Vinny Curry
,
Mike Vrabel
,
Rob Ninkovich
TEAMS:
New England Patriots
,
Philadelphia Eagles
,
Dallas Cowboys
,
Atlanta Falcons
,
Kansas City Chiefs
,
Green Bay Packers
,
Boston College Eagles
,
Alabama Crimson Tide
,
Notre Dame Fighting Irish
,
Marshall Thundering Herd
,
Boise State Broncos
,
Virginia Tech Hokies
Shea McClellin has been linked to the New England Patriots at either #27 or #31 during Thursday's Draft
Once again, the NFL draft is upon us, and just like last year, I am woefully unprepared. Blame school for it being all schooly and making me work. Blame ESPN for talking about non-stop draft and NFL stuff during the start of baseball season and the NHL playoffs and making me turn off ESPN in an anti-NFL fit of rage. Blame me for just being too lazy enough to check out each and everything about the NFL draft. In fact, you could mostly just blame me. The only thing that I have written about the draft this year is that I think the New England Patriots have an excellent opportunity to trade up for a player they really, really, want. Other than that, I've been very Patriots free for the past few months. That's just a character and blogger trait of mine. I'm still a little upset about how last season ended and I would simply rather write about the Bruins and Celtics in the months of February, March and April. It's just a simple fact.
Thankfully for you and myself, there are people out there who's job it is to cover the NFL draft, break down all the prospects, and figure out who and what the New England Patriots are targeting in. Now, in all honesty, projecting a New England Patriots draft is a little like betting on future odds today for the 2014 Super Bowl. We simply don't know how the draft will play out and who the Patriots actually have their eyes on. Remember two years ago the Patriots were going to draft Tim Tebow and did anyone honestly see Nate Solder being the first pick for the Patriots? We just don't know what's going on in the Death Star right now.
Here's what we do know. The New England Patriots needs mostly rest on the defensive side of the ball, most notably in the secondary and trying to acquire pass-rushers. They could also use more depth across their offensive line and defensive front seven which could see these being addressed in the later rounds.
Because other people are much better at talking about NFL prospects than I am, once again I present what everyone else is saying about potential Patriots' draftees.
Credit is given where credit is due:
After the jump
Player I really want but there is no bleeping way were getting him
Luke Kuechly: ILB, Boston College
Okay, call me a homer and just a want to see Kuechly in a Patriots' uniform, but Kuechly would be the perfect Patriot. He's tough, he's competitive and he's smart. He can play any of the linebacker positions in a 4-3 and be paired next to Jerrod Mayo in a 3-4 front. Pairing them together would result in approximately 70% of this teams tackles and I don't think I'm exagerating.
The only issue? This is one of the elite players in the class and it will require the Patriots to deal all the way up to number 15 (Philadelphia Eagles) in order to land him. Because inside-linebacker is not a need of the Patriots, don't expect the Patriots to land him.  It would be fun though
Elite instincts. Very similar to former PSU standout LB Sean Lee (Cowboys) in this department. Is disciplined. Takes very few false steps. Diagnoses play-action quickly. Locates the ball carrier as fast as any defender in the country. Always seems to be around the football. Gets the front seven lined up and is a very good on-field communicator.
More likely first/second round candidates
Dont'a Hightower: LB, Alabama
Dont'a Hightower is projected by some teams as an outside pass rusher or hand-on-the-ground defensive end. And that is the role he might fit best in the Patriots' hybrid defense….he brings the versatility to wear a lot of different hats for a creative defensive coordinator and would be an interesting pick for Coach Belichick and New England in the late first round.
Courtney Upshaw: OLB, Alabama
What he can do is immediately help a defense with his skills as a pass-rusher and his willingness to use leverage and vision to do damage against the run. This is the kind of complete player Bill Belichick goes for…
Harrison Smith: S, Notre Dame
Tony Santorsa, Bleacher Report
Smith possesses ideal size for a safety prospect and is one of the more intelligent players in the draft. There's no question that he has the potential to be a dominant force in New England's secondary as well as a future team captain, as he is a natural leader that exhibits a great work ethic.
Jerry Thornton, WEEI (Via Barstool Sports)

He's considered a passable pro at either safety position. And helped raise his stock a great deal at the Combine. And he has four years' experience in a pro-ish system. It's just that there's some questions about the angles he takes and he tends to lunge and miss on some tackles. So he'll probably end up being a reach for someone drafting need.
My thoughts on Harrison Smith are pretty simple. Until the past month, the best safeties in the class were Mark Barron of Alabama and… Mark Barron. Smith has shot up the boards recently because of his work-outs which could scare teams off that he is a work-out star. The thing is, the Patriots don't really care too much about that. He was productive in college thus proving he can. Honestly, he seems like a player that the Patriots would love to have on their team due to his versatility and instincts. If he is there at 27 or 31, expect the Patriots to pull the trigger.
Dre Kirkpatrick: CB, Alabama
Drew Bonifant, Bleacher Report
Kirkpatrick would be an excellent target due to his upside at cornerback and skill set that could also translate to safety, giving the Patriots an answer to two positions of need. Jenkins also has plenty of talent and potential, but his book's a pretty thick one. It would be best for New England to stay away.
Janoris Jenkins: CB, North Alabama
A quick-twitched athlete who reminds us a bit of a young Asante Samuel. Displays a natural backpedal and makes an easy flip of hips to turn and run with receivers down field. Balanced and feet are constantly underneath him, allowing him to make a quick transition out of breaks….Was a model citizen and hard worker early in career but lost his way at some point. In 2009, he was involved in a fight and was arrested and charged with misdemeanor affray and resisting arrest without violence.
Gary Davenport, Bleacher Report
For all his off-the-field problems, no one is questioning Jenkins' ability to be a difference maker on the gridiron. As Jeff Diamond of Sports Illustrated recently wrote some scouts believe that Jenkins is the most talented player at his position in the 2012 draft class, and his presence would instantly provide the worst pass defense in the AFC in 2011 with a badly needed infusion of talent.
My thoughts. He's extremely talented and we need talent in our defensive backfield. Belichick has also shown he is not afraid of personal issues because he feels he can clean them up. His off the field issues might be too much to risk a first round pick. If he got late into the second round, I could see the Patriots taking him. Also, if the Patriots move back out of 31 into an early part of the second round, don't be surprised if that means they are targeting Jenkins. Moving out of late first into early second to target players who have first round talent but some out-side issue (Rob Gronkowski and Aaron Hernandez come to mind) is the Patriots' MO.
Vinny Curry: DE/OLB, Marshall
Drew Bonifant, Bleacher Report
Curry is versatile, able to put his 6'3″, 266-pound frame on the line or on the edge. He has good speed and is able to use his excellent strength or his quickness to get into the pocket. He's a hard worker with a determination to fight through blockers, showing a work ethic that will mesh well with Bill Belichick's intense, demanding coaching style.
Jerry Thornton, WEEI (Via Barstool Sports)
Curry's 40-time at the Indianapolis Kennel Show didn't help his 1st Round prospects any. Though he had a solid week at the Senior Bowl and showed that at least he has strength and technique enough to hold his ground vs the run.
Shea McClellin: OLB, Boise State
Boise State's Shea McClellin says he molds his game after former Patriot Mike Vrabel, and now he has a chance to be a Patrot.  McClellin is an ideal 3-4 outside linebacker, whose versatility to play both in coverage and pin his ears back to rush the passer will allow the Pats to line him up from various rushing angles.
McClellin provides a lot that the first two selections do not. Unlike Mercilus, McClellin is more of a natural fit at linebacker. In addition to playing outside linebacker in the 3-4 and defensive end in sub-packages, McClellin could probably even play strong-side linebacker similar to Rob Ninkovich in the Patriots' 4-3 sets. On third downs, Patriots coach Bill Belichick could use McClellin in a variety of different spots.
He's often compared to former Patriot great Mike Vrabel, who was a favorite of New England coach Bill Belichick. The Patriots need pass-rushers, and McClellin looks like a good fit in New England's system. He has a good burst and motor coming off the edge. The Green Bay Packers, who hold the No. 28 pick, also are being linked to McClellin. So New England might have to get him at No. 27, and not wait until No. 31.
Thoughts on McClellin. I have a friend who is from the Pacific Northwest and he is a huge Boise St. fan. He dragged Sully and myself to FedEx field to watch Boise play Virginia Tech a year ago, the Boise game is always one of the games on TV when we watch college football at his place, he just loves Boise. Because of this, I've watched a ton of Boise St. football the past three years.
Shea McClellin is one of the standout players whenever I watch them play. Everyone thinks that Boise gets by on guile and deception but it is simply not the case. Boise has legitimate NFL ready players and McClellin is one of these players. He is fast, instinctive, and plays with fire and energy on every play. A ton of teams would love to have this kid on their team because he can do many jobs on the defense. This is a guy I would guess the Patriots would love to have and I would love to have this guy on the Patriots as well. The issue is that the Patriots aren't the only interested group in Shea. If they don't take him at number 27, they won't get him.
Original Story:
http://www.bostonsbettah.com/?p=4198
THE BACKYARD
BEST OF MAXIM
RELATED ARTICLES
FIRING LINE
Former Patriots linebacker Willie McGinest is not thrilled with receiver Wes Welker, ripping into his "diva attitude."
The New England Patriots moved up not once, but twice in the first round of the 2012 NFL draft in order to strengthen a defense that ranked 31st in the league in 2011.  Traditionally, Patriots head coach Bill Belichick has traded down in previous drafts in order to stockpile picks for future use, but after losing
The Patriots are generally recognized as a tight-knit franchise. But once a player moves on to become a member of the media, look out! Former Patriots linebacker/defensive end Willie McGinest, now an NFL Network analyst, on Tuesday voiced his displeasure about wide receiver Wes Welker potentially skipping New England's mandatory workout. "I just don't like his diva attitude...
Gathering some final mocks - New England Patriots Blog - ESPN Boston
NFL Videos: Bill Belichick talks draft
I always find the draft somewhat anti-climactic. You have three months of build-up with endless...
It happens every year. The Patriots draft a guy that not even Greg Cosell knows who he is. This...
Post-Standard/Frank Ordonez In a whirlwind two months that saw Chandler Jones skyrocket from a third-round grade to 21st overall pick by the Patriots, The Fizz has been tracking his story. We've dissected all the reasons for his dramatic rise, but now it's time to look ahead. The big questions now are will Chandler fit in New England and how soon will he get on the field? A...
On Thursday night, the NFL will hold their annual draft when it conducts the first round at Radio City Music Hall in New York City under the watchful eye of NFL Commissioner Roger Goodell. Rounds Two and Three will be held on Friday night and Rounds Four through Seven will be held on Saturday afternoon and you can watch each and every selection on ESPN and the NFL Network. Heading...
MANHATTAN, Kan. Aggieville is about to get Gronk'd. Hide the women and children. OK, well, maybe just the women. "I'm at the other end of the hotel," Gordie Gronkowski told FOXSports.com. "I'm serious. I am at the other end of the hotel." Family reunions are peachy keen, as long as you're not the one trying to sleep next door to the boys. Wait...
The New England Patriots traded their second pick of the second round (#62 overall) to the Green Bay Packers in exchange for a third round selection (#90) and a fifth rounder (#153). Follow Steve on Twitter @SteveMichaelsII
The New England Patriots will have two first-round picks in the upcoming NFLdraft, which probably makes a lot of AFC teams nervous. 2012 NFL Draft - Draft Position - Ryan Tannehill (QB Texas A&M) Over 8 -150 Under 8 -110 If the Patriots stay in their spots at 27th and 31st, there's a great chance they'll be adding two quality players –- if not starters -- to a team...
NFL News

Delivered to your inbox

You'll also receive Yardbarker's daily Top 10, featuring the best sports stories from around the web. Customize your newsletter to get articles on your favorite sports and teams. And the best part? It's free!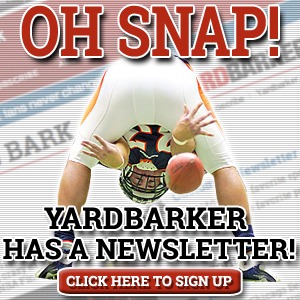 Latest Rumors
Best of Yardbarker

Today's Best Stuff

For Bloggers

Join the Yardbarker Network for more promotion, traffic, and money.

Company Info

Help

What is Yardbarker?

Yardbarker is the largest network of sports blogs and pro athlete blogs on the web. This site is the hub of the Yardbarker Network, where our editors and algorithms curate the best sports content from our network and beyond.