Found October 26, 2012 on Rams Herd:
As Americans, we're raised (or at least encouraged) to think a lot of funny things about Brits. They are stodgier than us and proper-er than us, and conversely, when they get silly (see Python, Monty), they are much sillier than us. But particularly when it comes to sport, they are quite different from us. Or so we're led to believe...  Take cricket, for example, an endless comedy of manners without any punchlines, played by opposing teams who wear apparently identical uniforms. It is wholly incomprehensible to most of us on this side of the Atlantic, who despite a massively common gene pool are completely lacking in British understanding of etiquette.  For four years I worked for a Britisher, not the proper-est of gentleman but a good guy nonetheless, and following cricket was in his blood. I understood the passion, but completely blanked on the concept of the sport itself. Meanwhile, he bemoaned the fact that his children, being raised in the US, wanted to try out for their school's volleyball team. If it wasn't soccer (the true football, of course), it wasn't fit for a youngster.  This cultural divide just seemed natural to me. I expect these kinds of differences in viewpoint when meeting someone from another land. So much so that the whole phenomenon of natural-born Brits falling in love with American Football and the Rams in particular just seems ... foreign I suppose?  But that said, Twitter quickly set me straight, as I've met a number of knowledgeable fans from the Commonwealth. In honor of our team making its debut appearance in London, I decided to reach out to the group and ask: How did you become a Rams fan anyway?  The Old Schoolers - Playoff Greatness (or lack of it) @DurhamGooner:  1984 wild card game vs the Giants live on UK TV. Fave player was Dickerson so chose the Rams! (They lost). Here's a true die-hard. I became a Rams fan in 1996 when they moved to St Louis, but of course I knew who Eric Dickerson was in his prime. He was a beast, plain and simple. But any fan of the Rams since then has seen more than his share of hard times... @DurhamGooner:  1st QB I saw was Dieter Brock. I still wake up in cold sweats..... and this one has endured them from farther away than most. @DurhamGooner:  So after 28 years I get to see my 1st live Rams game on Sunday. For others, though, things get a little more complicated.  @SombreEthyl:  When I was at high school all who liked NFL were glory hunters who followed 49ers, I chose divisional rival with awesome unis.  So, been a Rams fan since '89 when they were back in LA. I adored Jim Everett.  The Glory Hunters (not that there's anything wrong with that) The Greatest Show on Turf kindled (or rekindled) a love for football among a lot of fans. It was, and I'm being totally unbiased here, perhaps the purest and most aesthetically pleasing form of the sport to ever grace a television set. Should we be surprised that their reach extended well beyond the oceans? @OfficialMick: First thing I ever saw of the NFL were 3 touchdowns by Isaac Bruce in a first quarter. I knew at that moment Rams were my team! @rampower: the person who introduced me to the sport was a Rams fan - a Brit, who changed teams to the Vikings, then Falcons and now Packers. I stayed with my team! The New Breed - Video Games Parents, be forewarned - movies and video games can, in fact, corrupt your children's brains. Here's proof positive:    @evilslash13: Glory hunting I guess. Found my love of the sport at the same time as the rise of the Greatest Show. :) Plus the Rams were the best team on NFL2k1 on the Dreamcast at the time lol.  @infemousss: funnily enough it was Madden 03 - uniforms & default team lol. I was young when it came out so I was easily influenced by the game. Was attracted to the NFL through the film Any Given Sunday.  Thanks to all who responded to my little ad hoc Twitter poll. You can connect with the whole group at my RamsUK list on Twitter. (Know somebody who should be on it? Let me know!)
Original Story:
http://www.ramsherd.com/2012-articles...
THE BACKYARD
BEST OF MAXIM
RELATED ARTICLES
Judged merely on his on-field play, Janoris Jenkins could have been the first cornerback taken in the 2012 NFL draft. Unfortunately, the Rams' rookie's college career didn't go as smoothly as he may have hoped. That's why St. Louis was able to bite when they saw the talented player still waiting for them with the 39th overall pick in the second round...
Boston.comSt. Louis Rams wide receiver Danny Amendola is recovering faster than expected from a right shoulder injury, and even thinks there's an ''outside chance'' he can play against the Patriots on Sunday.Amendola returned to practice this week, but was limited both Wednesday and Thursday at the team's sessions in London. The Rams' leading receiver this season hurt...
St. Louis Rams wide receiver Danny Amendola was known as a tough player even before he suffered a hit and dislocated his collar bone, an injury that could have claimed his life. Now, just three weeks after that brutal injury, Amendola is trying to prove exactly how tough he is.  The wide receiver is doing everything he can to come back and play this week when the Rams take on the...
LONDON (AP) St. Louis Rams wide receiver Danny Amendola is recovering faster than expected from a right shoulder injury, and even thinks there's an "outside chance" he can play against the Patriots on Sunday. Amendola returned to practice this week, but was limited both Wednesday and Thursday at the team's sessions in London. The Rams' leading receiver this...
Joe Barksdale is finding himself in a lot of new situations these days. The second-year tackle is with a new team, learning a new offense - and doing it in a different country. Barksdale was picked up off waivers by the rebuilding St. Louis Rams last month after being dropped by Oakland, and was given his first career NFL start last weekend in a loss to the Green Bay Packers. ...
Rams WR Chris Givens is a week 8 fantasy football sleeper. . Sometimes you need a fantasy gem to be successful. Here is a list of LestersLegends' under the radar players that could possibly pull out a win for you in week eight. . Josh Freeman, QB, Tampa Bay Buccaneers Freeman is averaging 374 yards and three touchdowns in his past two games. I don't see him dropping anything...
LONDON (AP) The St. Louis Rams are familiar with fans cheering for the opposition, even at their home games. They're likely to get an even bigger dose of that Sunday when they go up against the New England Patriots at Wembley in the annual NFL game in London. The Rams are technically the home team, but the Patriots - and especially Tom Brady - have a much bigger international...
Situation: 2nd and 4 from the Packers 6, with 8:57 to play in the game, trailing by 14. Personnel: 11  Play: Double Left 20 Bubble Defense: Nickel, Cover 2   Pre-Snap The Rams offense hasn't scored since the first half, and is in danger of falling out of this game...
  Off to London they go, and with them they bring two teams owned by ridiculously rich guys who want to make more money by showcasing their team to the Brits and trying to sell some more jerseys. In what has become an annual forgettable tradition similar to the Buffalo Bills making the trip to play in front of a half-full stadium in Toronto, this years game in London at...
New England Patriots (4-3) "at" St. Louis Rams (3-4) What's wrong with the Patriots? That's what people have been asking for 2 weeks. Last week, the answer to that question was nothing. Losing in Seattle to a tough Seahawks team is not an embarrassing loss or a huge upset as some were calling it. Green [...]
Rams News

Delivered to your inbox

You'll also receive Yardbarker's daily Top 10, featuring the best sports stories from around the web. Customize your newsletter to get articles on your favorite sports and teams. And the best part? It's free!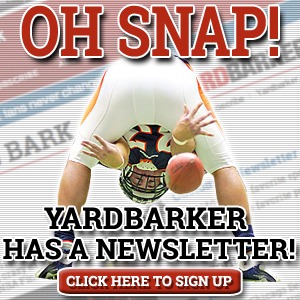 Latest Rumors
Best of Yardbarker

Today's Best Stuff

For Bloggers

Join the Yardbarker Network for more promotion, traffic, and money.

Company Info

Help

What is Yardbarker?

Yardbarker is the largest network of sports blogs and pro athlete blogs on the web. This site is the hub of the Yardbarker Network, where our editors and algorithms curate the best sports content from our network and beyond.