Posted April 24, 2012 on AP on Fox
PLAYERS:
Jerry Reese
,
Kenny Phillips
,
Terrell Thomas
,
Jonathan Goff
,
Eli Manning
,
Philip Rivers
,
Jason Pierre-Paul
,
Hakeem Nicks
,
Victor Cruz
,
Domenik Hixon
,
Ahmad Bradshaw
,
Jake Ballard
,
Travis Beckum
,
Martellus Bennett
,
Bear Pascoe
,
Coby Fleener
,
Chase Blackburn
,
Keith Rivers
,
Justin Tuck
,
Osi Umenyiora
,
Linval Joseph
,
Chris Canty
,
Marvin Austin
,
Dave Tollefson
,
Kareem McKenzie
,
James Brewer
TEAMS:
New York Giants
,
San Diego Chargers
,
Oakland Raiders
,
Stanford Cardinal
Jerry Reese and the New York Giants are used to waiting in the first round of the NFL Draft. It's the price of success, and the Giants and their general manager are willing to deal with it, especially with two Super Bowl titles in hand over the past five seasons. The only difference this time might be when the Giants make their pick. The draft doesn't kick off until 8 p.m. on Thursday, so the Giants might have to wait until the wee hours to make the 32nd and final choice of the opening round. But it'll be worth sticking around for. After all, the champions have obvious needs at receiver, tight end and running back. Whether they address those needs, of course, is uncertain. Reese, after all, believes in taking talent, regardless of position. "You just wait and see if somebody is going to fall to you or if there is somebody you may be able to move up for, that you're in love with," Reese said. "It's always a good problem to have when you're picking 32." The last time the Giants were at the bottom of the first-round pile, they cleaned up. They grabbed safety Kenny Phillips with the 31st pick overall in 2008, after New England forfeited its first-round choice because of "Spygate." And then, New York added cornerback Terrell Thomas in the second round, and receiver and recent Super Bowl hero Mario Manningham as well as linebackers Bryan Kehl and Jonathan Goff the next two rounds. Not bad. "We never try to reach in the draft," Reese said. "We're conscious of what we think our needs are, but we try to pick the best player in the draft. We do try to fill holes in free agency when we get an opportunity to do that, but we never say let's get a certain position in the draft. "We just try to pick the best player." The Giants have had a fair amount of success in the draft despite having only one Top 5 pick in the last eight years. That was 2004, when then-general manager Ernie Accorsi engineered the draft-day trade in which New York acquired the rights to eventual two-time Super Bowl MVP Eli Manning from San Diego for Philip Rivers and, among other things, the Giants' first-round draft pick the following season. Since 2006, the Giants have not had a first-round draft pick higher than No. 15. That was defensive end Jason Pierre-Paul in 2010, and he earned All Pro and Pro Bowl honors this past season. Who the Giants take this year remains to be seen. But champions or no, there are needs. Manningham, whose spectacular sideline catch ignited the game-winning drive in the 21-17 win over the Patriots in the Super Bowl, signed with San Francisco as a free agent. Hakeem Nicks, the 29th choice in the 2009 draft, and free-agent super find Victor Cruz are back and Domenik Hixon is returning from knee surgery. But a good, young receiver would help the offense and this is a deep position in this draft. New York also lost bruising running back Brandon Jacobs - the 110th pick in 2005- to San Francisco, so a backup for Ahmad Bradshaw is also needed. If there is a desperate need, though, it might be at tight need. Starter Jake Ballard and backup Travis Beckum both suffered major knee injuries in the Super Bowl. Ballard does not expect to be ready until the middle of the season, while Beckum seemingly is ahead of schedule. New York signed former Cowboys tight end Martellus Bennett and has veteran Bear Pascoe returning. If the Giants look to bolster that position, though, Coby Fleener of Stanford appears to be the best on the board. Goff, who missed last season with a knee injury, is returning this season and Reese solidified the linebacking corps by re-signing Chase Blackburn. He also acquired oft-injured Keith Rivers from Cincinnati for a fifth-round draft pick. The Giants usually try to stockpile defensive linemen, where possible, and the difference in the Super Bowl was Manning and the defensive line. Pierre-Paul and Justin Tuck are cornerstones of a line that also features veteran Osi Umenyiora, who has a year left on his contract. Linval Joseph and Chris Canty are strong on the inside and the team still doesn't know what it has in Marvin Austin, the 2011 second-round choice who missed last season with a torn pectoral muscle. Still, don't be surprised if the Giants take another pass-rushing lineman after losing veteran Dave Tollefson to free agency. At some point, New York also will grab an offensive tackle. Veteran starter Kareem McKenzie remains a free agent. The Giants drafted James Brewer in the fourth round, but he did not play a down.
Original Story:
http://msn.foxsports.com/nfl/story/Gi...
THE BACKYARD
BEST OF MAXIM
RELATED ARTICLES
Eli Manning is obviously feeling a certain kind of way in regards to all of the hype surrounding the "other" QBs in his city. Manning participated at an event at his former college Ole Miss and sarcastically poked fun at the consistent chatter about the New York Jets Tim Tebow and Mark Sanchez. Please click the link below to read the rest of this story and watch the video...
According to Mike Florio of ProFootballTalk.com, Alabama cornerback Dre Kirkpatrick is sliding down the first round of tomorrow's draft. Mike Garafolo of the Newark Star-Ledger, confirmed Florio's report and indicated that the Giants believe they have a shot at landing Kirkpatrick. Art Stapleton said that Kirkpatrick has stated that he wouldn't be upset he ended up getting...
According to Mike Garafolo of the Newark Star-Ledger, the New York Giants used one of their pre-draft visits to bring in Clemson tight end Dwayne Allen. This is very interesting, since a lot of mock drafts have the Giants taking Stanford's Coby Fleener in the first round. But the problem with him, is that he's not a good blocker and the Giants covet more polished tight ends...
According to Mike Garafolo of the Newark Star-Ledger, the New York Giants recently brought in Alabama cornerback Dre Kirkpatrick for a pre-draft visit. Kirkpatrick will likely be off the board by the time the Giants are on the clock with the 32nd pick, but you never know. Prince Amukamara fell to them during last year's draft, and the same could happen this season. Even though...
Defensive end Osi Umenyiora believes the New York Giants won't be able to give him the contract he's been looking for.   He thinks that if the Giants are going to let him walk in free agency after this coming season, they may as well trade him now and get something in return. "Would I want to (stay)? I think it would be ideal," said Umenyiora per ESPNNewYork.com. "I think...
I am going to go over some of the teams I think will have an interest in trading for Osi Umenyiora.  As far as value is concerned, Osi holds the Value of a 2nd round pick. However; if a team drafts very high NY might throw in some additional picks to sweeten the pot. Conditional picks are also a strong possibility as I think Osi would be a walk on starter on most of these teams...
How do you honor a former Ole Miss quarterback who went on to win two Super Bowls? You do it in the dorkiest way possible, apparently. Ole Miss has decided to pay tribute to former Rebel and current Super Bowl champion New York Giants QB Eli Manning by lowering the speed limit on Manning Way (named in honor  Eli's dad, Ole Miss legend Archie Manning) from 18 MPH to 10...
Robert Griffin III has been the talk of New York this week as he makes his way around town before Thursday night's 2012 NFL Draft, but the future quarterback of the Washington Redskins might have picked his own words a little better last night. The projected No. 2 pick says the prospect of facing the New York Giants ferocious pass rush of Jason Pierre-Paul, Justin Tuck and Osi...
Eli Manning's tendency to take things nice and easy may be causing some drivers at his alma mater to grit their teeth. Ole Miss has set the speed limit on the road near the school's football stadium at 10 miles per hour, Yahoo Sports reports. Athletic director Ross Bjork tweeted a photo of the new signs. The number "10" was chosen because it is Manning's jersey...
During an interview with NBC Sports Talk, Dallas Cowboys linebacker DeMarcus Ware was asked what the Cowboys need to do in order to win a Super Bowl. I want to caution all Cowboys fans that you may not like what he had to say. "I really don't like to talk about the Giants, but their team camaraderie, where they had the adversity right at the beginning, and then all of a sudden...
Even though the New York Giants are the Super Bowl Champions, that doesn't mean that everything is all roses with them. Defensive end Osi Umenyiora is still as disgruntled as ever when it comes to his standing with the team. He isn't barking at the team for his new contract, but has let it be [...]
Another offseason and once again defensive end Osi Umenyiora is in the news trying to get a new contract with the New York Giants. Umenyiora who is in the last year of his contract has been adamant that the Giants' general manager Jerry Reese promised him a new contract if his performance stayed at a high level.The Giants have refused to budge on a new contract though and Umenyiora...
NFL News

Delivered to your inbox

You'll also receive Yardbarker's daily Top 10, featuring the best sports stories from around the web. Customize your newsletter to get articles on your favorite sports and teams. And the best part? It's free!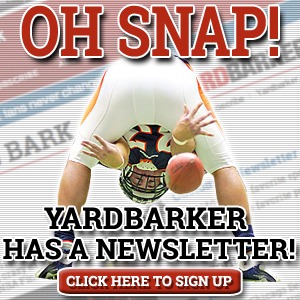 Latest Rumors
The Backyard

Today's Best Stuff

For Bloggers

Join the Yardbarker Network for more promotion, traffic, and money.

Company Info

Help

What is Yardbarker?

Yardbarker is the largest network of sports blogs and pro athlete blogs on the web. This site is the hub of the Yardbarker Network, where our editors and algorithms curate the best sports content from our network and beyond.