Seems like people are still piling on the idea of Josh Freeman losing the starting role this season to rookie quarterback Mike Glennon. According to Gil Alcaraz IV of RantSports.com, Glennon will eventually replace Freeman this season. While it's still a mystery as to when it'll happen, rookie Mike Glennon will be the starting quarterback for the Tampa Bay Buccaneers at some point this season. Why, you ask? Well because Josh Freeman is the current starter, and he will slip up at some point this upcoming season. When that time comes, Buccaneers head coach Greg Schiano won't hesitate to bench the 2009 first-round pick who has yet to live up to his billing. It's fair to say that Freeman is replaceable. However, replacing him with someone that was drafted to act as a backup plan and someone that is of no competition makes no sense to do so in 2013. Now that's not to say the change can not come down the road, but the Glennon pick was not to immediately replace Freeman this year. The Buccaneers will mold the rookie quarterback out of NC State to fit their system. If Freeman is not re-signed after this season then the Bucs have a quarterback in Glennon who learned the offense for an entire year and be ready for next. If Freeman excels and is extended, then they will still have insurance behind him. It's a win-win either way. So while the article on Rant Sports notes Freeman's inaccuracies as the main reason for Glennon to be the starter sometime this season, the article itself contains a couple of its own that it uses to back up it's theory for Glennon to start. For example, Alcaraz writes Freeman took too many 'unnecessary' sacks last season. That may be true, but he was sacked third fewest in the entire league behind an offensive line full of injuries and players being shuffled. He also writes that Freeman fumbled 10 times. Also true. But out of those 10 fumbles he only lost two. That ranks him better than Tony Romo, Aaron Rodgers, and "big money" Joe Flacco, to name a few. He adds by saying that both issues of the sacks and the fumbles are "not the type of numbers you want" in a former first-rounder. Those numbers are not a good foundation to validate a point to replacing a starting quarterback — especially when Glennon's problem in college was fumbling the football. This isn't an attempt to bury the Rant Sports columnist. This isn't even an attempt to not get people to read the article. In fact, I encourage all to go check it out. The problem is that everyone is continuing to find ways to replace Freeman and have nothing — whether it's stats or information — to truly validate their claims. As stated previously, the Bucs are in great position whether Josh Freeman fails or excels. But for 2013, they will ride Freeman through the end of the season as the starting quarterback. The post Glennon will replace Freeman this season appeared first on The Bay Cave.
Original Story:
http://www.thebaycave.com/2013/05/14/...
MORE FROM YARDBARKER
Buccaneers News

Delivered to your inbox

You'll also receive Yardbarker's daily Top 10, featuring the best sports stories from around the web. Customize your newsletter to get articles on your favorite sports and teams. And the best part? It's free!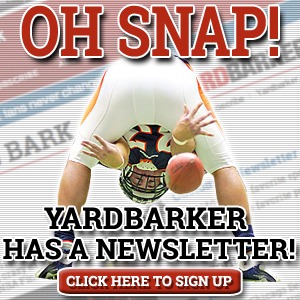 Latest Rumors
Best of Yardbarker

Today's Best Stuff

For Bloggers

Join the Yardbarker Network for more promotion, traffic, and money.

Company Info

Help

What is Yardbarker?

Yardbarker is the largest network of sports blogs and pro athlete blogs on the web. This site is the hub of the Yardbarker Network, where our editors and algorithms curate the best sports content from our network and beyond.