Found August 01, 2012 on Fox Sports Wisconsin:
GREEN BAY, Wis. -- Former Packers defensive lineman Johnny Jolly is apparently quite low on the priority list of NFL commissioner Roger Goodell. With Goodell in Green Bay for the Packers' training camp practice Wednesday morning as part of his brief preseason tour, a potential NFL return for the indefinitely suspended Jolly was a topic that was met with a quick response. "I don't know whether we've received it," Goodell said of Jolly's application for reinstatement. "We can check on it for you." Jolly reportedly applied for reinstatement in June after he was released from prison in May. Jolly's rights are held by the Packers. Jolly was drafted in the sixth round in 2006 by Green Bay and played four seasons before his legal troubles led to an indefinite suspension prior to the 2010 season. Jolly was originally sentenced in November 2011 to six years in prison following his fourth arrest for illegal possession of codeine. However, after serving only six months, Jolly was released by a Texas judge for "shock probation." Jolly still is facing 10 years of probation but is allowed by the legal system to resume his playing career if the NFL gives the green light. But Goodell's statement doesn't leave much room for optimism that Jolly, 29, will be given that chance any time soon. There are also three current Packers players who have gotten in Goodell's crosshairs recently. The NFL suspended outside linebacker Erik Walden for one game due to his arrest over Thanksgiving weekend last year on felony charges of substantial battery. Though charges were later dropped, Walden was still punished by the league. Coach Mike McCarthy briefly visited with Goodell but said Walden's suspension was not brought up. Defensive lineman Anthony Hargrove, one of four players suspended for their roles in the New Orleans Saints' bounty program, will serve an eight-game suspension handed down by the commissioner's office. Defensive end Mike Neal will also miss the first four games of the regular season after being suspended for what the NFL called a violation of league policies on performance-enhancing substances. Neal has stated repeatedly that the only mistake he made was not reporting his medication for attention-deficit disorder to team doctors. Also Wednesday, Goodell addressed ongoing contract negotiations with the NFL Referees Association, which are currently unresolved with preseason games beginning in four days. The previous collective bargaining agreement between the NFL and the Referees Association began in 2006 and expired after the 2011 season. Replacement officials have been in training since June and were on the Packers' practice field Wednesday. But with that backup plan in place, Goodell and the NFL's negotiating team have continued talks with the Referees Association to try to get a new agreement in place before this upcoming season. "We've had discussions recently (and) hopefully we'll have more discussions with them in the near future," Goodell said. "But as you can see, we're preparing for the season and we will have officials on the field. We hope that the officials from last season will be on the field again this year, but to date, we haven't been able to get an agreement that makes sense for both parties." Asked if he had any concerns about using replacement officials, Goodell said, "No." "We're always focused on trying to improve the officiating, and that's one of the issues that is in the discussions about how do we continue to improve officiating," Goodell added. "How do we make it better? "We proposed an idea where we could have another 21 officials so we could help train them and have a deeper pool of officials and be able to potentially move them in and out. And that's something that we're discussing with the officials. But the whole issue is, how do we continue to improve the officials? "Of course, they're interested in compensation and benefits, we understand that. We've made a proposal we think is fair, with an increase. It's 5 to 11 percent per official. We think we've been responsive on that, and hopefully we can get something done." Goodell will travel to Chicago to meet with the Bears on Thursday before heading to the Detroit Lions training camp Friday. Follow Paul Imig on Twitter.
Original Story:
http://www.foxsportswisconsin.com/08/...
THE BACKYARD
BEST OF MAXIM
RELATED ARTICLES
NFL commissioner Roger Goodell says he is comfortable using replacement officials in preseason games. The labor dispute between the NFL and its officials continues with no end in sight.  The NFL believes its proposal is a fair deal, but the officials don't agree.   The Hall of Fame Game is Sunday  and Goodell believes using officials with less experience will not be a safety...
All NFL fans suffered last year for months, crushed by the thought of their season in jeopardy during the raging lockout between the league and the NFLPA. Now, commissioner Roger Goodell finds himself two months into a second lockout in as many seasons. This time, the NFL Referees Association finds itself locked out by the league. While a year ago replacement players would have damaged...
10) Just gets him one step closer to having every decision made by instant replay9) Without playing hardball with the refs, the league is sure to fold from not making enough money8) Knows that if he just holds out long enough, the regular refs won't be able to hold out, seeing as how they are all hooked on meth7) As Bountygate shows, he's just, oh, a wee bit utterly mad with...
NFL commissioner Roger Goodell after being asked if the NFL would consider putting advertisements on jerseys. The NBA announced it would likely do so in the near future, but it doesn't appear the NFL will follow suit, at least for now. 
GREEN BAY, Wis. -- With no end in sight to the labor dispute between the NFL and its officials, commissioner Roger Goodell said Wednesday that he is comfortable with the idea of using replacement officials in preseason games. Goodell said he doesn't think using officials with less experience will pose a safety risk to players. "That's why we've been training them...
Should football -- not the sort played with a round ball on the pitch, but the American brand with tackling, helmets and pads -- be a part of the Olympic Games? Absolutely, says NFL commissioner Roger Goodell, who is actively pushing for the International Olympic Committee to take notice of what arguably is America's favorite sport. "We're already taking steps to gain...
ALLEN PARK, Mich. NFL commissioner Roger Goodell confirmed Thursday that Detroit Lions defensive tackle Nick Fairley could be disciplined before his legal cases have been finalized. Fairley faces a possible suspension similar to teammate Mikel Leshoure, who must sit out the Lions first two games because of his two arrests for marijuana possession. Its quite possible that Fairleys...
The man who without remorse will fine and punish his players for not being 5 minutes early to a team meeting is pleading with the NFL to think about what they are doing with the 4-game suspension that has been handed down to New York Giants' safety Tyler Sash. He wants Roger Goodell and his cohorts in the [...]
Today's practice featured visits from Commissioner Roger Goodell and John Madden. We break down all the action from the practice fields of Olivet Nazarene University.
NFL News

Delivered to your inbox

You'll also receive Yardbarker's daily Top 10, featuring the best sports stories from around the web. Customize your newsletter to get articles on your favorite sports and teams. And the best part? It's free!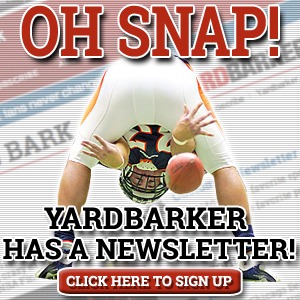 Latest Rumors
The Backyard

Today's Best Stuff

For Bloggers

Join the Yardbarker Network for more promotion, traffic, and money.

Company Info

Help

What is Yardbarker?

Yardbarker is the largest network of sports blogs and pro athlete blogs on the web. This site is the hub of the Yardbarker Network, where our editors and algorithms curate the best sports content from our network and beyond.