Found March 15, 2013 on Helmet and Pads Required:
Super Bowls aren't won in March but if you lived in Denver, or turned on the TV since March 12th, you would think the Denver Broncos have done so with them signing, err, I mean stealing Wes Welker from the team that everyone loves to hate, the New England Patriots. That said, as Wes Welker was being introduced as a member of the Denver Broncos yesterday afternoon. It occurred to me that as big of a weapon he will be for Peyton to have at his disposal. He may, and most likely isn't what Peyton and the Broncos needed to compete for a Championship. In fact, he isn't…… I know it may be hard for some if not most to see or understand what I'm about to say as we live in the "Madden Generation" of sports. Where it's not about if you score, but how fancy you can score because it's more important to be able to make Sports Center's "Top Plays" than just score and do what you can to win the game. #JustSaying That said, signing Wes Welker to a 2 year deal, albeit a very financially sound deal, was a mistake. Yes, I said it, a mistake. The upgrade of Welker over Brandon Stokley looks very good on paper and I'm sure it will on the field too. But was the passing game the reason Denver didn't get past the Baltimore Ravens in the playoffs? Was it the reason why the Broncos won 11 straight after starting the season 2-3? No, it wasn't. Last I checked, the Broncos ranked in the top five in offense and defense. The wide out trio of Eric Decker, Demaryius Thomas and Brandon Stokley were very potent as it was somewhat expected to be as Peyton Manning has the ability to make chicken salad out of chicken "you know what". I'm not saying that wideout trio is trash, but you and I know that Peyton can make it happen with just about anyone. Hence the "Blair White Project" and making a 6th round pick named Pierre Garcon a household name back in Indy a few years ago. Where Denver needed the most help on offense is in the running game, especially since it was an issue going into last season. The guy they should have gone after was none other than former St. Louis Rams, now Atlanta Falcons running back Steven Jackson. Most likely he has another two good years in him and considering the Broncos are really trying to win NOW, he would be a good "rent a player" type fit. Yes, I know the Broncos drafted Ronnie Hillman and have high hopes for him. But as we saw, he has issues in pass protection and can't run between the tackles which is what you need to be able to do to have an effective run game. That's how you move the chains and kill the clock. Remember "Clock Killin" Corey Dillon? New England signed him late in his career and he helped them in a big way to win a Super Bowl? Jackson would solve a lot of issues the Broncos offense had at times this year, including the playoffs, along with saving Peyton's arm strength. In case you didn't know/hear/read, according to reports after the playoff loss to Baltimore. Rumor has it that the reason John Fox didn't try and score with 30 seconds left on the clock and two timeouts in regulation, is because Peyton's arm was fatigued. If true, that may explain the entire 4th quarter as the Broncos couldn't seem to get any rhythm on offense and didn't have an effective run game to kill some clock and force the Ravens to do something they hadn't been able to do all year long. Defend the run. Steven Jackson very well could be a new version of "Clock Killin" Corey as he can run between the tackles and is a much better pass blocker than any running back the Broncos have on their roster. A solid run game is something Peyton needs at this point in his career, due to the unknown of how strong his arm truly is and how long it can hold up. Reducing the amount plays that are rely on his arm to win games is very important, and may be the key to Denver winning a Super Bowl with Peyton at QB. I would think John Elway who he himself didn't win a title until he was in his twilight years and had a great run game behind him, would see this being more of a priority than adding to a passing game that was already great. In fact, back when John was playing, he had one of the most famous lines ever spoken by a QB when he said…. "I don't get paid to make plays on 1st and 2nd down. I get paid to make plays on 3rd down." -John Elway However, it seems as if he thinks its okay to let Peyton make plays on every down instead of providing him with a good running game that can help him make plays. Even the pass happy 2009 New Orleans Saints won a Super Bowl by still being able to run the ball when they needed to. Denver really can't. Since Elway has taken over personnel decisions for the Broncos, he has done a great job of putting a very good team on the field. But if there is one thing you can nitpick at right now. It's his lack of being able to address the run game which is the key to not only getting to, but possibly winning a Super Bowl with a QB that isn't who he used to be physically.
Original Story:
http://feedproxy.google.com/~r/helmet...
THE BACKYARD
BEST OF MAXIM
RELATED ARTICLES
Wes Welker may be the most fortunate wide receiver in the NFL. He spent six seasons in New England with Tom Brady, one of the top quarterbacks in recent history, and now he's heading to Denver to join Peyton Manning and the Denver Broncos. In other words, Wes Welker may be the luckiest wide receiver in the history of the NFL. Still, it's his impact on the Broncos'...
http://boston.cbslocal.com/2013/03/15/felger-mazz-mike-reiss-calls-in-to-challenge-felger/ Mike Felger (Comcast Sports TV Anchor and Radio Host) had allegedly called out Mike Reiss (Patriots Beat Writer for ESPN Boston) for being "in the bag of the team." Felger is referring to Reiss's comment about Wes Welker's agent being partially at fault for the mishap in...
There might have been other factors at play, but on Wednesday, the New England Patriots essentially decided that they'd rather have Danny Amendola on their roster than Wes Welker. The deal Amendola signed with New England pays him a higher annual salary than the one Welker inked with the Denver Broncos, and is nearly as valuable when it comes to guaranteed money.  In fact...
"WHEN YOU LEAVE AMENDOLER NATION, YOU GET THE DAAHHHKKKIEEE TREATMENT!" Some Patriots fans aren't even waiting until their team hosts the Broncos this coming season. They're torching their old Wes Welker jerseys now, while the wound is still fresh and their buzz is still intact. Oh noes, Wes Welker is being stricken from Patriots lore-ah. He must be devastated. [via] The...
John Elway may be the Broncos top executive, but Peyton Manning is the teams general, and with that Elway consulted with and made sure Manning was on board before going all in on Wes Welker according to the Denver Post. "I asked Peyton about it yesterday to make sure he was on board,'' Elway said. Welker will take slot receiver Brandon Stokley's position, so it's definitely...
Like most things in life, J. Cole perfectly explained the Wes Welker trade from the New England Patriots to the Denver Broncos with two lines from his song, "You Got It" off of his immaculate mixtape titled "Friday Nigh Lights." Cole raps, "Well one man's trash is another man's treasure/One man's pain is another man's pleasure." As a Patriots fan, I am still not...
Think Peyton Manning was excited to steal Tom Brady's kicker? Well, he's pretty happy he got his slot receiver this time around, too. Manning was in the improbable role of Patriot-poacher on Wednesday when Wes Welker agreed to a two-year, $12 million deal with the Broncos that few people saw coming. While Denver was reportedly constrained in how much it could offer Welker, with...
So, we all assumed that the Patriots saw that Wes Welker was being offered two years, $12 million by the Broncos and refused to match that low offer. Apparently, that wasn't the case. They didn't care because they had already signed Danny Amendola, this didn't happen yesterday when we heard about it. It happened two days ago? Interesting news: Amendola signed with...
After Wes Welker signed in Denver I started thinking about The Trade again. So much has happened since the start of the 2011 Red Sox season. "The Best Team Ever" as coined by the Boston Herald did little, if anything, to make themselves the best team in Red Sox history. They historically collapsed in September of that season and the following summer things really fell apart:...
According to reports from Mike Reiss of ESPN and Tom Curran of CSNNE.com, the Patriots actually signed St. Louis Rams wide receiver Danny Amendola on Tuesday, one day before Wes Welker signed with the Broncos and before the Pats announced the agreement with Amendola. The Patriots and Amendola agreed to a five year, $31 million deal with $10 guaranteed, supposedly on Wednesday. However...
Tom Brady has won with any wide receiver that the Patriots have given him. With many different playing styles and personalities, Brady has always utilized his resources.Wide receivers like Donte' Stallworth, Deion Branch, Troy Brown, Randy Moss, and Jabar Gaffney are a few that Tom Brady has had to adjust to over the years.Unlike Manning, Brady hasn't had two wide receivers...
Broncos News

Delivered to your inbox

You'll also receive Yardbarker's daily Top 10, featuring the best sports stories from around the web. Customize your newsletter to get articles on your favorite sports and teams. And the best part? It's free!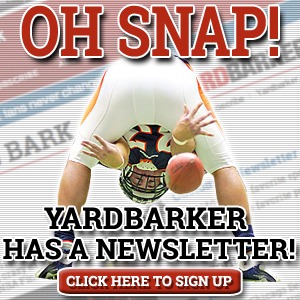 Latest Rumors
The Backyard

Today's Best Stuff

For Bloggers

Join the Yardbarker Network for more promotion, traffic, and money.

Company Info

Help

What is Yardbarker?

Yardbarker is the largest network of sports blogs and pro athlete blogs on the web. This site is the hub of the Yardbarker Network, where our editors and algorithms curate the best sports content from our network and beyond.