Found August 01, 2012 on Sports-Glory:
The Associated Press has released their NFL Pro32 Power Rankings. The AP uses a 12-member panel that votes by giving 32 points for first place and 1 point for 32nd-place. The Green Bay Packers are ranked No. 1 with 374 points followed by the Patriots (369 points) and the defending Super Bowl champ Giants (362 points). RANK TEAM 2011 Record Points 1 Green Bay Packers 15-1 374 -- 2 New England Patriots 13-3 369 -- 3 New York Giants 9-7 362 -- 4 San Francisco 49ers 13-3 336 -- 5 Baltimore Ravens 12-4 315 -- 6 Houston Texans 10-6 314 -- 7 Pittsburgh Steelers 12-4 308 -- 8 Philadelphia Eagles 8-8 290 -- 9 New Orleans Saints 13-3 272 -- 10 Denver Broncos 8-8 271 -- 11 Chicago Bears 8-8 257 -- 11 Detroit Lions 10-6 257 -- 13 Atlanta Falcons 10-6 255 -- 14 Cincinnati Bengals 9-7 218 -- 15 Dallas Cowboys 8-8 217 -- 16 San Diego Chargers 8-8 216 -- 17 New York Jets 8-8 189 -- 18 Kansas City Chiefs 7-9 182 -- 19 Buffalo Bills 6-10 169 -- 20 Carolina Panthers 6-10 167 -- 21 Tennessee Titans 9-7 162 -- 22 Seattle Seahawks 7-9 137 -- 23 Arizona Cardinals 8-8 115 -- 23 Oakland Raiders 8-8 115 -- 25 Washington Redskins 5-11 101 -- 26 Tampa Bay Buccaneers 4-12 100 -- 27 Miami Dolphins 6-10 64 -- 28 St. Louis Rams 2-14 55 -- 29 Minnesota Vikings 3-13 49 -- 30 Cleveland Browns 4-12 42 -- 31 Jacksonville Jaguars 5-11 31 -- 32 Indianapolis Colts 2-14 26 -- Voter Panel
Chris Berman, ESPN
Clifton Brown, Sporting News
Cris Collinsworth, NBC Sports
Rich Gannon, CBS Sports/SiriusXM NFL Radio
Bob Glauber, Newsday
Rick Gosselin, Dallas Morning News
Clark Judge, CBSSports.com
Ira Kaufman, Tampa Tribune
Pat Kirwan, SiriusXM NFL Radio/CBSSports.com
John Lynch, Fox Sports
Alex Marvez, Foxsports.com
Dan Pompei, Chicago Tribune
Would you rank the Green Bay Packers No.1? The Packers went 15-1 last year but lost to the Giants 37-20 in the playoffs. Will Aaron Rodgers have them back in the Super Bowl?
Original Story:
http://sports-glory.com/xn/detail/628...
THE BACKYARD
BEST OF MAXIM
RELATED ARTICLES
GREEN BAY, Wis. -- With the Packers' first preseason game just one week away, quarterback Aaron Rodgers on Thursday held his weekly press conference with the media. The NFL's reigning Most Valuable Player talked about watching players he's gotten to know get cut from the team, which wide receivers have impressed him the most and more.Five question-and-answer highlights...
Aaron Rodgers was sharp in limited work and the NFL's replacement officials weren't shy about making calls - even unpopular ones - in the Green Bay Packers' ''Family Night'' scrimmage on Friday. A crowd of 55,605 took in the sights at Lambeau Field, many of them getting their first look at the stadium's major ongoing construction project in the south...
With constant comparisons to his NFL MVP older brother Aaron Rodgers, Jordan is content to rely on the Vanderbilt name before his own. Rodgers discusses Commodore football and his expectations for the upcoming season.
Aaron Rodgers was incredibly sharp, unofficially going 7-of-9 for 151 yards, in leading a pair of scoring drives during the annual scrimmage, though he did not face the No. 1 defense. However, the backups struggled and there were too many pre-snap penalties.
The NFL quarterback ratings in Madden 13 are out. Green Bay Packer quarterback Aaron Rodgers is No. 1 with a 99 overall. The game also have plenty of love for New York Giants QB Eli Manning coming off a Super Bowl winning season with a 97 overall (4th on the game). Eli Manning's brother, Peyton Manning, is rated at a 93 overall for the Denver Broncos. All of the QBs in the top...
It's almost unfair at times. It's third-and-11. There's nobody open, the 2.5-second clock has gone off and Aaron Rodgers is running out of time. Then — zing! We take two slices out of Wednesday's practice to examine Rodgers' greatness. Plus, the rookie spotlight falls on Jerel Worthy.
Aaron Rodgers of the Green Bay Packers tops Philly Sports World's list of Top NFL QB's for the Fantasy football season in 2012. Philly Sports World proudly presents the first in our 6 part series to get you ready and up-to-date for the 2012 Fantasy Football season.  The key to winning your fantasy football league is to score more points than your opponents.  The base of any...
We have officially posted our rankings of the Top 30 Quarterbacks for fantasy football 2012. No surprise here… but Aaron Rodgers of the Pack starts our rankings at the top of the heap. We could have extended the list past 30, but if you are seriously concerned about the preseason rankings of whoever is going [...]
While the AP Top 25 may help determine the fates of college football's powerhouses, the new AP poll ranking every NFL team each week is likely no more than a conversation starter. That doesn't mean that New England fans who see their Patriots entering the season behind the Packers aren't going to be ticked, though. The AP has released its Pro32 NFL power rankings, and...
Packers News

Delivered to your inbox

You'll also receive Yardbarker's daily Top 10, featuring the best sports stories from around the web. Customize your newsletter to get articles on your favorite sports and teams. And the best part? It's free!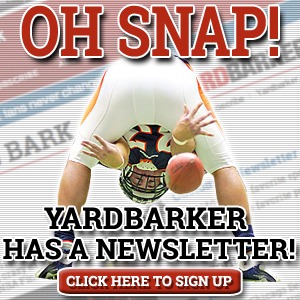 Latest Rumors
Best of Yardbarker

Today's Best Stuff

For Bloggers

Join the Yardbarker Network for more promotion, traffic, and money.

Company Info

Help

What is Yardbarker?

Yardbarker is the largest network of sports blogs and pro athlete blogs on the web. This site is the hub of the Yardbarker Network, where our editors and algorithms curate the best sports content from our network and beyond.