Found May 19, 2012 on Fox Sports Ohio:
PLAYERS:
A.J. Green
,
Andy Dalton
,
Marvin Lewis
,
Carson Palmer
,
BenJarvus Green-Ellis
,
Mohamed Sanu
,
Jordan Shipley
,
Vontaze Burfict
,
Brandon Tate
,
Armon Binns
,
Marvin Jones
,
Devon Still
,
Dre Kirkpatrick
,
Emmanuel Lamur
,
Jourdan Brooks
,
Mike Nugent
,
Cedric Benson
,
Kelly Jennings
,
Leon Hall
,
Brandon Johnson
,
Bo Scaife
,
Bobbie Williams
,
Gibril Wilson
TEAMS:
Cincinnati Bengals
,
Oakland Raiders
With as much as A.J. Green and Andy Dalton accomplished their first year in the NFL, they might be even better in year two. During the Bengals' offseason conditioning program, coaches have been impressed with the strides both players have made not just in grasping the offense but in showing their leadership. "They've grown and experienced a lot. They're not the wide-eyed rookies anymore," head coach Marvin Lewis said. Green remains soft spoken and doesn't say a lot, but other receivers and coaches have said that Green is in incredible shape and has come back even more determined. Last season Green became the first rookie receiver in eight seasons to make the Pro Bowl as he had 65 receptions for 1,057 yards and seven touchdowns. If he can reach 1,000 receiving yards again, Green would become the first receiver since Marques Colston to reach that plateau his first two seasons in the league. Said receivers coach James Urban of Green: "I'm very happy with A.J.'s approach to the offseason. I'm very pleased with what he has done physically. He looks great and he's taken that role as a leader. There's no doubt he has control of that group." Lewis has called the receivers room Green's room and has gone as far as to say it is also his offense. That might be a little bit of a stretch before you consider that the Bengals were 5-2 in games where Green scored a touchdown. For Dalton, his big moment to exhale came at the end of last season. Without any added pressure this offseason, the only things Dalton has had to focus on was honing his footwork and expanding his knowledge of the playbook. Even Lewis admitted that Dalton did not come into the ideal situation last year, saying that the situation had some tension built into it because of Carson Palmer's "retirement." Once Palmer was traded though in Week 7, that tension was replaced by trying to lead the Bengals into the playoffs. "Going to the playoffs is a great accomplishment but he led a team which is bigger," Lewis said. "He's been through a lot, from the perception of being passed over in the draft to having the opportunity to be the starter from the opening day of training camp." During free agency and the draft, the goal has been giving Dalton and Green more tools. They significantly upgraded the guard position, which should help jump-start the running game, and added running back BenJarvus Green-Ellis, who excelled in short-yardage and red-zone situations. The Bengals are hoping to diversify what Green-Ellis can do by putting him in more receiving situations out of the backfield. With teams expected to double-team Green, the third-round selection of Mohamed Sanu and the return of Jordan Shipley, who missed most of last season with a knee injury, that should give Dalton more options. Said Dalton: "I'm excited for everyone to get out there and throwing. We've got a good group. It is going to be a lot of competition out there." NOTES, QUOTESSigning of Burfict considered low risk, high reward --There was a lot made of the Bengals signing of undrafted linebacker Vontaze Burfict, but for a team lacking depth at the position and with three players entering the final year of their contract, it is a low-risk, high-reward move. Burfict's first weekend as a Bengal, which took place at the rookie minicamp, went well for the most part, but coach Marvin Lewis acknowledged that if Burfict is to make the final 53-man roster he is going to have to show something on special teams. "He's a better conditioned athlete now than he was at the Combine and at ASU in March. If he continues to go down that path, he seems bright enough to learn. He seems willing to want to change this image people have of him," Lewis said. "He can be a good football player. Learn to bend his knees, play behind his pads, strike people within the whistles and life is good." Burfict said that he wrote letters to all the league's coaches and general managers but that Lewis was the only one who answered. --Lewis said that if the season began this week that the competition for the second receiver to line up opposite A.J. Green would be between Brandon Tate and Armon Binns. While there were some who were surprised by that statement, if you follow Lewis' past trends it is not that shocking. Unless the rookie is a first-round pick, he is not immediately elevated to first-string status, which takes Mohamed Sanu and Marvin Jones out of the equation. Jordan Shipley also has not been cleared by the team to resume full activities as of yet either. One of the standouts of the rookie minicamp was Sanu, who many predict will be the starting receiver opposite Green when the season opens in Baltimore on Sept. 10. Sanu, who was selected in the third round, wasn't flashy but he was solid in gaining separation inside the numbers. "I was just trying to make the play every time the ball came my way and know my assignments," Sanu said. "The key now is to just continue learning the system and master as much as I can." --With the selection of Devon Still in the second round, many have wondered if he has the versatility to play both defensive end and tackle. Still said that right now he will be playing tackle more as a three-technique player, which means he is staying at tackle for the foreseeable future. QUOTE TO NOTE: "The offense didn't let him rest at all that first practice so they got after him pretty good. I just told him just watching his work through the weekend and how we see a change in some of the things we're asking him to do in his play. What a difference being out there for five practices and all of the repetition makes." - Coach Marvin Lewis on first-round cornerback Dre Kirkpatrick's rookie minicamp. STRATEGY AND PERSONNEL Following the rookie minicamp, the Bengals signed linebacker Emmanuel Lamur and fullback Jourdan Brooks. Neither one are expected to make the roster. The roster currently stands at 87, which includes the team's five unsigned draft picks. MEDICAL WATCH: No updates. FRANCHISE PLAYER: PK Mike Nugent (tendered at 2.654 million; signed April 25). TRANSITION PLAYER: None. UNRESTRICTED FREE AGENTS --RB Cedric Benson has three straight 1,000-yard seasons with the Bengals but offensive coordinator Jay Gruden wants to go more with a running back by committee approach which Benson has balked at. Expect both sides to have a mutual parting of the ways. --CB Kelly Jennings was mainly the corner in nickel situations once Leon Hall went down due to injury. --LB Brandon Johnson has been a key backup at weak-side linebacker and has been one of the top players on special teams. He is looking for a multi-year deal after three straight seasons on one-year contracts. --TE Bo Scaife spent all of last season on injured reserve after injuring his neck. He is not expected to be back. --OG Bobbie Williams went into last season with the team's longest streak of consecutive games but ended up serving four games for a violation of the league's policy on performance enhancing substances then fractured his ankle late in the season and missed the last three games. Going into his 13th year despite being entrenched at right guard, he is not a priority to re-sign. --S Gibril Wilson saw a mix of defensive and special teams snaps after missing 2010 due to a knee injury. Could be back eventually on a one-year deal.
Original Story:
http://www.foxsportsohio.com/05/19/12...
THE BACKYARD
BEST OF MAXIM
RELATED ARTICLES
One of the last vital pieces in the professional jigsaw puzzle that is the life and times of Terrell Owens is gone. According to the NFL, Owens stated that he and Rosenhaus have "parted ways." Should we really have to speculate on how this went down? Rosenhaus is still actively making deals for players such as LeSean McCoy and Yeremiah Bell. Owens appears to be embarking...
Thanks to everyone who has voiced their opinions about how you think the Bengals' roster will shape up over the coming months. The great thing about discussions like this is that anything can still happen for the guys we like, and we can all learn something from each other, so keep those comments coming. While I am not as secure with the backfield as I would like to be, I think...
The Bengals have signed cornerback Dre Kirkpatrick of Alabama, their top pick in the draft. It's the fastest they've gotten a top pick under contract since 2003. Kirkpatrick was the first of Cincinnati's two picks in the opening round, going 17th overall. He's expected to compete for a starting job, teaming with Leon Hall at cornerback. Hall is recovering from a...
Cincinnati Bengals linebacker Dontay Moch reportedly has been suspended by the NFL for using a banned substance. Pending an appeal, Moch will have to sit four games, according to CBSSports.com. Moch was taken in the second round last year after running the fastest 40 time among linebackers and lineman. However, he missed all of his rookie season with a broken metatarsal bone...
Getty Images According to Joe Reedy of the Cincinnati Enquirer, the Bengals have signed rookie cornerback Dre Kirkpatrick. ESPN's Josina Anderson has confirmed that Kirkpatrick will receive $7,840,095 fully guaranteed. With Kirkpatrick being 6'2″, he'll be able to match up against taller receivers and tight ends. In the end, the Bengals have immediately upgraded their secondary...
Cincinnati Bengals linebacker Dontay Moch never saw the field in his rookie year. The 3rd round pick from 2011 sustained a foot injury in training camp last year, preventing him from seeing the field at all. According to Jason La Canfora of the NFL Network, he may not see the field at the start of 2012 either. La Canfora reported via Twitter that Moch has been suspended for four...
Photo Via http://www.facebook.com/bengals The Cincinnati Bengals signed their first round selection (17th overall) in cornerback Dre Kirkpatrick of the University of Alabama Friday. With Kirkpatrick and newly acquired cornerback Terence Newman in the fold, the Bengals secondary will be more solid, as veteran cornerback Leon Hall to lead the way. "It's great for the club and...
The backup quarterback. The captain of the clipboard and backward baseball cap. Every team has one or two. While the other 51 guys on the roster are expected to produce to keep their jobs, everyone hopes that these guys will never have to step onto the field to earn their checks. And like every team, the Bengals will have to make one of three decisions about theirs. 1. Keep Just...
Cornerback Dre Kirkpatrick, the 17th overall pick in the 2012 draft by the Bengals, signed a four-year deal Friday. At 6-2, 186, Kirkpatrick has the size, arm length and experience to become a rookie start in defensive coordinator Mike Zimmer's press-cover scheme. "He has quick feet. He moves his feet laterally pretty well," Zimmer said. He does a great job in bump...
I came across this nice little piece on Terrell Owens from the Bay Area Sports Guy. Owens was interviewed by Brandon Tierney and Eric Davis on 95.7 FM "The Game". It will not air until Monday, but Bay Area Sports Guy received a transcript via email: Would you have been a better fit with the 49ers (in response to the team taking a chance on Randy Moss): Owens: "Would I have...
Coming out of TCU, arm strength was the biggest knock on Andy Dalton and the main reason why he fell to the 2nd round, but he proved as a rookie that he had adequate arm strength and above average everything else, leading the Bengals to the playoffs. However, he is not satisfied. In an attempt [...]
QB Andy Dalton (Cincinnati) I'm expecting a sophomore slump for Andy Dalton. It also doesn't help that he lost Jerome Simpson in free agency. He also finished last season throwing for less than 200 yards in 4 or his last 5. I expect his production to go down across the board in 2012. In 2010, he had 3398 yards, 20 touchdowns, and 13 interceptions. Projection: 3280 passing yards...
NFL News

Delivered to your inbox

You'll also receive Yardbarker's daily Top 10, featuring the best sports stories from around the web. Customize your newsletter to get articles on your favorite sports and teams. And the best part? It's free!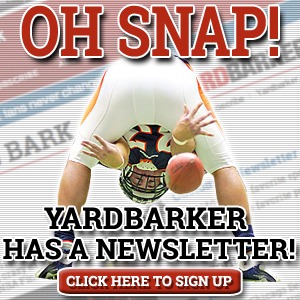 Latest Rumors
The Backyard

Today's Best Stuff

For Bloggers

Join the Yardbarker Network for more promotion, traffic, and money.

Company Info

Help

What is Yardbarker?

Yardbarker is the largest network of sports blogs and pro athlete blogs on the web. This site is the hub of the Yardbarker Network, where our editors and algorithms curate the best sports content from our network and beyond.