Found September 24, 2012 on Fox Sports North:
PLAYERS:
Percy Harvin
,
Bob Sanders
,
Leslie Frazier
,
Mistral Raymond
,
Frank Gore
,
Jamarca Sanford
,
Jared Allen
,
Erin Henderson
,
Christian Ponder
,
Kyle Rudolph
,
Adrian Peterson
TEAMS:
Minnesota Vikings
,
San Francisco 49ers
EDEN PRAIRIE, Minn. Receiver Percy Harvin has seemingly done it all for the Minnesota Vikings this season. Go ahead and add motivator to the list. Harvin leads the NFL in all-purpose yards and his teammates have taken notice of everything he's done this season in helping Minnesota to a 2-1 record after Sunday's 24-13 win against the previously unbeaten San Francisco 49ers. "Percy is the best player in the NFL right now," Greenway said. "I'd like to see anybody challenge that. With the way he's carrying the football and the way he's driving our team along, you're asking him to do a lot of things and he's doing them all really well. He's not complaining. He hasn't said a peep. He just goes to work, practices hard every day. He's phenomenal. After Sunday's game Harvin spoke about how the each of the Vikings' units fed off the energy created by the other in the all-around victory. Greenway was one player who went to Harvin and told the small, but tough receiver that he was supplying the motivation for the defense. "I think for us to thrive off a guy the way he plays and the way he approaches things, he needs to know that," Greenway said. "He needs to know as a group, we're looking to see what he's, we all feed off each other. And if he's going to continue to play that way, he's just going to bring all of our levels up." Harvin has set team records in several categories for the first three games into a season and has been instrumental for Minnesota as a receiver, runner and returner. Heading into Monday night's game between Green Bay and Seattle, Harvin was leading the league with 27 receptions and was seventh with 277 receiving yards. He's added eight carries for 42 yards and has eight kickoff returns for a 30.0-yard average, seventh in the NFL. His 559 total yards leads the league. "I don't think it's a pride thing," Harvin said. "It's just me trying to get my job done. My play will come from a lot of yards after the carry. I know that. So, with that said, I make it my duty to get every yard I can." The impact Harvin is making for the Vikings reminds Greenway of another former teammate. "It takes me back to 2003, Bob Sanders at Iowa, just taught us how to play at another level," Greenway said. "He just did. He played a different speed and he teaches everybody to play a different speed. If you're not willing to play at that speed, then you're not going to make it. I think that's kind of what Percy is that same guy. He just plays at that next level and if we can all just tag along and come with him, we're going to do a lot of good things." Raymond out for several weeks: Coach Leslie Frazier said the team received good news regarding safety Mistral Raymond's ankle injury. Raymond, a starting safety in his second season, was injured at the end of the first quarter Sunday when his foot appeared to get caught in the Metrodome turf after he planted while trying to make a tackle on running back Frank Gore, who had made a cut. Raymond's right leg was immobilized and he was lifted up and taken off on a cart. Frazier said Raymond has a "significant" ankle injury, but tests showed no fracture. He won't need to be placed on the injured reserve list, but he will miss a few weeks while recovering. "He suffered a bone bruise around that ankle," Frazier said. "But the good news is it doesn't look like we're going to have to put him on IR. But he will miss some time for sure as he's in recovery. But no high ankle sprain, just good news all the way around. It looked as if it may have been something that would require surgery. That's not going to be the case." Jamarca Sanford filled in for Raymond on Sunday and had six tackles. Sanford will continue to start while Raymond is out. Defensive end Jared Allen dealt with neck spasms during the game and played through the pain and Frazier said he was doing better on Monday. Linebacker Erin Henderson, who missed Sunday's game with a concussion, still hasn't passed the required tests and Frazier wasn't sure when he would be able to return to practice. "Erin Henderson, we're still kind of in wait-and-see mode, just to see where he is," Frazier said. Frazier said they will also have to see how backup defensive end D'Aundre Reed progresses this week after he was out of Sunday's game because of an injury to his calf. Peterson was open: Quarterback Christian Ponder had two passing touchdowns to tight end Kyle Rudolph on Sunday, with the second touchdown coming on a high degree of difficulty catch by Rudolph, who was blanketed by a safety. Ponder realized while watching film Monday what many saw during the game. Running back Adrian Peterson was all alone in the end zone when Ponder lofted the ball up for Rudolph's tough catch. "Yeah, there was no one there," Ponder said. "You could see him waving his arms on the film. I think if we wouldn't have completed that pass he probably would have been a little upset." Frazier had decided early to go for it on fourth down: The Vikings scored a touchdown on their opening drive of the game with Ponder and Rudolph connecting on a touchdown on fourth down from the 1-yard line. A day later, Frazier confirmed there was little hesitation to go for it once the fourth-down play came up. "Well, I thought about it during the course of the series," Frazier said. "We had put a pretty good drive together. Once I think we had got down to second-and-three or four, I was thinking ahead. If we get to fourth-and-1 or fourth-and-2, what do we want to do? When we got stuffed on third down, right before third down, I told (offensive coordinator Bill Musgrave) we're in four-down territory. We're going to go for it unless we get backed, something happens where we get pushed back to the five or six, then we probably wouldn't. But I wanted him to be thinking ahead as well, putting together a fourth-down play if we were on the 1- or 2-yard line." Follow Brian Hall on Twitter.
Original Story:
http://www.foxsportsnorth.com/09/24/1...
THE BACKYARD
BEST OF MAXIM
RELATED ARTICLES
The Minnesota Vikings came out swinging as they shocked the sporting world by defeating the top power ranked team in the San Francisco 49ers, 24-13 at Mall of America Field at the Hubert H. Humphrey Dome.  Christian Ponder passed 21-35 for 198 yards and three total touchdowns, including a 23 yard rushing touchdown. The Vikings came out gunning as they drove down the field for...
Kicker Blair Walsh has made quite a splash so far in his rookie season. He set a record this week when he hit his third straight game with a fifty plus yard field goal. Walsh is not concerned  with the length of the kicks. He just goes out and hits them. "No, I don't care if it's 55 or 20 yards," he said. "I would rather score touchdowns and be kicking extra points and...
Christian Ponder, who helped lead the Minnesota Vikings to a 24-13 victory over the San Francisco 49ers yesterday, has finally started to get recognition for his strong play.  Ponder was 21-35 for 198 yards with two passing touchdowns and a rushing touchdown, but maybe more importantly, held a 90 QBR for the game, the highest in his career. While this game, by passer rating...
Christian Ponder and Kyle Rudolph became fast friends after being drafted by the Minnesota Vikings a year ago. The relationship is starting to pay dividends on the field. Three of Ponder's four touchdown passes this season have gone to the big tight end, including two in a surprising victory over the San Francisco 49ers on Sunday. On one of them, Ponder never saw a wide open...
EDEN PRAIRIE, Minn. Minnesota Vikings quarterback Christian Ponder says he hasn't been keeping up with what's going on with the NFC North yet this season, but he's well aware of the recent past. Heading into this week's first divisional game at Detroit, Minnesota has lost 11 straight games within the NFC North, including going 0-6 in 2011. The last game the Vikings...
The Vikings find themselves in a first place tie with the Chicago Bears after three weeks of football, and it's to everyone's surprise.It is a role reversal from last year-- the two former playoff teams now at the bottom and the two teams who missed the cut at the top. While everyone can argue the Packers should also be 2-1, they are not, and a game like the one we all watched...
It was another wild and crazy week in the NFC North this week, and even with the Packers playing on Monday night there is plenty to talk about from the Sunday games. Let's take a look at the top five story lines from Sunday afternoon!The Minnesota Vikings rise to the top and knock off the San Francisco 49ersThe San Francisco 49ers are widely regarded as one of the elite teams...
After a week of team meetings and speeches, the Minnesota Vikings had the chance to prove things would be different this season with the San Francisco 49ers coming to the Metrodome. Minnesota challenged itself, knowing it would be underdogs against undefeated San Francisco. The Vikings then showed the potential they have to beat any team by winning 24-13 on Sunday. "It just...
Alright y'all, who's excited for this mouth bashing today?! The San Francisco 49ers are coming to town to face the Minnesota Vikings, and if the past two weeks with how the 49ers have handled the rest of the NFC North are any indication, we're in for losing a couple teeth and browning our pants today. Excited?! Me neither! That's why I won't actually be...
((HT: KSTP-TV)) Joe Senser decided that he was "going to level the playing field today." In a post-hearing press conference, former Minnesota Vikings tight end Joe Senser went after the prosecution for (what he feels) is them lying about the state of his wife the night she was involved in the hit-and-run accident that killed sous chef Anousone Phanthavong in August...
Minnesota Vikings 24, San Francisco 49ers 13In what was the most shocking upset of the day, Christian Ponder (231 total yards, 3 TDs) led the Vikings to an improbable victory over the 49ers, who most viewed as the top team at least in the NFC, if not the whole NFL.  This wasn't some "barely win" either, this was a domination for most of the game.Alex Smith (230 total yards...
NFL News

Delivered to your inbox

You'll also receive Yardbarker's daily Top 10, featuring the best sports stories from around the web. Customize your newsletter to get articles on your favorite sports and teams. And the best part? It's free!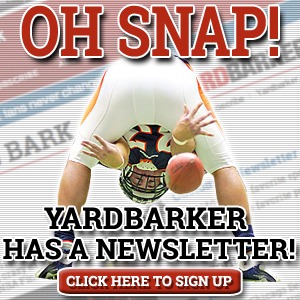 Latest Rumors
The Backyard

Today's Best Stuff

For Bloggers

Join the Yardbarker Network for more promotion, traffic, and money.

Company Info

Help

What is Yardbarker?

Yardbarker is the largest network of sports blogs and pro athlete blogs on the web. This site is the hub of the Yardbarker Network, where our editors and algorithms curate the best sports content from our network and beyond.