From Sportress of Blogitude:
When the name of New England Patriots tight end Rob Gronkowski comes to mind, usually the thoughts that follow involve hedonism, debauchery and all kinds of assorted tomfoolery and skullduggery. And the latest stories to emerge from his wild and crazy antics following the ESPYs last week only add to the ever-evolving Gronk Legend.
One such act of depravity involved he and his brothers engaging in the act of "crossing swords," or "crossys" as Gronkowski termed it, which involves a group of men simultaneously urinating and while doing so, crossing their streams. Yep, there you go. A regular old pee party. Obviously, Gronk did not heed Egon Spengler's warning about engaging in such a risky act in Ghostbusters, although the outcome of performing such a deed with a proton pack and your manhood are profoundly different. Not that crossing urine streams is a good idea in any situation.
In this instance of urine-based madness, the participants were Gronk and his brothers. The setting? A crowded bathroom in a Los Angeles bar.
This story and more follow.
Via a recent edition of a Bill Simmons' "The B.S. Report" podcast, as transcribed by Business Insider:
1. "Gronkowski sprints down past all the people going down the [escalator], and sprints up the down [escalator]. Then gets to the bottom and raises his hands and goes, 'Yeah!'"

2. "He's in the elevator and there's probably like 10 people in the elevator including one of my friends. He says to the doorman — [he's going to] this party that's going to be on the roof somewhere in LA, it's outdoors — so he says to the elevator person, 'At this party, can we party with out shirts off?' And the guy is like, 'Ah, yeah I think so.' And Gronkowski turns to his buddy and goes, 'Yeah!' and high-fives him."

3. "Gronkowski is in line for the bathroom. There's a line, two urinals and a stall. They're all waiting. Gronkowski is with his two brothers, who just looked awesome. He goes into the stall and he turns around to one of his brothers and says, 'Crossys?' The second brother goes in, the third brother goes in, and then there's some guy who's waiting — some small guy — and they say, 'Let's get him too.' They grab this guy and pull him in, and they all pee in the bathroom together, in the stall."
Wow. What a wild and crazy guy. Good thing Patriots owner Bob Kraft has asked Gronkowski to tone done his wacky antics. The only way to go after a pee pee party is further down into the murky depths of depravity.
Also from Sportress of Blogitude
Video: Miss South Carolina Teen Tebows after winning title
Kobe razzes President Obama for missed kiss
Photo: Banner warns Penn State about Joe Paterno statue
Photo Credit: Kirby Lee/Image of Sport-US PRESSWIRE
MORE FROM YARDBARKER
Patriots News

Delivered to your inbox

You'll also receive Yardbarker's daily Top 10, featuring the best sports stories from around the web. Customize your newsletter to get articles on your favorite sports and teams. And the best part? It's free!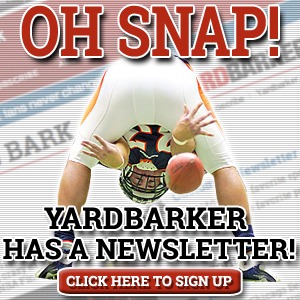 Latest Rumors
Best of Yardbarker

Today's Best Stuff

For Bloggers

Join the Yardbarker Network for more promotion, traffic, and money.

Company Info

Help

What is Yardbarker?

Yardbarker is the largest network of sports blogs and pro athlete blogs on the web. This site is the hub of the Yardbarker Network, where our editors and algorithms curate the best sports content from our network and beyond.