(Image via washingtonpost.com) The Philadelphia Eagles defeated the Washington Redskins 33-27 on Monday Night Football and I paid a whole lot of attention this time guys. I swear. Although I may have blinked and missed a few plays (to use the same hackneyed analogy that half the sports writers out there will be using this week), I paid pretty close attention. So, I've got that going on for me. Offense: Oh man was that Chip Kelly magic on display! The Eagles offense moved like The Flash trying to get to the bathroom after a lunchtime Mexican trip. The Redskins clearly had trouble keeping up and even resorted to soccer style flopping to change the pace of the game and catch a breather. No style points though, the only time flopping is fun is when a guy falls back like a sniper fired at him and no one in his vicinity could have possibly caused that to happen. I'd say that the Redskins are better than that, but they have the most derogatory name in sports. LeSean McCoy juked everyone out of their pants on his way to racking up the most yards of anyone in the NFL in week one. Don't hurt 'em Shady! The other Consonent e Sean, Mr. Jackson if you're nasty, had a tremendous game himself. Djaccccc pulled in 7 catches for 104 yards and nearly got into a fight with DeAngelo Hall. Sheesh! Does Jason Peters train in the offseason by lifting anchors like those guys in strong man competitions? Michael Vick falls asleep to Starship Troopers every night, hence his dedication to "never give up, never surrender." I think they'd consider an exception for obvious throw the ball away situations Mike. Defense: The defense looked monumentally better than I expected. They weren't a gaping black hole of talent. They were not an offensive buffet. In fact, they were downright impressive in the first half. Trent Cole looks like a man reborn. Some might say it's the challenge of a new position and proving that he's still got "it." I say it's the lack of Jason Babin. Never forget. Cary Williams can fight anyone he wants if he is going to play like that. He can assault Swoop like Ace Ventura. He can give Jeffery Lurie swirlies. Whatever it takes, Cary, whatever it takes… Mychal Kendricks had an impressive game, leading the team in tackles with 10. I can't even think of anything to joke about, the guy just had a darn good game. Patrick Chung is still standing in the end zone waiting for RGIII's pass. Maybe someone told him there was hot lava if he walked beyond a certain point. Did ESPN order that prevent defense for most of the second half of the game to pad RGIII's stats and make things interesting? Speaking of Robert Griffin, he was amazingly bad in the first half. It was clear that the lack of practice had effected him. He also wasn't planting his feet properly on his throws, indicating that he was still hurting. Why didn't Shanahan start Kirk Cousins? Did he promise Griffin's parents that he'd start in the game? Never change Shanny. The Eagles take on the San Diego Chargers this Sunday for their home opener and have a very good chance of starting the season off 2-0. Mostly because Phillip Rivers isn't always quite there. Chip Kelly has undoubtedly learned his lesson and the offense won't relent until they've reached triple digits. My prediction? Iggles 105, Chargers 3.   The post Half-Assessment: Week 1 Eagles-Redskins appeared first on Eagles Faithful.
Original Story:
http://eaglesfaithful.com/half-assess...
MORE FROM YARDBARKER
NFL News

Delivered to your inbox

You'll also receive Yardbarker's daily Top 10, featuring the best sports stories from around the web. Customize your newsletter to get articles on your favorite sports and teams. And the best part? It's free!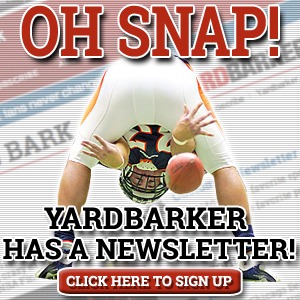 Latest Rumors
Best of Yardbarker

Today's Best Stuff

For Bloggers

Join the Yardbarker Network for more promotion, traffic, and money.

Company Info

Help

What is Yardbarker?

Yardbarker is the largest network of sports blogs and pro athlete blogs on the web. This site is the hub of the Yardbarker Network, where our editors and algorithms curate the best sports content from our network and beyond.