Found May 05, 2013 on Blog So Hard Sports:
I really don't like doing draft grades this early but I think this draft class for the Washington Redskins is pretty special, so I figured I would get an early jump on it. With the Redskins going into the 2013 NFL draft without a 1st round pick due to trading up for Robert Griffin III last year, the Skins needed secondary help BAD after being in the bottom of the NFL in pass defense and the team knew what they had to address in the draft. We all know how draft grades go, you grade the team on their overall draft and give them either a number out of 10 or A-F, but I'm going to go through every pick and give them individual grades instead. Feel free to drop your individual grades in the comments section below:   Round 2: David Amerson (CB) NC State The first thing I noticed off the bat about Amerson is that he is a big kid. Amerson is 6'2…the Skins are not known for taking big corners. I feel that they might have saw what a team like the Seahawks did in taking Sherman and Browner and wanted to replicate the success their defense had. Amerson had a stellar 2011 season in playing all 13 games with 13 (that's right I said 13!) interceptions and 2 touchdowns, and had another nice year in 2012 also playing in all 13 games recording 5 interceptions. The Good: Amerson is a very physical corner with the ability to make amazing plays on the ball. David is very fast running a 4.4 40 at his pro day, giving the Redskins an easy first choice for an opening day starter. The Bad:  It seems that Amerson is notvery good with double moves, being burned more than once on these stop and go plays. Amerson also likes to peek in the backfield and take his eyes off of the WR at the worst times. Overall Grade:  B (Amerson could be the Boom or Bust pick for the Redskins)   Round 3: Jordan Reed (TE) Florida I really like this pick a lot. Some people didn't understand the pick but if you look at the Skins offense theyreally use the position a lot and could use another weapon. Reed is VERY athletic and will cause a mismatch when linebackers are put on him in the open field. A converted QB, Reed has made it known that he would do whatever it takes to win. Reed had a pretty good 2012 with Florida chalking up 559 yards on 45 receptions and 3 touchdowns. The Good: Reed will be joining a crowded house with Fred Davis, Logan Paulsen and Niles Paul but I think he could challenge Paulsen for his number 2 position on the team. Jordan is 6'2 and 236 pounds and can snatch a ball out of the air like it had no business being up there in the first place. The Bad: Jordan had a known run in with his coach, being benched for "bad attitude" and not being able to be "coachable". Hopefully that was only one time and will not happen again. Overall Grade: C   Round 4: Phillip Thomas (S) Fresno State I wanted the Redskins to take Thomas after the first time I watched him play! BALL HAWK! He has the ability to locate the ball like no other. At one timeThomas was projected as a first round pick but for some reason fell all the way to the 4th round where we gladly scooped him up."I knew that we needed a safety. I've been a Redskins fan my whole life," said Thomas on a media call. He is a raw talent that looks to start right away barring injury. Thomas had an AMAZING 2012 season with Fresno, Totaling 66 tackles with 4 sacks and 8 interceptions to go along with 3 touchdowns. The Good: Thomas can play both safety positions and play them both well. Thomas is no stranger to playing center field or playing in the box. He is a turnover machine and looks to continue with that with the Redskins. The Bad: Open field tackling is something that he himself has said that he has to work on at the next level…while not the greatest he still can square up and hit you!! Overall Grade: A+ (great value on top of addressing a huge team need)   Round 5: Chris Thompson (RB) Florida State Another pick that had the Redskins fans scratching their heads, but not me. I know that Roy Helu has a lingering injury that just won't heal and the fact that Evan Royster hasn't showed the Skins enough to be guaranteed a roster spot for next year lead to this pick. But even still, Thompson is no sure fire pick and comes along with injury question marks. Thompson had a pretty good career as a Seminole putting up good numbers: 276 attempts and 1,736 yard rushing with 14 TD's. The Good: if Thompson makes the squad I could see him being a very nice change-of-pace back to accompany Morris in the back field. Chris has great speed and can stop on a dime. Thompson can also return kicks and punts next season which is always a plus. The Bad: Will that back and ankle injury come back to haunt him? Overall Grade: C+   Round 5: Brandon Jenkins (LB/DE) Florida State With two Seminoles taken in the 5th round, Jenkins will be joining his college teammate Chris Thompson. A value pick for the Redskins, Jenkins is a guy that can take over a game if he very well wants to. Jenkins had a wonderful 2012 season with 41 tackles and 8 sacks, but a broken ankle derailed his 2013 season. The Good: Thompson has awesome range and is very instinctive. He will most likely make the team in the absence of Lorenzo Alexander. The Bad: The only thing that can slow Jenkins down is injuries….otherwise, I really like this pick! Overall Grade: B-   Round 6: Bacarri Rambo (S) Georgia RAMBO!! I was super excited about this pick when I found out that the Skins pulled his card. One of the better safeties in the draft, Rambo is a rangy and ball hawking safety that demands respect by opposing offenses. Not only does the man have the BEST name in the NFL, he might be one of the steals of the draft. Rambo has the ability to start right away but will probably share time with Brandon Merriweather, assuming he can return fully healthy from a torn ACL. Rambo had a solid 2012 tallying 34 tackles and reeling in 8 interceptions. The Good: HIS NAME!…Next is the ball hawking instinct and the ability to strip the ball from a WR or a RB at anytime! Rambo has a very high ceiling and could have numbers that blow your mind in the near future. The Bad:  2 drug suspensions, he'll need to steer clear of Fred Davis and Trent Williams. Overall Grade: B   Round 7: Jawan Jamison (RB) Rutgers A great kid with a wonderful story, Jamison came out in the draft as a sophomore because he wanted to do anything to help his Mother with her breast cancer treatments and to support her through it. Jamison is a bowling ball, low to the ground like a Ray Rice and the escape ability of a Maruice Jones-Drew. In two years Jawan tallied 1,972 yards and 13 touchdowns with the Scarlet Kinghts. The Good: Another change-of-pace back for the Redskins that could also help out in the return game. The Bad:I honestly couldn't think or find anything bad about this kid. He's a well rounded runner that has supreme pass blocking skills. Overall Grade: C+ Related posts: Welcome To DC: Redskins Draft Class Video Draft Targets For The Washington Redskins 2013 Selections Safety Phillip Thomas is a Perfect Fit for the Washington Redskins Defensive Scheme
Original Story:
http://blogsohardsports.com/redskins/...
THE BACKYARD
BEST OF MAXIM
RELATED ARTICLES
Redskins rookie camp started on Friday and the first line of business was the task of assigning the new players numbers to wear. Seventh-round draft pick Jawan Jamison, a runningback from Rutgers, was assigned number 47. As most already know 47 has been assigned to veteran fan-favorite Chris Cooley since 2004. Cooley was cut last...
Bacarri Rambo was drafted in the sixth round by the Washington Redskins after a solid career at Georgia that would have made most think he would be selected sooner. A couple suspensions during his career with the Georgia, at least one for a failed drug test, likely caused the safety's stock to slip. "All that's...
According to John Keim of the Washington Examiner, there's still a chance the Redskins could end up signing veteran cornerback Quentin Jammer. Though it would seem unlikely that Quentin Jammer would sign with the Redskins now that they selected another corner, he's not completely off the radar. If the Redskins remain interested – still an if – any dialogue would start...
Washington Redskins second round draft pick David Amerson didn't have to wait long to see his face on a football card. Panini America released the 6-1, 205 pound cornerbacks first NFL trading card this week. In his last two years at NC State, Amerson notched 18 interceptions and an FBS-high 13 interceptions in 2011. Let's...
Since Dan Snyder bought the Redskins in 1999, there have been many solid draft selections to go along with the questionable ones as well. Since Mike Shanahan and Bruce Allen have taken over draft duties, Skins fans have had sort of a relief in trusting the guys in charge as opposed to most of the Vinny Cerrato era. Regardless of who has been making the selections, there has been...
Now that the 2013 NFL Draft is over it is time to look at what the Redskins have on their roster and who might make the 53 man roster, who will be kept for the practice squad and who will go on the physically unable to perform list (PUP). These are my predictions who will make the final rosters: OFFENSE: QB: Robert Griffin III, Kirk Cousins, Pat White RB: Alfred Morris, Roy Helu...
Washington Redskins quarterback Robert Griffin III is literally all over the place. Just last week he was at the White House Correspondents dinner after party, and this weekend he is at the Kentucky Derby. This kid knows how to enjoy life, and might I add, look good while doing it. In an interview with NBC...
Linebacker Brian Orakpo told the Washington Examiner that he's not concerned with his contract situation with the Redskins. Orakpo is entering the final year of his rookie contract and likely won't receiver an extension until after this coming season.  He'll need to prove to the Redskins that he can stay healthy after suffering season ending pectoral injuries for the past...
The practices sessions listed below are open to the public free of charge; practice dates are subject to change without notice. Practice times will be released closer to camp. Two practice sessions are tentatively scheduled for each day of training camp. The following practice dates are expected to be open to the public: Thursday, JulyRead More...
John Keim of the Washington Examiner reports Monday that Washington Redskins linebacker Brian Orakpo, speaking from the golf course for his charity event, claims the Redskins have yet to discuss an extension with the former first-round pick. Orakpo is entering the final season of his rookie deal. CBS Sports' Jason La Canfora reported back in February the Redskins were determined...
Back in the 1980's and 90's there were protests from Native American groups surrounding arenas and stadium sites of championship finals and series when teams like the Washington Redskins were playing. These groups were protesting the use of the names by professional and collegiate teams using names of Native American or Indian nicknames like Redskins, Braves, Indians, Seminoles...
Bacarri Rambo has one of the coolest names in the NFL Draft, and the talent to match (Credit) Last season, the NFC East was a hotly contested division. The top three teams finished .500 or better and within two games of each other. The division came down to a Week 17 winner-take-all match up between the Washington Redskins and the Dallas Cowboys, with the Redskins claiming the crown...
Redskins News

Delivered to your inbox

You'll also receive Yardbarker's daily Top 10, featuring the best sports stories from around the web. Customize your newsletter to get articles on your favorite sports and teams. And the best part? It's free!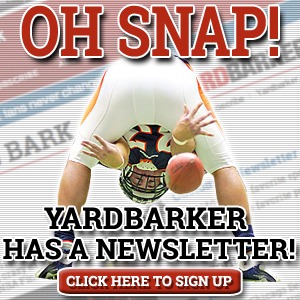 Latest Rumors
The Backyard

Today's Best Stuff

For Bloggers

Join the Yardbarker Network for more promotion, traffic, and money.

Company Info

Help

What is Yardbarker?

Yardbarker is the largest network of sports blogs and pro athlete blogs on the web. This site is the hub of the Yardbarker Network, where our editors and algorithms curate the best sports content from our network and beyond.