Found August 07, 2012 on New York Sports-Kings:
Mark Sanchez (Cummings/AP) is he is right leader for the Jets? Another fight, you're kidding right? Sadly, no, the New York Jets once again lost their cool and another fight happened. Even though head coach Rex Ryan had a forceful speech with them. Is this a reason to be concerned with? Or, just a bunch of men ready to hit someone else? It may be both reasons, but the fact is the need to control their tempers the best they can. Maybe it starts with the leadership on the team, let's look at the captains. Oh wait, Rex Ryan has decided not to name captains. Usually leaders of the team will just step up. Which may have happened, Mark Sanchez has tried to step up and lead this team. However, is following him? Looking at the situation yesterday, a 20-man brawl happened, and if you watch it you see Tim Tebow throwing people off of other people and trying to keep the peace. Meanwhile, you have Sanchez has far as away as possible, but when someone puts a microphone in front of him he wants to be a leader. A leader is defined in adversity, and not when he wants to be. Another issue that happens to many teams is they get tired of hearing the same thing from the coaching staff, maybe that's the case. Look at the last few years and who the Jets have brought in. Have they brought in any true leaders? Santonio Holmes isn't much of a leader; Antonio Cromartie likes to run his mouth. Tebow would be a great leader, but let's be honest since when is a backup quarterback a team leader? The Jets better figure this out fast. They went from a dominate defense to the "joke" of the league within a year. Maybe the Tebow circus has something to do with it, but the last few days the fighting has made sure everyone has noticed them and not in a positive way. Some players think this a good thing; it shows that they are willing to fight anyone. Even though he has been sidelined with an injury Santonio Holmes thinks so "They're taking their frustrations a little bit out on each other, which shows what happens in training camp around this time all around the NFL. You look at other teams, I'm pretty sure some guys have gotten into fights throughout their practice days. The same thing here with us guys. We're ready to hit somebody else. We've been doing it long enough with ourselves, and Cincinnati can't come fast enough for these guys right now." Homes is most likely out for the first preseason game. Either way you look at it, maybe it's not the players fault, but the situation. After all the media has made huge deals out of nothing so far this year. For more New York, sports follow us on twitter. @NYsportskings -Site manager-Chris Batchelder @NYsportschris   The post Has Rex Ryan lost Control in New York? appeared first on New York Sports Kings.
Original Story:
http://nysportskings.com/has-rex-ryan...
THE BACKYARD
BEST OF MAXIM
RELATED ARTICLES
The Rex Ryan show is now in its fourth year of existence down in New York, and by this point one thing is clear: Ryan, and by extension the Jets teams that he coaches, absolutely revel in controversy. After making it to the AFC championship game in his first two season at the helm of the team, it's easy to make the argument that it's been a successful strategy, foot fetishes...
CORTLAND, N.Y. -- Rex Ryan ordered his players to cut out all the nonsense. When the New York Jets ignored their coach, it was time to run. And run some more. A day after a 20-player throwdown highlighted a chippy practice, Ryan made his players run a series of sprints Tuesday as punishment for a few minor scuffles on the field. "I think, sometimes, you're trying to be physical...
A day after a 20-player brawl highlighted a chippy practice, Jets coach Rex Ryan had his players run a series of sprints Tuesday as punishment for a few minor scuffles on the field. With most of the media off to the side speaking with team owner Woody Johnson, a few players got into it and Ryan immediately called the team together. He shouted at his players and then had them run...
The Jets spent five minutes running sprints under vociferous orders from Rex Ryan after the third training camp scuffle in two days cause the coach to lose his cool. Ryan stopped practice Tuesday after the second altercation in a span of less than 20 minutes. He ordered the entire roster to run sprints and after about five minutes, pulled the team into a circle and gave a red-faced...
Head coach of the New York Jets Rex Ryan is claiming that the Jets top wide receiver Santonio Holmes may have broken his ribs in Saturday night's Green and White scrimmage. According to Newark Star-Ledger, Holmes walked off the field with a trainer, as he wasn't wearing his jersey after the scrimmage. Ryan says that Homes was hit in the ribs after a catch. It appears that the...
By SBRForum.com The first set of preseason games kick off this week and there's plenty of news circulating around the league with these matchups looming. First we must mention the death of Garrett Reid, Andy's son. Days after committing suicide at the team headquarters for training camp, the funeral was held on Tuesday, with close to 1,000 people attending. The Philadelphia...
The highlight of New York Jets training camp today was a brawl featuring about 20 Jets players, right near fans, with Rex Ryan pulling participants out of the pile. Fisticuffs are a pretty normal part of the training camp grind, as there comes a point when everyone is tired of seeing the same faces, tired of knocking heads with the same people, and irritated about getting up early...
Getty Images According to RIch Cimini of ESPNNewYork.com, New York Jets head coach Rex Ryan has ruled out wide receiver Santonio Holmes from playing in this week's preseason opener. "Santonio Holmes, battling a rib-cartilage injury, was ruled out Wednesday by Rex Ryan. Slot receiver Jeremy Kerley (hamstring) also won't play, leaving a patchwork receiving corps. Rookie Stephen...
3. Tim Tebow the Myth Blame this on Skip Bayless and Josh McDaniels.  While Josh McDaniels was the head coach of the Denver Broncos, McDaniels moves up in the draft to draft Tebow in the first round.  Tebow was drafted No. 25 overall.  This holds not only a great payday but first round expectations.  And the expectations are if you draft a college quarterback first round he...
Shockingly enough the New York media and the mainstream media will occasionally twist headlines to generate some type of controversy. We will use this series of columns to review what was actually said and whether there is any reason to be up in arms about it. Today's topic is the brawl of the century that occurred at practice, along with a few other comments about today's "newsworthy"...
For this week's edition of New York Jets Fact Or False, we will begin a trend that will be prevalent all season long. Each week, F or F will be dedicated to the upcoming Jets game, as we will look at the most pressing issues facing Gang Green each week. For our initial take, let's have a look at what to expect to see, as well as what to watch for, in tomorrow night's game in...
Jets News

Delivered to your inbox

You'll also receive Yardbarker's daily Top 10, featuring the best sports stories from around the web. Customize your newsletter to get articles on your favorite sports and teams. And the best part? It's free!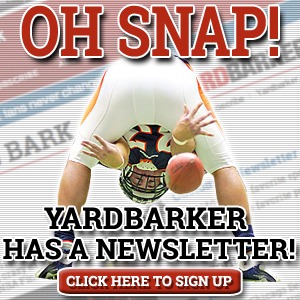 Latest Rumors
Best of Yardbarker

Today's Best Stuff

For Bloggers

Join the Yardbarker Network for more promotion, traffic, and money.

Company Info

Help

What is Yardbarker?

Yardbarker is the largest network of sports blogs and pro athlete blogs on the web. This site is the hub of the Yardbarker Network, where our editors and algorithms curate the best sports content from our network and beyond.