Originally written on
Pats 360
| Last updated 10/22/14
Has Tom Brady lost a step?--cover32: Latest on cover32: When I read you these stats, what quarterbacks do you think of? 74.1 quarterback rating, 473 passing yards, three touchdown passes, and one interception while completing just 52.7% of his passes. Mark Sanchez? Possibly Blaine Gabbert on a good day? Maybe even Christian Ponder? Believe it or not — those stats belong to the starting quarterback of the New England Patriots: Tom Brady. Entering Week 3, the Patriots are a perfect 2-0, with wins over the Buffalo Bills and the New York Jets — but Brady is far from the reason why New England stands with an undefeated record. Brady and New England's offense has been incredibly shaky throughout the first two weeks of the season — and quite frankly, it makes you wonder whether or not Brady has lost a step as an NFL quarterback. First and foremost, we have to realize that Brady is playing with a completely revamped offensive unit. Exit Wes Welker, Brandon Lloyd, Aaron Hernandez and Danny Woodhead. Enter Danny Amendola, Aaron Dobson, Kenbrell Thompkins and Zach Sudfeld. Throughout the first two weeks of the season, Brady has been without tight end Rob Gronkowski, while Dobson missed week one and Shane Vereen and Amendola both missed week two. The talent surrounding Brady has been certainly inconsistent to say the least thus far in 2013. When we look at other quarterbacks across the league, Brady sits at No. 21 for total passing yards, No. 15 for passing touchdowns and No. 27 for quarterback rating. The most alarming stat is Brady's quarterback rating. Quarterbacks such as Jake Locker, Sam Bradford, Carson Palmer, EJ Manuel, Chad Henne and Cam Newton all sit with better quarterback ratings than Brady. After two weeks of play, no one would have expected that all six of those quarterbacks would have put up better a quarterback rating than Brady. Again, we can look back and understand how much adversity Brady and New England's offense has gone through this past offseason — but Brady is a shoe-in Hall of Fame quarterback. You'd expect that he'd make the players around him better. With that being said, that might lead you to the notion that Brady has lost a step in 2013. How does Brady match up against Manning? One quarterback that we always find ourselves comparing Brady to is Peyton Manning. Now how exactly is Manning doing thus far? Manning has recorded a 131.0 quarterback rating while completing 67.1 percent of his passes for a whopping 769 yards and an unbelievable nine touchdowns. Brady, who's 36, and Manning, who's 37, are going in completely different directions. But let's take a closer look at Manning. Manning is not only playing with Brady's favorite wide receiver over the past six seasons in Wes Welker, but he also has Demaryius Thomas and Eric Decker. Who does Brady have? An injured Gronk and Amendola, Julian Edelman and a couple of rookies. Has Manning ever faced this kind of adversity in his career as an NFL starting quarterback? I certainly think not. Wait, is this 2013 or 2006? Let's take a look at the last time that Brady had such a depleted receiving corps: 2006. New England opened up the '06 season against the Buffalo Bills and then on the road against the New York Jets — both of those were victories. Following those two games, Brady had completed just 50% of his passes for 383 yards, three touchdowns and two interceptions while recording a 77.6 quarterback rating. Now compare those numbers to 2013: '06: 26 of 52, 50%, 383 yards, three touchdowns, two interceptions and 77.6 quarterback rating '13: 48 of 91, 52.75%, 473 yards, three touchdowns, one interception and 74.1 quarterback rating Is there any major difference? Not really. Brady has posted nearly identical numbers thus far as compared to '06. Now who exactly was Brady completing passes to in those first two games of the season? Tight ends Ben Watson and Daniel Graham and journeyman wide receiver Reche Caldwell, an aging Troy Brown and rookie bust Chad Jackson. So far, there have been some pretty interesting parallels between this year and '06. New England's receiver corps was completely turned upside down and Brady had to make it work with some new faces. And how did '06 end for New England? They were just a quarter away from beating the Indianapolis Colts in the AFC Championship and advancing to square off against the Chicago Bears. And with all due respect to the '06 Bears, the Patriots would have destroyed them. Perhaps '13 will end up being like '06 — with the Patriots making an appearance in the AFC Championship game. Who knows? Brady did finish '06 with respectable numbers, as he tossed 24 touchdowns compared to 12 interceptions for 3,529 yards while completing 61.82% of his passes and recording a 87.9 quarterback rating. Where does Brady go from here? Ultimately, Brady has not lost a step. In fact, what we all need to realize is that stats do not make a quarterback clutch. Closing out games and coming up with big plays in critical moments are what make a quarterback clutch. So far in 2013, Brady has done just that. He has closed out games and he has completed clutch passes in high-pressure moments. What it all comes down to is Brady developing relationships with his young outside receivers. Let's face it: no matter who New England lines up in the slot, we know they're going to produce — whether it's Welker, Amendola, or Edelman. If Brady can start connecting with Dobson and Thompkins, and once Gronkowski and Amendola return to action, New England's offense will be just fine. However until then, keep expecting Brady to continue coming through in the clutch as he's done thus far.
Original Story:
http://pats360.com/post/61597581826
PLAYERS:
Tom Brady
,
Mark Sanchez
,
Wes Welker
,
Brandon Lloyd
,
Aaron Hernandez
,
Danny Amendola
,
Aaron Dobson
,
Zach Sudfeld
,
Rob Gronkowski
,
Shane Vereen
,
Carson Palmer
,
E.J. Manuel
,
Peyton Manning
,
Julian Edelman
,
Ben Watson
,
Daniel Graham
,
Reche Caldwell
,
Troy Brown
TEAMS:
New England Patriots
,
New York Jets
,
Buffalo Bills
,
Denver Broncos
,
Arizona Cardinals
,
Indianapolis Colts
,
Chicago Bears
MORE FROM YARDBARKER
NFL News

Delivered to your inbox

You'll also receive Yardbarker's daily Top 10, featuring the best sports stories from around the web. Customize your newsletter to get articles on your favorite sports and teams. And the best part? It's free!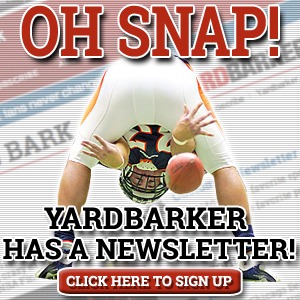 Latest Rumors
Best of Yardbarker

Today's Best Stuff

For Bloggers

Join the Yardbarker Network for more promotion, traffic, and money.

Company Info

Help

What is Yardbarker?

Yardbarker is the largest network of sports blogs and pro athlete blogs on the web. This site is the hub of the Yardbarker Network, where our editors and algorithms curate the best sports content from our network and beyond.