Found April 15, 2012 on Sports-Glory:
As the 2012 NFL Draft approaches we are all asking and analyzing, what is my team going to do? What should my team do? As with fantasy football its our chance as fans to be coach GM and owner in our own minds. As we argue with our friends over a few beers and burgers theres men getting paid millions of dollars to argue about the same things. Being the Washington Redskins are my favorite team I thought i would analyze their moves leading up to the draft, and a little hint I'm not very impressed.
Lets start with the needs of the Redskins then we will get in to how they have filled those needs. The most obvious is Quarterback, you can be very successful in this league without a franchise QB as long as you have a solid one. But going in to a season with two career back-ups makes me question Mike Shanahan's football IQ. After the 2011 season the offensive line ranked 22nd allowing 41 sacks and 108 quarterback hits. Not good if your planning on drafting a franchise quarterback and not making him the next Patrick Ramsey. The youngest reciever on the roster is a young Leonard Hankerson who has a huge upside but hasn't shown much. With London Fletcher a Free Agent inside linebacker becomes a huge need. Of course there's the fact that one starting safety has been cut and the other has signed with the New York Jets. a lot of holes coupled with a $36 million cap hit over the next two years, what is the next step for big spender Dan Snyder and his football genius's Mike Shanahan and Bruce Allen.
God bless free agency right, a team can go out and completely ruin themselves for years to come. The Redskins have been doing ever since Dan Snyder became owner. He paid aging slowed down talent at the tail end of their career's all the money. Heck for the first two years of Deon Sanders contract with the Baltimore Ravens he was still collecting a check from the Redskins. On to 2012, instead of paying aged players all the money the Redskins have managed to go out and get two wide recievers for starter type money and neither one has even ever been a number two at their old team. Pierre Garcon was Peyton Manning's third and sometimes fourth option. Yes he has burst of explosiveness and speed. He also drops a lot of balls, struggles getting seperation, and isn't the best route runner. To reward that he gets a five  year $42.5 million dollar contract with $21.5 million guaranteed. Next they sign Josh Morgan to a two year $12 million contract after a year spent with a fractured ankle. Another third and sometimes fourth option with glimpses of speed and ability. Even at that his numbers over a four year career mimic that of a true number one' season stats. 131 catches for 1,716 total yards. Couple that with a pair of 30 somethings and an ex arena league player the wide recieving corp is deep yet shaky at best.
With no addition to linebacker or offensive line this offseason even though plenty were available. All the free money spent on third tier wide outs there is the safety position. The Redskins did sign five defensive backs total with good numbers and still a few years under their belt. But all in all its been a poor performance in the offseason for the team I hold dear to my heart. Robert Griffin III has a huge learning curve as do all rookie QB's coming in to the NFL but he comes in with no Oline no wide outs, essentially nothing but his athleticism. My only wish is that he can lead them to the promised land quickly so Dan Snyder can sell the team to someone that actually wants to bring this team back to greatness for a long time again.
Original Story:
http://sports-glory.com/xn/detail/628...
THE BACKYARD
BEST OF MAXIM
RELATED ARTICLES
The Washington Redskins have been doling out the free agency money and they showed that last week when they were able to resign MLB London Fletcher. The 37 year old former draft pick of the St. Louis Rams back in 1998, Fletcher has started and played in every game over his 15 year career which
Redskins fans your captain is back! #HTTR #Resign59 — London Fletcher (@LFletcher59) April 13, 2012     London Fletcher tweeted the good news Friday evening to anxious Washington Redskins fans that he has re-signed with the team.     Excited about returning to the Skins! The support I've received from the fans didn't go unnoticed! — London Fletcher (@LFletcher59...
A month ago, I would have seen the Redskins signing of London Fletcher to a 2 year, 10.75 million dollar deal with 5.25 million guaranteed as a great deal, but middle linebackers are not being highly valued on this free agency market. Curtis Lofton, David Hawthorne, and Stephen Tulloch all signed for less than I expected.Fletcher is still a good player, but he's 37 in May so when...
DeAndre James (D.J) Hackett is from Fontana, CA; Fontana was founded in 1913, and continued to be a rural neighborhood until World War II when a steel mill was built by the industrialist/entrepreneur Henry J. Kaiser (same dude as Kaiser Permanente). Anyway Hackett was a big-time athlete in High School and chose to pursue his career in Football. The 6-2 WR started out at Cal State...
The Washington Redskins have made a pair of roster moves aimed at improving their defense. The Redskins have re-signed LB London Fletcher and acquired free agent S Tanard Jackson. Fletcher, 37, received little interest on the free agent market while Jackson started the free agency period on the Tampa Bay Buccaneers roster but was released last week after the team stated...
// // Washington Redskins Fans are hailing RG3 as their savior. Just a few days ago we released the first PPR Fantasy Football rankings of the 2012 NFL season. During the process, one of the more difficult players to rank was future Washington Redskins quarterback Robert Griffin III. We are calling him a future Redskin, cause while he't not officially with the team yet...
London Fletcher and the Washington Redskins have agreed on a new two-year contract, according to Fletcher's Tweet. Fletcher, who turns 37 in May, has started every game for the Redskins in the last five seasons and has not missed a game in 14 NFL seasons. He has played in 244 straight games since his debut with the St. Louis Rams in 1998. Fletcher's 166 tackles in 2011...
Robert Griffin III, or RG3 as he's affectionately known, will be the second pick in the NFL Draft by the Washington Redskins in a couple weeks. Here are some pics of the Hesiman trophy winner's girlfriend/fiance whatever she is today. Meet Rebecca Liddicoat. If you Tosh.O on comedy central, you know what his bit is about the type of women black guys go for, in his words. And...
NFL News

Delivered to your inbox

You'll also receive Yardbarker's daily Top 10, featuring the best sports stories from around the web. Customize your newsletter to get articles on your favorite sports and teams. And the best part? It's free!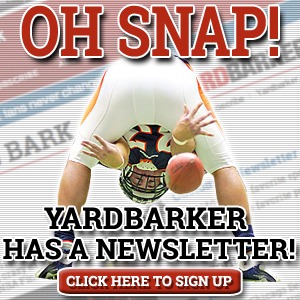 Latest Rumors
Best of Yardbarker

Today's Best Stuff

For Bloggers

Join the Yardbarker Network for more promotion, traffic, and money.

Company Info

Help

What is Yardbarker?

Yardbarker is the largest network of sports blogs and pro athlete blogs on the web. This site is the hub of the Yardbarker Network, where our editors and algorithms curate the best sports content from our network and beyond.