Found February 03, 2012 on Sportress of Blogitude:
From Sportress of Blogitude: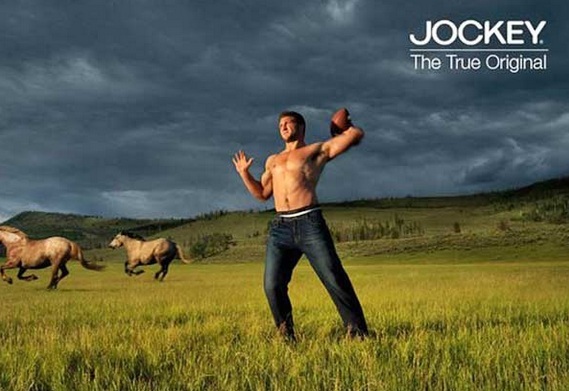 Huh. That's different.
I guess we'll just have to take Jockey's word for it that they are nice underwear. Not that I needed or wanted to see Tim Tebow in his underwear. It's just that it strikes me as an ineffective campaign to pay Tim Tebow a boatload of money to promote your product and then do print ads for the product where the product isn't even seen, save for the upper strap of said undergarment, barely visible above his blue jeans.
Advertising experts agree:
Marketing expert Stephen Bender agrees: "If you're not going to show the product, then how is the campaign going to work? You are either selling underwear or you're not."
But Michael Kleinmann, editor-in-chief of The Underwear Expert, said it's the public's discomfort with a man in underwear that has kept Tebow zipped up.
"Tebow should have dropped his pants," Kleinmann told me. "I don't know why everyone is so scared of men in underwear. Choosing a guy that people can relate to — a man's man — is good, but even he walks around his house in his underwear… People just need to relax and stop being afraid."
While I got a nice chuckle out of the "Tebow should have dropped his pants" line from Mr. Kleinmann, I have to disagree with his argument that it Tebow wearing blue jeans while promoting underwear was all due to the public's discomfort. I'm pretty sure Tebow's chastity and lily white public persona might have had something to do with it as well.
Nevertheless, Mo Moorman, public relations director for Jockey International, argued that "[s]ome things are better when left to the imagination," and I suppose in this instance, I have to agree. Victoria's Secret ads, on the other hand, forget it.
Still, if this was the direction Jockey ultimately decided to go — for whatever reason — they should have had some fun with it, like having Tebow do his best Tobias Fünke impression, fashion himself some cut-off jeans and pose as a dyed-in-the-wool, unrepentant Never Nude and called it a day. Now that would have been a solid ad.
Also from Sportress of Blogitude
Pictures: The most embarrassing photos of Tom Brady
Video: Arianny Celeste's photo shoot for Complex magazine
Alex Rodriguez reads gossip magazines on airplane
Original Story:
http://www.sportressofblogitude.com/2...
THE BACKYARD
BEST OF MAXIM
RELATED ARTICLES
LORD'S WORK
Last night, the NFL hosted its first ever NFL Honors award show which was hosted by actor Alec Baldwin. During the end of his monologue, Baldwin was doing his best attempt at "Tebowing" but couldn't seem to get it truly right. Then the master decided to teach him a thing or two: (Courtesy of Seattle PI and Off The Bench)
Tim Tebow is in the middle of a new campaign for Jockey where he recently appeared shirtless in a commercial and only in boxers on the website. That photo has mysteriously been pulled from the site and no one has a reason why. Jockey would say only this to the Huffington Post: "Some things are better when left to the imagination," said Mo Moorman, public relations director for...
Tim Tebow #15 of the Denver Broncos runs the ball during the game against the Chicago Bears at Sports Authority Field at Mile High on December 11, 2011 in Denver, Colorado. (Doug Pensinger/Getty Images)Really, for as many times as he won the award this season — 5 times in 11 starts — the award should be renamed the Tim Tebow award in the future. Specifically, Tebow won the award...
Denver Broncos QB Tim Tebow and his faith has been discussed Ad nauseam for quite sometime. His latest endorsement is with Jockey and underwear line. In a bit of "inspired" marketing, Jockey is presenting Tim's ad with the quarterback featured not in his jockeys but a pair of jeans. Am I missing something? Isn't the [...]
Getty Images Some people like to have the last word. Others, the first. Tim Tebow will take both, thankyouverymuch. The media magnet has already turned down many-a-network appearance offer in the 18 days since the Denver Broncos were eliminated from the playoffs (yes, it's only been that long). He'd been offered to sit-in with the NFL on CBS Crew during Championship Weekend,...
INDIANAPOLIS -- Broncos quarterback Tim Tebow will be rooting for a couple Patriots on Sunday during the Super Bowl. When asked if he'd be rooting for linebacker Brandon Spikes and tight end Aaron Hernandez, Tebow told NESN.com on Thursday, "Oh definitely, those guys for sure." Then, Tebow was whisked away by a team of security out a back channel at Radio Row of the...
Could you imagine Tim Tebow running our country? Believe it, because the Broncos' QB says a career in politics could be part of his future one his playing days are over.
Tim Tebow's season has been over for weeks, but he's still finding ways to make headlines. The Broncos quarterback was on hand for the inaugural NFL Honors show on Saturday night. And while he received the GMC Never Say Never Moment of the Year Award for his Week 14 win over the Bears, one moment from Saturday's awards ceremony was equally as intriguing. Actor Alec Baldwin...
Trying to do his best ''Tebowing,'' Alec Baldwin got a bit of help on stage. The host of ''NFL Honors'' on NBC was kneeling down when Denver Broncos quarterback Tim Tebow stepped up and showed Baldwin how it's really done. ''Bless you, Tim,'' Baldwin responded. That capped a nearly 10-minute monologue Saturday night on the eve...
Brian Dawkins, still feeling numbness and weakness on his side, says he'll either play one more year in Denver or retire. [Denver Post] Tim Tebow is making the rounds in Indianapolis. [Denver Post] The QB hopes he's still "the same guy" following Tebowmania. [NFL.com] New Jaguars owner laments not picking Tebow a few years ago. [Florida Sun Sentinel] Checking in with Eric...
Broncos News

Delivered to your inbox

You'll also receive Yardbarker's daily Top 10, featuring the best sports stories from around the web. Customize your newsletter to get articles on your favorite sports and teams. And the best part? It's free!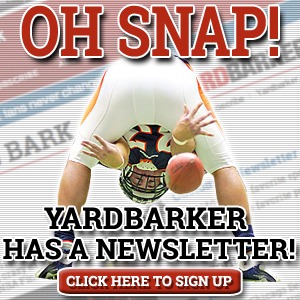 Latest Rumors
Best of Yardbarker

Today's Best Stuff

For Bloggers

Join the Yardbarker Network for more promotion, traffic, and money.

Company Info

Help

What is Yardbarker?

Yardbarker is the largest network of sports blogs and pro athlete blogs on the web. This site is the hub of the Yardbarker Network, where our editors and algorithms curate the best sports content from our network and beyond.