Found November 08, 2012 on Fox Sports Carolinas:
A North Carolina High School football player was ejected from a state playoff game last Friday night after imitating NFL quarterback Cam Newtons Superman celebrating following a touchdown. Jalan McClendon of West Mecklenburg High School was ejected from his teams 45-10 victory over Hough High after he pretended to rip off his jersey from its chest after scoring a touchdown, mimicking the exact celebration Newton of the nearby Carolina Panthers uses after he scores. Ironically, Newton was at the game but didnt see the celebration. Theres a lot of things thats changing in the NFL and the college game and also in high school, Newton said Wednesday. Taunting is taunting, but at the end of the day you still have to have fun playing the game. And whether youre doing it to be a boost of morale for your team or youre trying to (demoralize) another player. I heard about it. Guys talked about it in the locker room. As far as me seeing it, I didnt. I dont think my taunt is anything that can be derogator of any sort. Taunting is an automatic ejection and suspension from the players next game in the state of North Carolina. West Mecklenburg coach Jeff Caldwell told the Associated Press McClendon wasnt trying to taunt anyone and that he doesnt view Newtons celebration as taunting. McClendon, who is a junior and has received interest from LSU, Ohio State, North Carolina, Georgia, Florida and Florida State, among others, was ruled earlier this week to have been disqualified for unsportsmanlike conduct and the additional suspension was removed. He will play this weekend. His coach said it never should have been an issue. I dont think its any different than when kids jump at each other, Caldwell told the AP. Its a hard call to make. Every year you have kids get caught up in the moment. Its up to us a coaches to keep reiterating what is allowed and what isnt. Newton, who remembers being flagged last year as a rookie for using a prop when he initially unveiled the celebration, is pretty amazed his celebration has taken off around the country and is being used by athletes in other sports. Its not the Tebowing of (New York Jets quarterback Tim) Tebow," he said. It still goes to show you as a professional athlete what type of impact you can have on your community or what type of impact you have on guys that look up to you. And for me to see that the result wasnt the result I wanted to hear but it still goes to show if I go out and do a good deed in the community people are going to are going to read about and are going to hear about it. Obviously, if I go out and do something crazy theres going to be a lot of people that are going to be hurt, including my family and close friends. That just tells you the eyes are always on you. Newton set numerous rookie and even a few NFL records in winning the leagues Rookie of the Year honor last season, but has struggled some in his second campaign. The Panthers are coming off a win over the Washington Redskins in a game that saw Newton score a touchdown and go into his customary Superman celebration. The 2010 Heisman Trophy winner, who also led Auburn to the national title that season, said when he was at Blinn Community College before transferring to Auburn, a teammate scored late in a game and threw the ball into the air as if it was a grenade. The rest of the offense hit the ground as if they were blown up. Newton says so much of what the pro and college players do has trickled down to the high school level. I went to go see a high school football game the other day and they were wearing pink, he said without noting many players do it in October, which is Cancer Awareness month. Im like, You guys are pink this and pink that. They see it happening on TV on FOX on Sundays and even in college. As a professional athlete youre put on a pinnacle and you can use it in a positive way or a negative way, and people are going to follow you regardless.
Original Story:
http://www.foxsportscarolinas.com/11/...
THE BACKYARD
BEST OF MAXIM
RELATED ARTICLES
Cam Newton needs to put together some wins to keep his confidence for the future.  This team is playing for next season. I'm sitting at 84-49 heading into the weekend.  I need to have a huge run to get over .750 for the season. NY Giants @ Cincinnati - The Giants are coming off a tough home loss last week to the Steelers.  I think last weeks...
((HT: Kevin Ridley)) Okay... the HQ is seeing things get just a little out of hand... Watch the video below and we'll ask you a question afterwards... Was the act at the end worth an ejection...??? Apparently, to the officials in the West Mecklenburg-Hough game it was... the super-hero move was considered "bad sportsmanship." West Meck head coach Jeff...
Carolina Panthers defensive end Greg Hardy and safety Haruki Nakamura were fined for separate hits against Washington Redskins offensive players during their game last week, NBC Sports' Pro Football Talk reported Friday. Hardy was fined $15,750 for striking quarterback Robert Griffin III in the head. Nakamura received a $21,000 fine for hitting a defenseless receiver in the...
The NFL's Carolina Panthers have announced that Ernie Accorsi will serve as a consultant during their search for a new general manager. Accorsi, 71, has been the GM for the Cleveland Browns and New York Giants and has served as a consultant to other NFL teams in their search for general managers. He serves as chairman of the NFL's General Manager Committee. Accorsi first...
Last week: 30 (-1) Record: 2-6 Last week I mentioned that Cam Newton is 1-10 in his career in games decided by a touchdown or less. Well, the good news is that he's 6-7 in his other 13 games. Typically, records in touchdown games even out over time. Teams that win a game by a touchdown or less win their following game 52% of the time if that game is also decided by a touchdown...
The Carolina Panthers have turned to longtime front-office executive Ernie Accorsi to assist in the team's pursuit of a new general manager. Accorsi, 71, will begin serving immediately as a consultant to help the Panthers find a replacement for Marty Hurney, The Charlotte Observer reported Friday. "I have a very high regard for Mr. Richardson and look forward to providing...
The Panthers have announced that Ernie Accorsi will serve as a consultant during their search for a new general manager. Accorsi, 71, has been the the GM for the Cleveland Browns and New York Giants and has served as a consultant to other NFL teams in their search for general managers. He serves as chairman of the NFL's General Manager Committee. Accorsi first met Panthers...
If you strictly look at records going into the matchup between the Denver Broncos and Carolina Panthers in Week 10 of the NFL season, this looks like an incredible mismatch between a 5–3 record versus 2–6. As with many situations in football, however, the numbers don't even begin to tell the story.Carolina has been one of the most snake bitten teams in the 2012 season, as...
NFL News

Delivered to your inbox

You'll also receive Yardbarker's daily Top 10, featuring the best sports stories from around the web. Customize your newsletter to get articles on your favorite sports and teams. And the best part? It's free!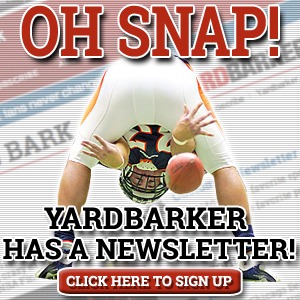 Latest Rumors
The Backyard

Today's Best Stuff

For Bloggers

Join the Yardbarker Network for more promotion, traffic, and money.

Company Info

Help

What is Yardbarker?

Yardbarker is the largest network of sports blogs and pro athlete blogs on the web. This site is the hub of the Yardbarker Network, where our editors and algorithms curate the best sports content from our network and beyond.